Microsoft learning opportunities slated for Oct. 25 and 26
Date Posted: Wednesday, October 18, 2023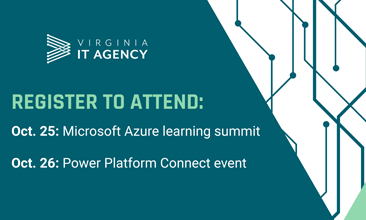 VITA is pleased to co-sponsor two upcoming Microsoft learning opportunities for Commonwealth of Virginia (COV) employees. These all-day events are in-person and begin at 9 a.m. each day at the Omni Richmond Hotel, 100 South 12th St., Richmond, VA 23219. Led by Microsoft subject matter experts and industry professionals, separate registration for each day is limited and required.
Please share with agency staff who would benefit from these innovative events. Participants are encouraged to confirm with their manager that the learning tracks are applicable to current job duties. Details about each day are provided below.
Oct. 25: Microsoft Azure learning summit
Topics include Azure security, application modernization, Azure data analytics, key vault and open artificial intelligence (AI). The Microsoft Azure cloud innovation summit is targeted for COV employees, comprised of directors, IT managers, developers and business managers seeking deeper insights into Microsoft's cloud platform. 
Agenda and registration 
View the agenda and brief topical overview
Oct. 26: Power Platform Connect event
Topics include the latest Power Platform and business application advancements available, collaboration across agencies, governance and support models, and digital transformation opportunities. The morning session will discuss redefining digital transformation while the afternoon will be a live build workshop (please bring your laptop). Focus audience for this event is IT managers, knowledge and business specialists as well as developers across and provide a hands-on demonstration opportunity to build upon the platform.
Agenda and registration 
View the agenda and brief topical overview
---