We are the Virginia IT agency
The Virginia Information Technologies Agency has evolved, innovated and adapted to the ever-changing virtual environment and digital landscape during its 16 years of existence.
We have proudly pioneered new technologies, new ways of doing business and charted new territory in our industry -- and no industry moves or changes faster.
Our employees and partners have come together to reimagine VITA's new mission, vision and guiding principles and how we are visually recognized as an agency.
New website coming soon
As part of VITA's evolution efforts, we are excited to bring you a fully redesigned, customer data-driven website later this year, which will fully incorporate the new VITA look. Many of you are participating in surveys, focus groups and research to help us build the best, most user-friendly navigation experience possible, and we thank you.
About our logo
Our new visual branding reflects the agency's modernization efforts, promise of collaborative partnerships and movement toward new innovative horizons.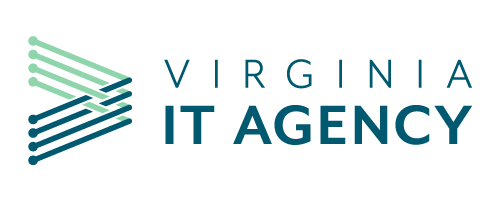 Visually moving forward
The visual design is built on forward-moving intersecting arrows, which represent driving innovation while developing clarity out of complex customer needs. The interlocking pattern shows the fabric of VITA's partnership and collaboration with Virginia leadership, state agencies, localities and educational institutions. It shows VITA's commitment to each and every Virginian to deliver critical business capabilities in an ever-evolving digital and virtual world.
Our transformation
Among our transformative accomplishments, we've stabilized and grown a diverse, market-driven portfolio of new and adaptable services for Virginians. Our transition from a single-source service provider model to a multisupplier model was completed this summer on-time and on-budget. We're leading efforts to migrate all state agency data to cloud services by 2022. Through new programmatic visibility, we're driving millions of dollars in cost savings for Virginians, optimizing services, and continuing to lead the Commonwealth's digital response to COVID-19.
Our new vision is to be Virginia's most customer-focused technology partner, empowering the Commonwealth to achieve more through innovative, efficient and secure technology.
Our new mission is to deliver sustainable and effective results to our customers through innovative, efficient and secure services.
Our new tagline is Connecting - Protecting - Innovating
Our agency personas: we are the Commonwealth's IT protector, our partners' collaborator and Virginia's innovator.
Our new value statements:
Accountability - We take ownership for delivering on defined outcomes, being transparent and responsible for the decisions we make.
Inclusive Collaboration - We engage diverse individuals and teams from VITA, customers and suppliers to develop solutions together and foster mutually beneficial partnerships.
Growth Mindset - We embrace challenges and opportunities for growth, striving to discover innovative solutions and never accepting the status quo.
Effectiveness - We work decisively to deliver solutions by taking a data-driven approach that creates value for the Commonwealth.
Persistence - We are dedicated to accomplishing our mission by delivering timely and innovative solutions for our customers despite challenges.
We invite you to continue on this journey with us.