(Richmond, VA) -
The Virginia Information Technologies Agency, provider of critical technology services for over 60 state agencies and 55,000 employees, unveiled its new visual identity and guiding principles today.
"As our agency and industry have evolved, so has the need for new visual representation and new vision, mission and value statements," said Chief Information Officer of the Commonwealth of Virginia, Nelson Moe. "Our agency's new brand identity and foundational principles signify the culmination of transformational events and more accurately reflect our modernization efforts, commitment to our partnerships and customers, and continuous movement forward to new innovative horizons."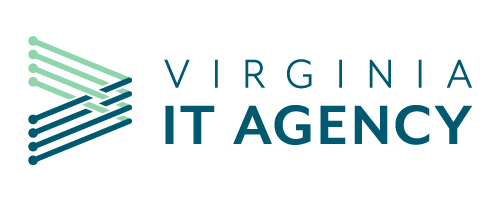 The new brand identity is built on forward-moving intersecting arrows, which represent driving innovation, developing clarity out of complex customer needs, and partnership and collaboration with Virginia leadership, sister state agencies, localities and educational institutions to deliver critical business capabilities to Virginians in an ever-evolving digital and virtual world.
The agency's new foundational principles are founded on both programmatic stewardship and customer-centric ideals. The Virginia IT Agency's new vision is to be Virginia's most customer-focused technology partner, empowering the Commonwealth to achieve more through innovative, efficient and secure technology. The new mission is to deliver sustainable and effective results to our customers through innovative, efficient, and secure services.
The agency's transformation has included an on-time, on-budget shift from a single-source service provider model to a multisupplier model, which proved integral to Virginia's nimble response to the COVID-19 pandemic. VITA implemented a diverse, adaptable portfolio of service solutions as the Commonwealth transitioned to a full-time, long-term teleworking environment, and ensured that critical functions remain available to Virginian customers.
Additionally, with new service capabilities, VITA is driving millions of dollars in cost savings for Virginians, optimizing future services, and migrating all state agency data to cloud technology by 2022.
VITA's transformation continues in the coming months and years, next with new growth and enhancements of the agency's performance metrics, as well as an optimized user-focused website redesign, expected to be complete later this year. Visit VITA's new transformation website for more information.