New high-risk solicitations and contracts webpage
Date Posted: Monday, November 15, 2021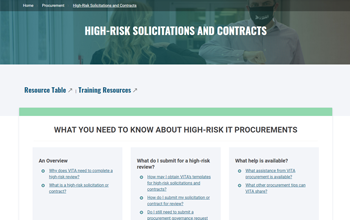 In an effort to better serve our customer agencies, VITA has launched a new webpage to help agencies quickly and easily find answers they are looking for when preparing high-risk solicitations and contracts.
The new webpage includes frequently asked questions and a list of resources, including general information, tools, training videos and information on cloud procurements. These resources walk you through the preparation and review process for high-risk procurements.
Remember! Agencies should email scminfo@vita.virginia.gov to notify VITA of an upcoming high-risk procurement and to request assistance. We are also available if you have questions or need additional information.
We invite you to visit the new webpage and look around. The VITA procurement team is excited to support VITA's vision of being Virginia's most customer-focused technology partner to you, our customers!
---