September 2020
Volume 17, Number 9
From the CIO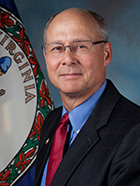 CIO Nelson Moe
VITA has reached another important milestone in our transformational journey: our new data center is online and ready to accept servers and applications. The first agencies are scheduled to begin moving data on Saturday, Sept. 12.
As you can imagine, preparing a data center that will serve 63 state agencies is no small feat. This accomplishment is the result of many hours of work by VITA staff, and diligent planning and efforts by our suppliers and customers. This collaboration has positioned us to move forward with solid footing.
The data center move project has been essential in moving the commonwealth and VITA toward:
reducing the commonwealth's physical server footprint;

leveraging the latest technologies to address agency needs;

creating opportunities to improve service performance while maintaining security, service reliability and quality;

allowing for service offerings to be structured so they can be more easily compared to market services and rates; and

providing a view of service delivery that is transparent and accountable.
I will be speaking at the Commonwealth of Virginia Innovative Technology Symposium (COVITS) on Wednesday, Sept. 10 during the morning session. During my remarks, I will be launching a new brand and visual presence for VITA -- I can't think of a better time to show the commonwealth what we've become and are becoming. I look forward to being a part of this virtual community attending COVITS and hope to "see" you there!
Nelson
COVITS virtual conference is next week!
This year's COVITS will be "digital" in every way! The conference is being held in a virtual format, over the course of two partial days. Government Technology's passion is promoting best practices and spurring innovation in the public sector – more important than ever in challenging times like these. The virtual conference will be held Sept. 9-10.
3G devices must be replaced
Verizon Wireless is in the process of shutting down its 3G network and converting the 3G tower sites to 4G/LTE and 5G. Over the next couple of months, 3G-capable facilities will be completely eliminated, rendering 3G devices useless. Agencies have been contacted and provided a list of these devices and phone numbers that should be replaced with newer, 4G-compatible equipment. If you have any questions, contact SCMInfo@vita.virginia.gov.
Please note: State agencies need to dispose of wireless equipment in accordance with Commonwealth Security Standard SEC514-05 and either repurposed within the organization or destroyed, as stated in the security standard.
Disaster recovery information sessions
Is your agency prepared for the next hurricane? How about another pandemic? Do you have a strong plan in place to ensure that your agency's IT doesn't skip a beat?
With agencies preparing to move to the cloud and the new QTS data center, now is a great time to take a look at your agency's current disaster recovery (DR) plan. VITA invites you to learn about our updated DR services and how they can give your agency peace of mind.
Andrew Reid, VITA's DR service owner, is hosting informational sessions over the next few months to talk about the importance of DR, the different service tiers, the benefits of the service and pricing examples.
Session schedule
Sept

. 22: 1-2 p.m.

Oct

. 29: 9-10 a.m.
VITA website redesign: Survey invitation
The web and communication teams are embarking on a VITA website redesign project and we would like to invite you to take our survey to gather feedback. Websites are on the forefront of content delivery in the digital age; it is vital that the team understand how our employees and customers interact with the site to ensure that desired content can be found easily and intuitively.
Kudos to the VCCC team for supporting our front-line workers!
The Virginia Department of Health (VDH) has been hiring contract tracers to help the fight against COVID-19. On Aug. 17, we created COV accounts for the next wave of newly hired contact tracers - bringing the total up to 1,117. VDH's goal is to hire 200 to 400 more team members.
We've developed a fast and efficient process to create accounts in batch and are turning around each VDH request of 100+ new users within hours. Yes, hours. The process creates the accounts and allows VDH to quickly activate the account and enables the new contact tracer to hit the streets and immediately begin their important work. Thank you to VDH and all of our front-line workers for all that you do to track, control and fight COVID-19!
Workplace collaboration services (WCS) consulting services now available
The WCS team began offering consulting services in mid-August. Consulting services can provide agencies with application development support using the Office 365 platform (SharePoint, Teams and Office 365 Power Platform) and SharePoint support services. More information can be found on the workplace collaboration support site.
Your opinion matters to us!
We are always focused on the end-user experience and welcome your input. Did you know that you can complete the improvement suggestion form in the service portal? This form allows you to share details which are then reviewed by our continual service improvement team.
Teleworking tips: Work from home (#WFH)
If you are in a situation (e.g., power outage) or location where Wi-Fi is unavailable, or if you're not sure if your location's Wi-Fi is secure, you may be able to turn your phone's cellular connection to the internet into a Wi-Fi connection for other devices. This is called a "hot spot." If you have this feature, your phone will show as a Wi-Fi network that you can use. (Note: this may incur data charges.) Check with your supervisor before using this feature.
Commonwealth employees: see Teleworking 101 for more tips and information on working from home.
#WFH

September training classes available for AITRs

If you have any questions about a class or registration, please contact the MSI Training team.
Please remember: The training schedule is now posted in the knowledge base. Log in to VITA's knowledge base and click on the "Training" icon – here you can view training-related materials. To view the training schedule, click on "show filters" on the left side of the page. Then, check the box for "Training Schedules." This schedule is updated regularly and is the best way to stay up-to-date on training options.
Service portal and catalog class
Service level management class
Reporting and dashboards class
COVID-19 resources to keep you informed
We've compiled a brief list of resources, updates and FAQs on the coronavirus (COVID-19) and useful information for state employees, suppliers and those working in Virginia.
Information Security Tips
Between working at the office, or school, or remotely, the principles of security can become something of a moving target. For some, this creates an uncertainty with making sure that the right policies are applied. Reducing risk on at-home networks, keeping information secure during virtual meetings and having a strong password policy are some best practices that can be implemented quickly and effectively from wherever you are working.