October 2020
Volume 17, Number 10
From the CIO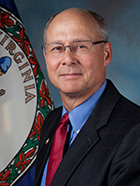 CIO Nelson Moe
VITA is excited to kick off the 17th year of Cybersecurity Awareness Month.
This year's theme is "Do Your Part. #BeCyberSmart." with a particular emphasis on the key message for 2020: "If you connect it, protect it." If everyone does their part – implementing stronger security practices, raising community awareness, educating vulnerable audiences or training employees – our interconnected world will be safer and more resilient for everyone.
Our network in the Commonwealth experiences approximately 30 million cyber attack attempts per year, which is nearly one attack every second. It's more important than ever to protect our valuable connections and assets.
We have a lot to be proud of in the Commonwealth for our collective success in keeping our employees and citizens safe from cyber criminals.
Nelson
VITA releases new visual identity, guiding principles
VITA has refreshed its visual representation to reflect the agency's evolution. VITA has recently finalized its transition to a multisupplier model, developed new guiding principles in vision, mission and value statements, built new performance metrics and soon plans to issue a new five-year plan. The new brand identity is built on forward-moving intersecting arrows which represent driving innovation, developing clarity out of complex customer needs, and partnership and collaboration with Virginia leadership, state agencies, localities and educational institutions to deliver critical business capabilities to Virginians in an ever-evolving digital and virtual world.
While VITA's thousands of touchpoints, in both tangible hardware and digital properties, can't be redesigned overnight, we will be working toward transitioning to our new branding elements over time.
"As our agency and industry have evolved, so has the need for new visual representation and new vision, mission and value statements," said Chief Information Officer of the Commonwealth, Nelson Moe. "Our agency's new brand identity and foundational principles signify the culmination of transformational events and more accurately reflect our modernization efforts, commitment to our partnerships and customers, and continuous movement forward to new innovative horizons."
CIO Nelson Moe discussing new identity (video)
VITA CISO receives cybersecurity leader award
The StateScoop 50 awards, presented for its seventh year, honors the projects and people driving state government technology and cybersecurity. Starting in February, members of the state and local IT community nominated thousands of leaders and projects for the awards. From there, StateScoop narrowed the list to the 182 finalists who received the most nominations. Between March and June 2020, readers cast more than 2 million votes nationally between March and April to select the final winners. VITA's own CISO Mike Watson was selected as State Cybersecurity Leader of the Year. The winners span more than a dozen states and eight private sector companies and were honored at a virtual roundtable event. Winners will be featured in a series of podcasts. More details will be shared when CISO Mike Watson's podcast is featured!
Recommended technology investment projects (RTIP) report
In the Code of Virginia under the powers of the CIO, § 2.2-2007, VITA is required to submit the recommended technology investment projects (RTIP) to the Secretary and Legislature annually, by Nov. 1. Agency information technology resources (AITRs) and project managers are responsible for updating their IT investment portfolio in support of the RTIP report for their agencies. This update process supports not only the 2020 RTIP report but also the Commonwealth technology portfolio (CTP) modernization project, where data in the current CTP tool will be migrated to an exciting new tool in 2021.  
You're invited! Sharing agile best practices in state government
Agile software development is changing the game for state governments, and Virginia State Police (VSP) have been working on their own agile transformation for several years. Over the years, VSP has stood up as many as six concurrent scrum teams and a couple of Kanban teams.
VSP would now like to invite other agencies to join the conversation. Are you Agile? Thinking about it? Just beginning? Somewhere on the journey? Would you be interested in sharing your experience with other agencies? To get the conversation started, VSP is hosting a virtual half-day event on Thursday, Oct. 29. Please contact Stephen Manley, 804-735-9284, for details.
Disaster recovery information session: Oct. 29
Is your agency prepared for the next hurricane? How about another pandemic? Do you have a strong plan in place to ensure that your agency's IT doesn't skip a beat?
With agencies preparing to move to the cloud and the new QTS data center, now is a great time to take a look at your agency's current disaster recovery (DR) plan. VITA invites you to learn about our updated DR services and how they can give your agency peace of mind.
Andrew Reid, VITA's DR service owner, is hosting his last informational session on Oct. 29 from 9-10 a.m. to talk about the importance of DR, the different service tiers, the benefits of the service and pricing examples.
Virginia named finalist for three national awards in IT
The Commonwealth of Virginia has been named as a finalist in three categories in the National Association of State Chief Information Officers' (NASCIO) State Information Technology (IT) Recognition awards. The awards honor excellence in government IT services.
The Virginia Information Technologies Agency (VITA) is a finalist in two categories:
Virginia: Pioneering a New Method of State IT Services Delivery

in the category of Enterprise IT Management Initiatives, and;

Quantitative Risk Analysis for Improved Cybersecurity Risk Management

in the Cybersecurity category.
A partnered initiative from the Department of Criminal Justice Services and the Office of the Chief Data Officer of the Commonwealth of Virginia is also under consideration for the already-award-winning:
Kudos!
Early QTS data center move events complete
Over the past several weekends, VITA and its suppliers have successfully completed six move events to the new QTS data center, resulting in 225 server migrations for 32 agencies. Coordination between VITA and its suppliers has been, and will continue to be, our key to success. Congratulations to the data center move team on their recent success and good luck with your future move events.
Milestone for the Virginia Department of Behavioral Health and Developmental Services (DBHDS)
On Aug. 25, DBHDS successfully launched their Millennium Electronic health records program at the first four hospitals. This initiative began in December 2018 and required 35 infrastructure projects. An overview of successes include: 1,500 laptops refreshed, eight facility wireless networks implemented with 250 wireless access points, redundant network circuits completed to each hospital and a customized "Same Sign On" solution was designed and implemented. And, for the first time in the Commonwealth of Virginia, iPads were configured to join the COV wireless network. Congratulations to DBHDS – this is truly the future of IT in healthcare!
VITA recognized for national excellence as a finalist for the Center for Digital Government's Government Experience Awards
We are proud to share that the VITA has placed as a finalist for Overall Government Experience, which highlights our work on the Virginia.gov portal.
After a soft launch in early March 2020, the portal saw the maximum stress test when it facilitated record traffic following the onset of the COVID-19 pandemic. The Virginia Department of Health website saw nearly 63 million page views from March-June 2020, and the Virginia Employment Commission saw nearly 37 million page views in the same period.
The new modular Virginia.gov design leverages user feedback to develop a more sustainable system that can be easily updated in response to user research and citizens' needs. The team focused on service design and took a user-first approach to designing a more inclusive, accessible and mobile-first experience for citizens.
Read the full announcement here.
In the News
StateScoop featured VITA's development of a multi-vendor model for IT service delivery and the creation of two new roles to support statewide CIO Nelson Moe. VITA has aligned the three major service areas: cyber, the operations and the administrative into three different areas, creating a strong organizational architecture.
Teleworking tips: Work from home (#WFH)
If you use your cell phone as a Wi-Fi hot spot, here are a few tips:
Select a strong password. You do not want your phone to become an open Wi-Fi network, free for anyone to use and easy for anyone to access.

Hot spots use a lot of power so your phone's battery can run down quickly. Keep your phone plugged in when using it as a hot spot, and turn the hot spot off when you are finished using it.
Check with your supervisor before using this feature on your phone. Commonwealth employees: see Teleworking 101 for more tips and information on working from home.
#WFH
October training classes available for AITRs
Information Security Tips
Cybercriminals continue to target U.S. state, local, tribal and territorial (SLTT) government organizations at an alarming rate and the increase in remote working has added to the challenge.
Read Information Security Tips