November 2020
Volume 17, Number 11
From the CIO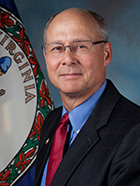 CIO Nelson Moe
The Commonwealth of Virginia has been the recipient of several major top awards over the past few months. Our entry, Virginia: Pioneering a New Method of State IT Services Delivery, was recognized most recently by the National Association of State Chief Information Officers' (NASCIO) State Information Technology (IT) Recognition awards.
I normally don't like to 'toot our own horn' in regards to awards; I would rather show than tell, but this is significant and worthy of taking a few minutes to acknowledge how vastly different Virginia looks today than just a few years ago.
Since December 2018, the Virginia Information Technologies Agency's (VITA) multisupplier model of IT service delivery has transformed the Commonwealth's digital business. As one of only three multisupplier models in the country, Virginia pioneers new methods of service brokerage, providing unique flexibility, partnerships, competition, new technologies and critical business connections to 65 customer agencies, more than 55,000 direct state employee users and 8.6 million Virginia residents.
Virginia's switch from a single IT supplier to the multisupplier service delivery model rewards competitive supplier pricing, measurably decreases service costs and markedly improves service capabilities. VITA conducted seven competitive procurement activities in roughly two years, resulting in eight awards to customer-identified IT service areas. These procurement teams included VITA employees and representatives from VITA's customer agencies and the Virginia Office of the Attorney General.
The financial impacts and returns for customers and Virginians are on track to realize a significant savings of approximately $114 million over eight years. Just recently, VITA repaid the final amounts of its $165 million line of credit used to completely disentangle from the former single-source provider. With additional funds freed and more savings expected, Virginia is ready and able to reinvest in innovative products and services for customers in the Commonwealth.
While the significance of this project is vast, I am most proud of how this model embeds agility, innovation and transparency into the state's delivery of IT services. Virginia's customer agencies now are more able to access market pricing for a responsive, innovative and continuously updated suite of products. And as we have just seen through COVID-19, the versatility of this model positions Virginia to easily and efficiently respond to crises and address rapidly changing business needs.
I extend my sincere appreciation to all of the IT professionals who work every day to ensure our success. Additionally, my gratitude goes to the VITA staff who researched, contributed to and wrote our entries for these awards. Together, we will accomplish our mission to deliver sustainable and effective results to our customers through innovative, efficient and secure services.
Nelson
Virginia Wins Two Top National Awards for Excellence in Information Technology
The Commonwealth of Virginia has earned two top honors from the National Association of State Chief Information Officers' (NASCIO) State Information Technology (IT) Recognition awards. The awards celebrate the country's leading government IT services, which include winning submissions from the Virginia Information Technologies Agency (VITA) and a joint initiative from the Department of Criminal Justice Services and the office of the Chief Data Officer.
"Our information technology systems touch nearly every part of Virginians' lives, including providing health data, voter registration information, access to drivers' licenses and education capabilities," said Governor Northam. "This year, in addition to sustaining vital connectivity across our government agencies as we respond to COVID-19, our IT teams have continued to innovate and expand new technologies to serve our Commonwealth. We are proud of their achievements and grateful for their dedication."
VITA won a top honor for its recent transition from a single-source service provider model to a multisupplier model. Virginia's multisupplier model is one of only three of its kind in the nation. The program entitled Virginia: Pioneering a New Method of State IT Services Delivery won its category of Enterprise IT Management Initiatives.
The Virginia Chief Data Officer's team, along with the Virginia Department of Criminal Justice Services, earned top honors for their Framework for Addiction Analysis and Community Transformation (FAACT) data-sharing platform in the category of Cross-Boundary Collaboration and Partnerships.
NASCIO's announcement
State agency servers migrated to new data center
VITA announced on Oct. 7 that the new cloud-enabled data center is live and the migration of state agency data to the new center is well underway. VITA, in coordination with dozens of state agencies, has completed nearly 600 server migrations over the past several weeks.
"This is an important milestone as we continue to modernize Virginia's data storage, security and technology," said Chief Information Officer of the Commonwealth of Virginia, Nelson Moe. "We appreciate the diligent planning and collaboration of each of our Virginia state agency partners and suppliers on this vital project."
The project, undertaken in accordance with Gov. Northam's Executive Order 19, will allow for technology investments to be scaled to usage for greater cost savings and create opportunities to improve service performance, while maintaining security, service reliability and quality.
The new data center went live in mid-August, and migrations began on Saturday, Sept. 12. Completion of all server migrations is expected by 2022.
Virginia ranks among top in nation for digital technology
The Commonwealth of Virginia has placed among the top states in the country for digital technology by the Center for Digital Technology in the Digital States Survey. Virginia has earned an A-, one of the highest honors achievable in the comprehensive biannual survey, which rates states on demonstrated results in innovation, operations, governance and administration. The survey also named Virginia as one of the "Top 3" states for excellence in Connected Infrastructure, which focuses on computing, networks, storage and cloud capabilities.
"We are grateful to our colleagues across Virginia government who prioritize technology and data throughout every department and discipline," said Secretary of Administration, Dr. Keyanna Conner. "From calculating flood resiliency in emergency management to integrating robotic process automation in transportation, our partner state agencies are focused on digital transformation for our Virginian customers."
Kids Safe Online Poster Contest
VITA, in support of the Multi-State Information Sharing and Analysis Center (MS-ISAC), is conducting a 2021 national K-12 poster contest. The goal of the contest is to engage young people in creating posters to encourage other young people to use the internet safely and securely. All public, private or home-schooled students in kindergarten through grade 12 are eligible to participate. The top five Virginia winners from each grade group (K-5, 6-8, 9-12) will be entered into the national competition. Entries received may be used in national, regional and state cyber and computer security awareness campaigns.
How to Enter: Schools may submit entries to the Commonwealth of Virginia competition by emailing submissions to CommonwealthSecurity@VITA.virginia.gov. A parent may submit their entries for home-schooled students directly to MS-ISAC. The official rules and topic suggestions are included with the entry form. Please include the following entry form completely filled out (all fields are required) when submitting the poster. All entries due by midnight on Jan. 8, 2021.
Click here to download the form: Poster Contest Form
Registration for Azure training now available
VITA and Microsoft are offering two Microsoft Azure workshops in November. In both workshops, the Microsoft instructor will guide participants through specific Azure features, demonstrate how the features can be immediately applied to your agency and provide participants with the tools needed to leverage these features to problem solve down the road.
Below are more in-depth details for each workshop, including registration links. To ensure participants get a rich experience, each course is limited to 16 participants. Note: Due to limited seating, please sign up for these workshops responsibly:
Close skill gaps and gain advanced skills specific to Azure-related projects and initiatives
Seat reservations should be accompanied by the ability to attend the full training and participate
Cancel if you cannot attend, as seats are limited.
Azure Identity
Date: Nov. 5
Duration: 9 a.m – 4:30 p.m.
Registration link: https://vita2.virginia.gov/Events/chooseSession?MeetingID=106
At the end of this training, you will be able to:
Understand the features and capabilities of Azure Active Directory

Leverage Azure Identity features to maintain a secure and reliable connection to your agency's data

Deploy Azure Active Directory features
Security Best Practices
Date: Nov. 10, 12 and 13 (Nov. 11 has been skipped in observance of Veteran's Day)
*Attendees are expected to attend all three days
Duration: 9 a.m – 4:30 p.m. each day
Registration link: https://vita2.virginia.gov/Events/chooseSession?MeetingID=107
At the end of this training, you will be able to:
Identify the Azure security features that meet your agency's security needs
Maximize your investment in Azure
Increase the security of your applications and data
Use Azure to overcome new security challenges at your agency
2020 VITA IT Project Management Summit
The 9th annual VITA IT Project Management Summit scheduled for November 2020 has been canceled. VITA is developing educational opportunities early next year including, but not limited to, the Planview training related to the Commonwealth technology portfolio (CTP) modernization.
Teleworking tips: Work from home (#WFH)
By now, you're a pro from working from home but you may have also discovered that working from home can complicate security best practices, make it harder to share tips with colleagues, and more difficult to recognize and report potential incidents.
Here are some tips to help you keep your pro status!
Secure your wireless connection. Specifically, look to see if it is using "WPA2" or "WPA3" security, and make sure your password is hard to guess. You may need to contact your internet service provider for more information.
If you're using your own computer or mobile device (something not issued by COV), make sure you've enabled basic security features. Simply enabling the PIN, fingerprint, or facial ID feature will prevent people from getting on your device should you walk away from it. Any PIN or password you use should be hard to guess.
Keep your computers and mobile devices patched and updated. Make sure to connect to the virtual private network regularly to ensure your devices are updated.
If you're seeing unusual or suspicious activity on any device you're using to telework (computer, mobile device or home network) contact the help desk or your agency information security officer.
Check with your supervisor before using this feature on your phone. Commonwealth employees: see Teleworking 101 for more tips and information on working from home.
#WFH
End of the year training for AITRs
If you have any questions about a class or registration, please contact the MSI Training team.
Please remember: The training schedule is now posted in the knowledge base. Log in to VITA's knowledge base and click on the "Training" icon – here you can view training-related materials. To view the training schedule, click on "show filters" on the left side of the page. Then, check the box for "Training Schedules." This schedule is updated regularly and is the best way to stay up-to-date on training options.
Nov. 4 Configuration management database (CMDB) class
Nov. 4 ITFM process class
Nov. 5 & Dec. 9 Reports and dashboards class
Nov. 10 Problem management class
Nov. 17 Service level management (SLM) class
Dec. 2 Incident management class
Dec. 2 Request fulfillment class
Dec. 15 Service portal and catalog class
National cybersecurity competition registration now open
VITA is excited to announce the Commonwealth's participation in CyberStart America - an innovative, online cybersecurity talent search and competition, sponsored by the National Cyber Scholarship Foundation and SANS Institute. Virginia high school-aged students are encouraged to explore their aptitude for cybersecurity and computer science by participating in the program and to win prizes and recognition for their schools, as well as scholarships for themselves.
The CyberStart America program is a series of 100% online challenges that allow students to act as cyber protection agents, solving cybersecurity-related puzzles and exploring related topics such as code breaking, programming, networking and digital forensics. The program can be assigned as part of homework, can form the basis of an extracurricular club, or students can just try it on their own. Participating students and their teachers do not need knowledge or experience in information technology or cybersecurity to take part. Everything they need can be learned in the game.
This free program is now open and ends in March 2021. All Virginia students in grades 9-12 are invited to participate. High school students may register for the program beginning Oct. 30, and may begin playing the CyberStart Game on Nov. 15 at midnight. They may continue playing, and invite their friends to join them, through Feb. 28, 2021.
Complete details may be found at www.cyberstartamerica.org.
Information Security Tips
With the increased cybersecurity risks of working from home, we should all be thinking about how to secure our home office. After months of remote work, you have become a "work from home" pro. However, there may be some areas where you can shore up your home office cyber defenses. Ask yourself - are you communicating with your colleagues and co-workers in a safe and secure way? Do you keep your passwords properly managed? Can you identify (and report) potential incidents or threats on your network? Answering these questions should make you realize that cybersecurity is more important than ever.