May 2020
Volume 17, Number 5
From the CIO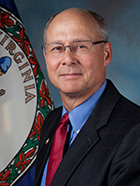 CIO Nelson Moe
As we begin another month of uncertainty together, please share a brief high-level view with me.
Virginia's investments of expertise, time and money in pursuit of our new information technology (IT) infrastructure are paying dividends as we confront this crisis. The work we did together over the past five-plus years now plays an important role in helping the commonwealth rise to the challenge presented by the COVID-19 pandemic.
I'm confident that our network improvements, our telecommunications modernization and our moves to the cloud have helped enable continued IT service delivery to you and to Virginia's citizens during this unprecedented surge.
Speed, innovation and motivation were much needed IT service delivery qualities. I now am hearing examples of how suppliers in our new environment, motivated to work together quickly and innovatively, are addressing customer issues unimagined a few months ago.
The unprecedented demand for telework support and virtual private network (VPN) access are great examples. Multiple suppliers have collaborated with VITA to provide rapid tripling of VPN capability. Surge staff was added to the service desk. Problem outcomes and response times are being reported transparently through the just-upgraded customer service portal. Service providers have adopted proactive safety measures for customers and employees while continuing their work initiatives.
I am grateful every day for our ability to manage cyber risk from an enterprise perspective, and I thank each of you for your vigilance. Government entities in Virginia and worldwide are seeing a huge spike in attack attempts. I do not like to imagine an agency or employee alone under such attack.
We have moved from crisis response to continuity of operations as we start the month of May. Uncertainty remains the predominant risk. Our goal during this unprecedented time is still to deliver the IT services needed to achieve your missions. Please accept my best wishes for continued health for your family and co-workers. Let us know how we can help.
Nelson
Guidance for year end procurements in fiscal year 2020
As we prepare for the end of the fiscal year, agencies are encouraged to complete technology procurement submissions as soon as possible and in accordance with the April 2 memorandum issued by the chief of staff to agency heads to ensure agency's purchases are processed in time to use FY20 budget funds.
The chief of staff outlined a number of measures to reduce or eliminate agency spending due to the COVID-19 crisis. In order to ensure proper governance, effective immediately agencies will be required to provide written confirmation that a technology procurement is in compliance with the chief of staff's memorandum. VITA is happy to answer any questions related to the technology procurement, but if an agency has any questions as to whether a particular technology procurement is compliant with the memorandum, they should seek clarification and guidance from the Department of Planning and Budget.
Included below is a table to help manage the timing of contracts, procurements and governance requests. Please consider your own internal approval processes as you plan for these dates. Requests received after these deadlines or those submitted without sufficient information may not be processed by FY20 closure.
Table of procurement of agency activity deadlines:
| | |
| --- | --- |
| Agency ordered procurements | VITA ordered procurements |
| April 30 – Agency submits to VITA IT Strategic plan procurement entries | April 30 – Agency submits eVA requisitions to VITA that are intended to be billed by June 25th. |
| May 6 – Agency submits to VITA Procurement governance request (PGR) for IT staff resources with total value over $250,000 | May 29 – Date by which all items submitted by Agency on or before April 30 must be processed, ordered, received in eVA and invoiced by the supplier in order to be billed by June 25th. |
| May 6 – Agency submits to VITA Enterprise cloud oversight, security and hosting exception request required for procurements | |
| May 11 –Agency submits to VITA contracts and SOWs for major IT projects requiring CIO approval before June 30 | |
| May 18 – Agency submits to VITA all PGRs requiring approval that must be completed for FY 20 | |
Teleconferencing tools and options
With our new normal of extended and expanded remote workforce, staying in touch and meeting virtually is more important than ever. Below is the latest news for some of VITA's video conferencing options.
For more information on all of the options, see this handy guide: Teleconferencing Options for the Commonwealth
Webex training
Webex Best Practices, Tips and Troubleshooting (Hosts and Presenters)
May 14, 2 p.m.

May 21, 2 p.m.

May 28, 2 p.m.
Users may register for these sessions and others here.
Zoom update - Work is progressing to add an enterprise version of Zoom to the service catalog.
Google Meet - Google Meet soon will have the option of a tiled layout (looks like a Zoom meeting...). You will be able to see up to 16 people at the same time. (Microsoft Teams includes this layout now.)
ORCA users
VITA's Online Review and Comment Application (ORCA) has a new URL: https://vita2.virginia.gov/publicorca.
Users should update their bookmarks now. For questions or concerns, please contact VITA's enterprise architecture (EA) team.
Keeping workplaces safe
The COVID-19 outbreak has created widespread impacts in how we conduct business on a day-to-day basis. A primary concern during this time remains the health and safety of the employees who support the commonwealth, as well as the many valued suppliers with whom we regularly interact.
To ensure our suppliers will help keep your staff and our workplaces safe, they are adhering to the following guidance and precautions when accessing and working in our facilities:
Suppliers have instructed staff to stay home if they feel sick or have come into contact with someone who has tested positive.

Staff who have been exposed are self-quarantining.

Meetings are being held virtually whenever possible.

Technicians are working remotely and only going to sites when necessary.

Technicians are wearing masks and following personal hygiene and social distancing standards when visiting sites.

Devices are being wiped down before and after imaging and before re-packaging.

Laptops are delivered using a non-contact model (box dropped off at designated location).

We're working on setting up "depot" locations where equipment can be dropped off and picked up.
We ask that you help us keep our staff and suppliers safe, too. Please ensure that suppliers have access to suitable resources in your buildings to support handwashing hygiene. Let VITA know if someone at your agency tests positive for COVID-19 or has been exposed so we can advise our staff who've potentially been exposed. In the event this occurs, please contact your agency information technology resource (AITR) or customer account manager (CAM). Additionally, if there are new procedures that visitors at your buildings are required to follow, please let your AITR or CAM know.
While the COVID-19 impact has introduced challenges for all of us, VITA continues to work toward completing projects, upgrades and service improvements. We want to complete this work safely, and we ask agencies to be prepared to allow the work to continue. Deferring planned efforts can impact the enterprise in terms of cost and timelines.
Requesting assistance from the VCCC
This knowledge base article describes the differences between submitting an incident ticket, service request or request for solution. Knowing the difference can help you obtain the best support in the most efficient manner. Additional tips:
For non-urgent issues or to request the items listed below, visit the

VITA service catalog

to enter a service request.
If something is broken or not working properly (e.g., your email is not working or you cannot connect to VPN), create a ticket by using the link on the VITA service portal.
Check the status of your tickets via the VITA service portal by clicking on "My Items" in the top navigation bar.
Use the knowledge base (KB) in the VITA service portal to learn how to do many common tasks. The KB has articles with steps and screenshots for things like activating a token, logging into VPN, setting up Okta Google authentications, etc. There is a "most viewed" option or you can search the KB in the same manner you would do a Google search with keywords or phrases.
Coming soon to the VITA service catalog
The following items will be added to the service catalog in the coming weeks. Look for more information soon.
Enhanced data loss prevention - The enhanced data loss prevention (DLP) service will monitor and prevent confidential data loss. Enhanced DLP provides quick monitoring of real-time events, centrally-managed security policies to control how employees use and transfer sensitive data, and generates detailed forensics reports with minimal impact to daily business activities. This service will also prevent data loss and leakage when data is modified, copied, pasted, printed or transmitted.
Agency-specific device – This service will allow customers to bring devices to their agency that are not currently being offered in the service catalog. Additionally, this service provides for the assessment and initial image load services for devices not currently included in the service catalog to determine if the device type is a viable candidate to be added to the enterprise. If all test and acceptance criteria are met, the service also includes creation and loading of the initial image.
Keep your hard drive – This service will allow customers to keep their hard drive instead of returning it with the device. Customers will have their hard drive removed prior to the disposal of the end-user device if and when the end user determines that there is a need to keep the hard drive.
Request for solution (RFS) form updates – The request for solution process allows a customer to submit a request for a service that is currently not available in the catalog or a request for a project that involves multiple suppliers. The updated form will provide a user guide to ensure that appropriate information is gathered.
Softphones now available
A new feature called a softphone is now available to VITA customers. This feature can help make working from home a little easier. A softphone allows you to use your computer as a telephone. Calls placed to a work phone number can be answered on your laptop, and calls placed from your laptop will display your work phone number on callerID. An added benefit is that it can provide better phone service if you are in an area that has poor cell service (as long as a strong Wi-Fi service is available).
If you have any issues or need assistance, please contact your agency information technology resource (AITR).
Modernization continues for agency voice networks
Verizon continues voice and data network modernization projects throughout the commonwealth with plans to update more than 1,451 agency sites. Since the project launched in late April 2019, more than 1,250 agency sites have been successfully modernized.
Total data only and managed take-over (MTO) sites: 1,222 of 1,451

Total virtual communication express (VCE) sites: 13 of 13

Total UCCaaS sites: 15 of 329
Who's up for a challenge?
As commonwealth employees, we have great health care options, and many of us are able to work behind the comfort and safety of our computer screens during this pandemic. There are many people in Virginia, however, that do not have it so well. The Virginia Health Care Foundation (VHCF) is a charity that helps uninsured and medically underserved populations across the state. They also fund front-line workers in mental health as well as medical workers and physician assistants who serve the uninsured. Outreach workers who help people apply for medicaid also benefit - of special importance right now for people who have lost their jobs and need assistance.
Here's the challenge: Help us raise money for VHCF and show our gratitude to those who work so hard to help others! Donate here: https://www.cvcgives.org/VITAchallenge
VITA offering training opportunities for AITRs
VITA is offering training opportunities to help suppliers work effectively and efficiently in our IT environment. Please review the chart below to register for training courses available in May.
If you have any questions about a class or registration, please contact the MSI training team (MSI_Training@SAIC.com).
Just a note of wellness from us to you
VITA is committed to the safety and well-being of everyone during these unprecedented times. Many are struggling to cope with stress when we've lost physical access to many of our daily connections. The challenge is finding a way to manage or reduce that stress. Here are a few suggestions that may help you along that path:
Take it one day at a time.

It takes time to work through something this big, and some days will be much better than others. Try to take each day as a fresh challenge and don't be too distracted by an occasional false start or seeming setback.

Be patient with yourself.

Expect your stress reactions to come and go—sometimes when you're least expecting it, often when it's least convenient. If you need to step away for a few minutes or take a moment by yourself, do what you need to do. But try to come back and complete what you were doing as soon as you feel able; that's how we regain control.

Talk when you need to; listen when you can.

It sounds basic, but it's true. The real work of adapting to situations like this happens one person to another, often one person at a time. Don't try to go it all alone. Pick the people, places, and times that work the best for you.

Unplug.

If you're feeling stressed, simply unplug from the news for a bit. Listen to music that relaxes you. Watch videos or listen to an audiobook or podcast that can help you.

Help is there whenever you need it.

State employees who are on a COV health care plan should not hesitate to use the

Employee Assistance Program

(EAP). EAP counselors are available to assist you, and you can receive up to four sessions at no additional charge.
If it works for you, pass it on.

We become stronger when we work through things together. A crisis can seem like an overwhelming obstacle, but there is strength in getting through them intact and together. This pandemic is no exception. We've all overcome other difficulties in our lives, and we will overcome this too.

Finally, don't let the most difficult elements of this situation overshadow your pride in what you do.

As difficult as this event is for all of us, we will emerge stronger, safer and more committed than ever to the work we do. Every one of us is crucial in helping us move the commonwealth forward.
Information Security Tips
With the global pandemic of COVID-19 and an overwhelming desire for the most current information, it can be difficult for users to ensure they are clicking on reliable resources. Malicious activity has come through just about every channel: email, social media, text and phone messages, and misleading or malicious websites.
Exercise extreme caution in handling any email with COVID-19-related subject lines, attachments, or hyperlinks in emails, online apps, and web searches, especially unsolicited ones. Additionally, be wary of social media posts, text messages, or phone calls with similar messages. Be vigilant, as cyber actors are very likely to adapt and evolve to the nation's situation and continue to use new methods to exploit COVID-19 worldwide.
Read April Information Security Tips