June 2020
Volume 17, Number 6
From the CIO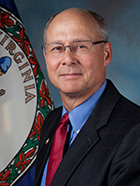 CIO Nelson Moe
A year ago, both VITA and our customers spoke often of agility as a highly desired quality of our new IT environment. Agility in procurement, in management, in solution development -- all were assigned metrics to expose our success or challenges. We were charting a new path as we created our new multisourced infrastructure together.
Today, amidst this historic pandemic, a different kind of agility is being required of us all. The transition to remote work has required facing personal and professional challenges head on. It's not been easy, and it's not done yet. But together we are making progress.
Looking forward, we must continue to cover ground toward our stated strategic goals. Please know that VITA is fully engaged in supporting the business of Virginia government as we move forward. This includes significant support of state employees in their ongoing work serving the commonwealth.
New challenges arise daily, of course, but many elements of our model, such as enterprise cybersecurity monitoring and patching, have measurably provided needed strength and safety. Similarly, our new customer-centric model now provides the clear, unambiguous metrics we need to best manage in uncertain times.
Your VITA customer service contacts are heavily engaged, as are our suppliers, to make sure you have the support you need. I appreciate your feedback and input. Together, we are moving forward, and we will continue to do so.
Nelson
Fiscal year 2021 rates posted
As part of VITA's ongoing effort to be transparent with agencies throughout the budget planning and execution processes, fiscal year 2021 (FY21) IT service rates are now available for review on VITA's website. This list is very similar to the list of provisional rates provided on Feb. 3. We hope to build a common and shared understanding of VITA's rate structure, actual service rates and fiscal impact for agencies for the upcoming biennium. VITA worked closely with the Department of Planning and Budget (DPB) to update the FY21 budget based on VITA's forecast of FY21 IT usage and the aforementioned rate structure.
It is noteworthy that the FY21 IT services rates are generally lower than FY20 rates. This is due to two reasons. First, repayment of the line of credit will be completed in FY20. Second, the prior year under-recovery from FY18 that is included in the rates for FY20 will not carry forward into FY21. The VITA service catalog is being updated to reflect the new FY21 rates and services.
Teleworking 101
Teleworking 101 is a guide for those new to teleworking in government. The document includes teleworking best practices, DHRM and VITA resources available and an overview of the equipment, technology and actions needed to successfully connect to the COV environment.
The technology information is focused on what a first-time teleworker may need help with, like taking your desktop home, getting a token for virtual private network (VPN) access and setting up your home network. It also includes teleworking best practices to provide you with ideas for setting up an office space at home, suggestions for how to maintain a routine and tips for communicating with your team, manager and those around you.
The guide is posted on the VITA service portal here.
Teleconferencing tools and options
With our new normal of extended and expanded remote workforce, staying in touch and meeting virtually is more important than ever. For more information on all of the options, see this handy guide: Teleconferencing Options for the Commonwealth
DMV call center overhauled
Over the last several months, DMV has been working closely with Verizon, Atos, Iron Bow, VITA and SAIC to roll out significant call center updates. As of May 15, VITA has successfully converted DMV's call center systems to virtual communications express (VCE) phone services and virtual call center (VCC) platform services – at three different sites. From firewall rules to installing client software and performing an early refresh at the call centers, this project required close collaboration and communication. The success here represents our maturing model. We look forward to future collaboration and success.
Successful election day
Tuesday, May 19 marked a successful day for the Department of Elections (ELECT). VITA and ELECT functions came together smoothly and resulted in a seamless voting experience for citizens. One down and two more to go – we have one more election in June and the big one in November.
Requesting assistance from the VCCC
Something broken or not working properly? Open a ticket using the VITA service portal. Need to request a token, distribution list, shared mailbox or add/change a network account? Order these requests via the VITA service catalog.
New to the VITA service catalog
The following item has been added to the service catalog.
Enhanced data loss prevention - The enhanced data loss prevention (DLP) service will monitor and prevent confidential data loss. Enhanced DLP provides quick monitoring of real-time events, centrally-managed security policies to control how employees use and transfer sensitive data, and generates detailed forensics reports with minimal impact to daily business activities. This service will also prevent data loss and leakage when data is modified, copied, pasted, printed or transmitted.
Keeping workplaces safe
The COVID-19 outbreak has created widespread impacts in how we conduct business on a day-to-day basis. A primary concern during this time remains the health and safety of the employees and valued suppliers who support the commonwealth on a regular basis.
To ensure our suppliers will help keep your staff and our workplaces safe, they are adhering the CDC guidance and precautions when accessing and working in our facilities. VITA continues to work toward completing projects, upgrades and service improvements. We want to complete this work safely, and we ask agencies to be prepared to allow the work to continue.
We ask that you help us keep our staff and suppliers safe, too. Please ensure that suppliers have access to suitable resources in your buildings to support handwashing hygiene. Let VITA know if someone at your agency tests positive for COVID-19 or has been exposed so we can advise our staff who've potentially been exposed. In the event this occurs, please contact your agency information technology resource (AITR) or customer account manager (CAM).
Challenge accepted and HUGE success!!
Special thank you to all the agencies who stepped up and helped raise money for the Virginia Health Care Foundation (VHCF) and showing our gratitude to those who work so hard to help others! VITA issued the challenge to raise $1,000 and we are excited to announce that we surpassed the goal and raised a total of $1,510 for the foundation! Way to go!
As commonwealth employees, we have great health care options, and many of us are able to work behind the comfort and safety of our computer screens during this pandemic. There are many people in Virginia, however, who are not so lucky. The VHCF is a charity that helps uninsured and medically underserved populations across the state and also fund front-line workers.
Special shout out to the following agencies for making this a competition while helping others. You are all winners in our book!
Department of the Criminal Justice Services
Department of Accounts
Virginia Department of Transportation
Department of Health Professions
Woodrow Wilson Rehabilitative Center
Department of Behavioral Health and Developmental Services
Department of Corrections
Virginia Information Technologies Agency
VITA offering training opportunities for AITRs
VITA is offering training opportunities to help suppliers work effectively and efficiently in our IT environment. Given current events and the impact of COVID-19, please note that all our training classes are available via Webex. (Webex can be accessed without VPN.)
If you have any questions about a class or registration, please contact the MSI training team (MSI_Training@SAIC.com).
In the news: Realities of the transition to telework
Day two of the virtual NASCIO midyear event featured a discussion among four state chief information officers about their respective transitions to a largely remote workforce. Moderator and Virginia CIO Nelson Moe was joined by Nebraska CIO Ed Toner, Maryland CIO Michael Leahy and Missouri CIO Jeff Wann for the morning session - "Not Business as Usual: Technology and Process Innovations."
Read the full Government Technology article
Girls Go CyberStart National Champs!
Go Virginia! We had 19 schools competing in the Girls Go CyberStart National Championships May 20-21! Each school that qualified had a team of four girls participate in the online competition. There were 269 teams and 240 individual girls who showed up to give it their best. The top three Virginia teams were from the following schools:
Bishop Ireton High School

Spotsylvania High

Flint Hill School
This blog post has the full list of winners and here's a description of prizes.
Watch our Go Virginia! video on Facebook
Wow, that was fun! Congratulations to everyone who participated! You did Virginia proud!
Information Security Tips
In today's world we are more connected than ever — not only to each other, but to our devices. For example, people now have the ability to open and close their garage doors and even start their cars directly from their phones. But what information do we put at risk when we do all of these amazing things?
While technology enables us to control life from our fingertips, our information is at everyone else's fingertips as well. Just like you lock your front door to protect the valuables inside, you also need to lock your devices to protect your information and your privacy.
Read May Information Security Tips