July 2021
Volume 20, Number 7
From the CIO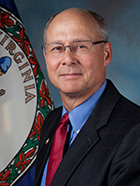 CIO Nelson Moe
VITA awards contract for enterprise messaging services
I am pleased to share with you that the Virginia Information Technologies Agency (VITA) awarded a first-in-the-nation contract for the public sector that offers Commonwealth agencies options to choose Microsoft or Google platforms for email and other messaging services. The $82.5 million contract was awarded to NTT DATA, Inc. for five years, with several optional extensions.
This multisolution partnership is the first of its kind in the country for the public sector. We recognize that VITA's customer agencies have distinct needs that require more options, and this innovative solution will allow for better customization and a feature-rich environment now and in the future.
This was the first competitive procurement process since we transitioned from a single-source provider business model to a multisupplier model four years ago. The contract provides core messaging services for Virginia's executive branch agencies, including email, calendar, archiving, mobile device management, online storage, productivity suites and collaboration services, among others.
The procurement review team, which completed the process remotely, was composed of cross-functional reviewers and subject matter experts from multiple customer agencies. I greatly appreciate the partnership, experience and knowledge that the VITA team and customer agencies brought to this project. The multiplatform approach for messaging and collaboration was led by our chief operating officer, Jon Ozovek.
The contract outlines a robust planning and engagement process to fully integrate and implement services. New services, including those within modernized Google and Microsoft platforms, will become available once the supplier has completed the integration and implementation activities, which will take about six months. Agencies will likely begin migrating to new platforms in early 2022.
I look forward to collaborating with NTT DATA to evolve the Commonwealth's messaging environment to the next generation of methods for messaging services.
Nelson
Robotic process automation service available to agencies
Robotic process automation (RPA) is now available in the service catalog. RPA is a service used for software applications that partially or fully automates human activities that are rule-based, manual and repetitive. This is the first among several modern technology solutions that have an outstanding value proposition for the customer and is the first centralized, end-to-end RPA as a service in the public sector in the United States.
RPA robots utilize the user interface (UI) to capture data and manipulate applications the same way a human would. They interpret, trigger responses and communicate with other systems in order to perform a vast variety of repetitive tasks. The RPA technology has an attractive return on investment for technology spend, in terms of cost savings, waste reduction and productivity improvements.
RPA will allow agencies to configure software (robots) to capture and interpret existing applications for:
Most business processes can be automated. Software robots ("bots") are set up to manage these processes, performing tasks that users assign, monitor and control. The software allows for appropriate human intervention when additional input is required or exceptions are noted.
Commonwealth website branding bar for executive branch agencies
As a response to Gov. Northam's request for fast and uniform content update by agencies throughout the Commonwealth, websites for executive branch agencies should display the current Commonwealth website branding bar as the top content. The branding bar took on new importance when Gov. Northam and his COVID response team recently requested agency assistance in distributing vaccine information. The hosted banner allows fast, uniform content updates as requested by the governor or other officials to be shared with citizens quickly and uniformly. Agencies benefit because updates are implemented by VITA then shared to all branding bar users, requiring no action by the agency. This also addresses guidance as a result of the multi-agency website topic report workgroup which was first launched a decade ago.
Please check your agency's website and confirm you are using the current website branding bar. The VITA team has posted the cose and instructions for publishing the bar here: https://www.developer.virginia.gov/downloads/commonwealth-banner/
If you have any questions, or need additional information, please contact webmaster@VITA.virginia.gov.
Emergency Connectivity Fund - Support for broadband internet connectivity
The Emergency Connectivity Fund (ECF) program was created to help facilitate off-campus learning during the coronavirus (COVID-19) pandemic. The program provides funding for schools and libraries for the purchase of connected devices and broadband internet connections for use by students, school staff and library patrons and support connectivity to off-campus locations to facilitate off-campus learning. Additionally, funds will be available for hot spot, router and modem hardware, as well as connected devices like laptops or tablets. While the Federal Communications Commission (FCC) has leveraged some of the processes and procedures from E-rate to implement the ECF funds, there will be no FCC-specific competitive bidding mandates; however, applicants will certify compliance with applicable local, state, and tribal procurement requirements. Read the federal order here.
As VITA is the IT contracting authority for the Commonwealth of Virginia, its state master contracts are valid for use by all Virginia public bodies, including all public schools and libraries, and including those benefiting from the ECF program. Each supplier agrees to provide products and services at contract rates to Virginia government entities.
Additional contract details, including points of contact, pricing, etc., are available on the VITA website here.
Hot List
Agencies, need to know what's burning up your bandwidth? Check the "hot list" to find out!
This list contains wide area and local area network circuits that are at risk of becoming overutilized and could impact network performance. Agencies can review this list as a good starting point for managing usage. Contact your business relationship manager for details.
Print services now has options
Exceptions are no longer required for selecting convenience contracts for print devices and managed print service outside of the multisourcing service integrator (MSI) platform's fully integrated Xerox managed print service. VITA worked with the relationship management committee to identify possible solutions and recommendations toward lowering the print service costs.
What is changing?
Since the beginning of the MSI partnership, VITA has required its customers to utilize Xerox's full-support contract (MPS contract #VA-180915-XERX). If agencies wanted to use an external vendor, an exception was required. Effective June 28, VITA no longer requires exceptions for the selection of the 11 print service convenience contracts for new devices or the replacement of existing convenience contracts. These convenience contracts are listed on the VITA contracts website as print devices and managed print services.
Please note that Xerox also has a convenience contract that is not fully integrated with the MSI (VA-191121-XERX Print Devices and Managed Print Services.)
Additional guidance is being developed for agencies who want to consider moving from Xerox's full-support contract (MPS contract #VA-180915-XERX) to a convenience contract to appropriately address early device return. VITA is also working with Xerox to modify the full support contract to reduce its cost.
Chip shortage creating global delays
Over the past 18 months, global supply chains have been under pressure due to COVID-19. Specifically, in the past six to 12 months, demand for computer chips has dramatically spiked and supply has struggled to keep pace. The effects of this shortage are being felt globally by manufacturers, including those of computers, cars and cell phones.
Our suppliers continue to work with equipment manufacturers to provide solutions and reduce delays wherever possible but customers can expect lead times to increase to a minimum of two to five months for devices and other computer peripherals. It is important for agencies to aggressively plan for device shortages. VITA is working with our suppliers to take steps to ensure some equipment is available.
Self-service password reset is moving to Okta
Over the next few months, VITA is rolling out a new self-service password reset option using Okta. Okta self-service password reset will allow Commonwealth users to independently change or reset their COV password and unlock their COV account. The existing self-service password reset site (https://covpassword.vita.virginia.gov/default.aspx) will be retired on Aug. 31, and can still be used up until its retirement. The new option has been tested by some agencies and no Active Directory synchronization issues have been experienced nor are expected.
This new option will be rolled out agency by agency. Agency information technology resources (AITRs) will be notified when the functionality has been rolled out to their agencies. The notification will include knowledge base articles for additional support. On the scheduled rollout date, users will receive an email notification from  "noreply@okta.com" prompting them to set up a forgotten password question and answer. This activity will activate a user's ability to use Okta self-service password reset.
Esna voicemail to email to be retired
As part of the transition from the Commonwealth Enterprise Solutions Center (CESC) to the QTS data center, VITA will retire the Esna voicemail to email service and replace it with the unified communications and collaboration as a service (UCCaaS) – Unity message relay service.
Agencies are scheduled to be transitioned from Esna to the Unity service by Friday, July 23. Unity messaging relay is available at no additional cost, as it is a part of an agency's Verizon UCCaaS service. There are two types of message actions available within the Unity message relay feature:
Accept and relay

 – This is the most common message action. Voicemail is accessible on the UCCaaS desk phone, Jabber softphone or through an outside location. Additionally, an email with an audio file (.wav) of the voicemail will be sent to the user's COV email account.

Relay

 – All voicemail is sent as an audio file (.wav) to the assigned recipient's email.
Speech-to-text will no longer be available. If your agency is currently using the feature, which is helpful for the hearing impaired, please notify your AITR.
Did You Know?
Manage your notifications from the VITA service portal
You can manage which notifications you get and how they are delivered: email, SMS/text or even voice.
Click the gear icon in the upper right corner, to the right of your name.

Under System Settings, choose Notifications. You can turn ALL notifications on or off with the slide bar "Allow notifications."

Scroll down and you can specify precisely which notification types you get and how they are delivered. For example, in the category of "Approval" there are 11 notification types. You can customize each one, including turning off notifications for the items that you don't need.
Information Security Tips
Seniors are considered easy targets by criminals because they might not know how to report cybercrimes against them. In some cases, seniors can experience shame and guilt over the scam. They may also fear that their families will lose trust in their ability to continue to manage their own finances. Learn how to protect and keep seniors safe!
Read Information Security Tips