July 2020
Volume 17, Number 7
From the CIO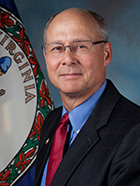 CIO Nelson Moe
July 1 marks the beginning of a new fiscal year and wraps up more than 90 days of remote work in the commonwealth due to the COVID-19 pandemic. Our VITA team is immensely grateful for the opportunity to serve each of our 65 customer agencies. Together with our suppliers, we've been able to equip and empower state agencies to continue to connect 8.6 million Virginians to vital virtual services.
Thanks to our partnerships with our customers and multiple suppliers, we've been able to swiftly and effectively respond to effects from COVID-19. From the time the state of emergency was declared, we've:
Expanded virtual private network (VPN) capacity by 700% (from 5,000 to 35,000 concurrent connections) in just over a month
Quickly launched Zscaler, a cloud-based VPN alternative
Upgraded internet capacity to accommodate 10Gb per second for increased network demand
Scaled up help desk support staff to address a surge in call volumes and VPN access requests
Surveyed agencies and obtained a supply of thousands of laptops sufficient to meet remote work needs
Created an option to take a desktop computer to a remote location for work
Enhanced the frequency and detail of communications about operations
Partnered with the Department of Human Resources Management (DHRM) to develop guidance for telework
Addressed nearly all agency one-time requests in an expedited manner.
We continue to assist in Gov. Northam's Unified Command Task Force. In this role, VITA partners with agencies tasked with mission-critical response functions to ensure their COVID-related needs were addressed. For example, we've been able to assist the Virginia Department of Health with finding and vetting suppliers for contact tracing capabilities, and we've ensured that the Virginia Employment Commission has sufficient technology support to process the immense number of unemployment insurance claims.
Our mission continues to center on connecting our customers and serving Virginians well. As our world and our workforce continues to drive primarily on digital and information superhighways, it's more important than ever to connect Virginians to employment information, critical health data, drivers' licenses, tax return filing guidance, or resources for food assistance. We greatly appreciate your partnership and look forward to continued success and wellness as we start a new fiscal year.
Nelson
Connect to VPN for updates and password resets
Since Virginia's workforce has been remote for about 90 days, it's important to remember to log into VPN to keep accounts active and update passwords.
Users must check in to the network at least once every 90 days or their computer accounts could be deactivated. Additionally, checking in will ensure patches and updates are being installed. Even if users don't connect to VPN during the day, overnight connections while leaving the system running on weeknights is best.
When changing passwords, for best results, users should connect to the virtual private network (VPN) or VPN alternative to avoid possible issues synchronizing with some applications.
MSI implementation project closeout
VITA's multisourcing service integrator (MSI) implementation project has been closed out. Closing this project is more than just a single milestone for VITA: it is the culmination of over four years of effort, which included eight implementation projects and the transition assist program that offboarded our previous supplier. It has been a long and challenging implementation, but closing the project means we have turned the corner into the future.
VITA's relationships with suppliers are based on mutual benefit and accountability. To maximize value to the commonwealth and our customers, we will continue to focus on supplier accountability to improve and optimize our new operating model. For VITA, our future state will focus on stability, customer success and innovative service introduction. We will be agile, proactive and adaptive to changing circumstances.
Repayment of credit line complete
VITA has satisfied full repayment of the $165M line of credit we were granted to terminate the contract with our previous supplier. Fulfilling our obligation to repay the entire line of credit on time, with our final payment by the end of this fiscal year, was a priority for VITA. Through a combination of cost recovery from customers via appropriations by the Department of Planning and Budget, and better than anticipated financial performance throughout the service towers, we met this goal. This is a significant milestone and helps propel us toward finalizing transformation.
Next Generation 9-1-1 technology launched in Virginia
VITA's integrated services program (ISP), in coordination with Fairfax County Public Safety, successfully launched Next Generation 9-1-1 (NG9-1-1) for the first time in the commonwealth in early June, ahead of the team's transition to the Virginia Department of Emergency Management.
"Virginia is breaking new ground with our work on Next Generation 9-1-1 and our commitment to keeping Virginians safe 24/7," said Chief Information Officer of the Commonwealth Nelson Moe. "Employing the latest technologies connects emergency service providers and those in need of assistance more efficiently and reliably."
Fiscal year 2021 rates posted
Fiscal year 2021 (FY21) IT service rates are now posted in the VITA service catalog. This year, we provided the rates early for your review. We look forward to providing this increased level of transparency into services and rates that will help drive predictability for future budget planning. We intend to continue building a common and shared understanding of VITA's rate structure, actual service rates and fiscal impact for your agency for the upcoming biennium.
ISP transition to VDEM
Ralph Northam has approved the legislation,

House Bill 1003
(2020), effective July 1, transferring the integrated services program (ISP) division presently under the Virginia Information Technologies Agency (VITA) to the Virginia Department of Emergency Management (VDEM), and will be named 9-1-1 and Geospatial Services Bureau.
A webinar was held on June 17 to discuss the upcoming transition from VITA to VDEM with ISP customers. Listen to a recording of the webinar
The ISP website will be integrated into the vaemergency.gov website. Employee email addresses: First and last names will remain the same; change @vita.virginia.gov to @vdem.virginia.gov.
New contact information:
Virginia Department of Emergency Management
9-1-1 and Geospatial Services Bureau
9711 Farrar Court, Suite 200
North Chesterfield, VA 23236
COVITS 2020 - Virtual conference slated for Sept. 9-10
This year's COVITS will be "digital" in every way! The conference is being held in a virtual format, over the course of two partial days. Government Technology's passion is promoting best practices and spurring innovation in the public sector – more important than ever in challenging times like these.
Governor's Technology Awards will also be postponed for 2020, in recognition of the significant work required of agencies during this time. The popular awards program will return in 2021.
Learn more about the conference here
VITA service catalog enhancements launching July 1
Beginning July 1, users will see significant enhancements to the COV account request form. There will be four discrete forms: onboarding, offboarding, temporary disable and urgent account disable. This will allow the VITA Customer Care Center (VCCC) to process requests more quickly and run reports more efficiently. Additional COV account management forms have also been updated, including: multifactor authentication (MFA) forms, contact records and group/distribution lists. The updates provide a consistent look and navigation flow across the catalog and are designed to make ordering from the catalog easier and more intuitive.
Annual technology plan
VITA's annual technology plan guides the commonwealth to an innovative, efficient and secure IT future. Our suppliers are coordinating to build this year's plan and report. The report provides an important infrastructure roadmap that agencies can use to inform and adjust three-year horizons. We look forward to sharing more details this summer.
Disparity study now underway
Last month, the commonwealth began conducting a disparity study (telephone and online surveys) to assess whether any barriers exist for minority- and woman-owned businesses that make it more difficult for them to compete for commonwealth contracts. Information from the surveys will help the commonwealth improve its efforts to increase contracting opportunities for small businesses and minority- and woman-owned businesses.
For more information about the disparity study, please visit the Department of Small Business and Supplier Diversity website.
CIO Nelson Moe on NASCIO podcast
CIO Nelson Moe recorded a podcast for "NASCIO Voices" about his time on a nuclear submarine, working for the U.S. House of Representatives, VITA's outsourcing model and his predictions for the future of the state government workforce in Virginia. It is approximately 25 minutes long; listen here.
Summer training classes for AITRs
We are offering additional service portal and catalog classes in July to provide ample opportunity for users to learn more about the catalog enhancements. The class has been updated with lots of great information – even if you've taken it previously, we invite you to come back and learn more! All our training classes are available via Webex (VPN not required).
If you have any questions about a class or registration, please contact the MSI Training team. We look forward to seeing you, virtually, in an upcoming class!
Information Security Tips
With the recent move for many to working from home, there are a lot of questions around virtual conferencing platforms. Learn how to stay safe while virtual conferencing in the June edition of Information Security Tips!
Read Information Security Tips