January 2021
Volume 18, Number 1
From the CIO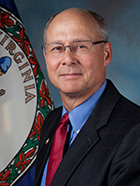 CIO Nelson Moe
2020 - the year our lives were upheaved - particularly our work lives - by the coronavirus and several states of emergencies. VITA was ready to provide the technical response necessary to successfully transition the state workforce to an almost fully remote environment. This wasn't a stroke of luck; it was the result of the modernization planning and groundwork already in place that positioned us to respond.
In 2021, VITA will continue to move forward in protecting, connecting and innovating for the Commonwealth. Under our new multisourcing operating model, we are progressing toward an agile, modern and customer-centric environment. We have moved almost 900 servers to a new, state-of-the art data center. We have garnered awards for the work we do and stand out as leaders among states. We have done all of this while protecting the state's data and systems, helping to support secure elections and guarding against major breaches and intrusions.
As you've likely seen in the news, some government systems and networks in the United States have been compromised in widespread cyberattacks on SolarWinds and Microsoft. Currently, our team has not identified malicious activity in the Commonwealth enterprise environment; however, we continue to closely monitor the environment for any issues. Determining the scope and scale of the SolarWinds incident will require some time for the company, and those using Solarwinds products, to assess damage to their environments. We will continue to update as we learn more information about malicious activity.
Looking toward the future, I am happy to share some good news regarding our infrastructure. VITA successfully made a business case for the investment in upgrading and modernizing our core network infrastructure model. We will soon be moving away from what is currently referred to as a "hub-and-spoke" model. Transforming this environment will provide a more diverse environment with no single point of failure. As we kick off this strategic effort in FY21 and into FY22 we will be partnering with agencies to ensure minimal disruption and look forward to an environment with fewer outages and latency issues.
Even though the typical holiday celebrations perhaps looked different this year, it is my hope that you had a joyful, peaceful and restful break. I look forward to making it a great year for the Commonwealth.
Nelson
Google Chat is now live
Google has replaced its instant messaging service, Hangouts, with Google Chat, effective Jan. 4. Chat allows you to have one-on-one and group discussions as you did in Hangouts. New in Chat is the ability to create a room, which allows members to have multiple conversation threads in one place. If you wish to learn more about Google Chat and the service switch, please review the Switching to Chat from classic Hangouts overview.
Did you know?
You can check for system outages in the VITA service portal
When in the service portal, please see "System Status" in the top banner. This link will provide details about any existing outages and their impacts. We invite you to share this information with end users at your agency.
Fiber is an essential part of the Commonwealth's infrastructure
Our fiber optic lines connecting the Commonwealth's network are excellent conductors of light, and the zeros and ones necessary to power the internet, but they are, unfortunately, susceptible to damage by things like construction equipment and even squirrels! When a fiber strike is reported, Verizon investigates and determines where the damage is and how best to repair it. Sometimes the cable can be spliced; sometimes a new fiber cable has to be laid or hung. And remember, it's not just state agencies that are impacted by fiber cuts -- it's everyone in the area, from businesses to homeowners. If the strike occurs at a place where it enters one of our buildings, our infrastructure is set up to provide a failover response by re-routing traffic from the damaged fibers. Plans are already in place and work has begun to upgrade the ecosystem to provide even more robust capabilities to mitigate issues created by external damage.
New Google Meet "Activities" icon
As part of Google's rebrand to Google Workspace, an "Activities" icon has been added to the top right-hand corner of Google Meet for business and enterprise users. "Activities" allows the owner of the meeting to create breakout rooms and post polls. It also offers a Q&A feature that allows the host to better manage incoming participant questions. Note: the "Activities" icon will be visible to ALL meeting participants if a business or enterprise user is hosting. It will not be visible if a basic user is hosting, even if a business or enterprise user is in attendance.
CyberStart America: a national cybersecurity skills competition for high school students
VITA and the Department of Education are partnered in the Commonwealth's participation in CyberStart America - an innovative, online cybersecurity talent search and competition sponsored by the National Cyber Scholarship Foundation and SANS Institute. Virginia high school-aged students are encouraged to explore their aptitude for cybersecurity and computer science by participating in the program. Winning students can earn prizes and scholarships, as well as recognition for their schools.
The CyberStart America program is a series of 100% online challenges that allow students to act as cyber protection agents, to solve cybersecurity-related puzzles and explore related topics such as code breaking, programming, networking and digital forensics. The program is open to all, so activities can be part of assigned homework, an extracurricular club or completed on one's own. Experience or knowledge in information technology or cybersecurity is not necessary to participate.
This free program is now open and ends in March 2021. All Virginia students in grades 9-12 are invited to participate.
Complete details may be found at www.cyberstartamerica.org.
Service request resolution
Was your incident closed before it was resolved?
In the email you receive when a ticket is marked closed, there is a link to the VITA service portal. When you click on that link, there will be a box where you can choose to reopen the ticket. (Please see knowledge base article KB0018057 - How to Reopen Incidents - which provides detailed instructions on how to reopen an incident.) If no action is taken, the ticket will be closed three business days after it has been marked resolved.
Resolved service request email
Users are now able to confirm whether or not a service request has been fulfilled before it is closed. The requestor will receive an email after all service request tasks are completed to confirm fulfillment of that request. The automatic email includes language informing the user to respond if the request has not been resolved. A response should not be sent if the request was resolved satisfactorily. If a response to the email is not received in two business days, the service request will be closed and considered complete.
VITA finance webinar sessions – FY 2022 rates
To prepare for the upcoming fiscal year, VITA will hold live webinar sessions to provide a high-level overview of the information technology services rate methodology. These sessions are open to all agency employees with fiscal responsibility.
Available webinar dates:
Thursday, Jan. 28, from 2 – 3 pm: Click

here

to register.

Thursday, Feb. 4, from 3 – 4 pm: Click

here

to register.
A calendar invitation will follow with meeting details. If there are any questions, please contact your customer account manager (CAM).
Training registration information - new process effective Jan. 6
Starting Jan. 6, VITA, suppliers and agency personnel have a new way to register for VITA service portal classes and other training delivered by the multisourcing service integrator (MSI). Instead of individual links to registration forms, there is one link which takes you to your Learning Dashboard. On the dashboard you can view the course catalog, customized based on your role, and register for the class you would like to complete. Initially, a few of the most popular classes will be offered via computer-based training (CBT) and eventually additional CBT will be available.
Learn more in the VITA knowledge base
If you have any questions about a class or registration, please contact the MSI Training team.
We're on trend!
We continually observe trends in general service requests (GSRs) to identify opportunities for new forms. Using a dedicated form is the easiest and fastest way to reach resolution (vs. a GSR, phone call or email to the VCCC). Over the last several weeks, we delivered several new forms -- here's a recap:
Information Technology Security Awareness Training Standard (SEC527)
The proposed new Information Technology Security Awareness Training Standard (SEC527) is posted on our online review and comment application, ORCA. The review period will expire Jan. 22.
The standard will provide curriculum and materials for training all state employees in information security awareness and in proper procedures for detecting, assessing, reporting and addressing information security threats.
Please contact Ed Miller if you have any questions regarding the standard.
Kids Safe Online Poster Contest - Entries due by Jan. 8
We are in the final week of the poster contest - get your submissions in by midnight Friday, Jan. 8! VITA, in support of the Multi-State Information Sharing and Analysis Center (MS-ISAC), is conducting a 2021 national K-12 poster contest. The goal of the contest is to engage young people in creating posters to encourage other young people to use the internet safely and securely. All public, private or home-schooled students in kindergarten through grade 12 are eligible to participate. The top five Virginia winners from each grade group (K-5, 6-8, 9-12) will be entered into the national competition.
How to enter: Schools may submit entries to the Commonwealth of Virginia competition by emailing submissions to CommonwealthSecurity@VITA.virginia.gov. A parent may submit their entries for home-schooled students directly to MS-ISAC.
Visit the VITA website for the official rules and entry form!
COVIDWISE application
VITA encourages Virginians to download the Virginia Department of Health's exposure notification mobile app, COVIDWISE, to help stop the spread of the coronavirus in Virginia. The app is safe and protects your privacy. It works by having your smartphone exchange anonymous and randomly generated codes with other devices nearby. The app does not use location information, but rather will simply let you know if you have been in proximity to another COVIDWISE user who has reported a positive test result in the last 14 days.
Information Security Tips
Even though Black Friday, Small Business Saturday and Cyber Monday have come and gone, holiday shopping and returns are still at the forefront of many consumers' minds. Since many consumers are avoiding stores and buying more online, e-commerce sales continue rising. However, while embarking on your online shopping conquest, make sure you're not leaving yourself at risk.
Read Information Security Tips