January 2020
Volume 14, Number 13
From the CIO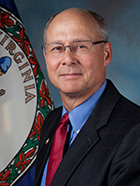 CIO Nelson Moe
From where I sit, the beginning of a new decade aligns vigorously with the beginning of the agile, stable and transparent IT environment we envisioned five New Years ago.
Now, today, we have instituted a new model of IT service delivery, a model that is transparent and easier to govern. Our agencies and commonwealth employees across the state have helped to build this new model, and in 2020, it's now time to take advantage of what we have built together.
By moving from one IT supplier to eight, Virginia agencies will see continuous improvement in agility and business value from their IT spend – in the coming year and decade.
I'm confident that VITA's 2019 realignments will provide value to agencies in 2020 and beyond, because they are designed specifically to prioritize customer service excellence. Your service will improve in the coming year, and if it doesn't, I want to hear about it right away.
You will see improvements early this year, including implementation of new self-service capabilities, improved invoicing and more competitive service offerings. Our new governance model is maturing and improving, and your input is helping a great deal in the process.
I'm a realist. I know there will continue to be bumps along the path to performance excellence. Many stakeholders have their eyes on us – and we are executing according to a strong vision shared by all. Let's enjoy the new year and continue our principles of providing outstanding IT service delivery to the constituents of the commonwealth in 2020.
Nelson
2020 security conference scheduled; call for papers announced
The 2020 Commonwealth of Virginia (COV) Information Security Conference is slated for April 16-17 at the Altria Theater in Richmond. The conference committee is accepting submissions for the Call for Papers until Jan. 24, 2020. "2020 vision: A future of innovation" is the theme, and the conference will offer three levels of track seminars.
Welcome to the cyberverse - introduction, high-level
Elevate your cyberverse - specialties driven, mid-level
Enter the cyberverse - technical, deep dive
When submitting your synopsis, we kindly ask that you give a brief overview of how you would tailor your presentation for each of the learning tracks above. Please indicate in the synopsis if you are willing to present on multiple tracks.

Project management summit rescheduled
Registration for the eighth annual VITA Project Management Summit is once again open. The summit is on Jan. 15, at William H. Talley III Center for Workforce Development (on the Chester Campus of John Tyler Community College).
This year's theme is "Back 2 Basics."
In today's marketplace, and particularly within IT environments, predictability is anything but the norm. Management of IT projects is characterized by the need to integrate complex, interconnected systems that span the agency or even enterprise, constantly changing business needs, and stakeholder demands and constrained resources. As a result, overseeing these projects is an increasing challenge. To be successful, a project has to deliver results on time, on scope and within budget.
The summit is open to state and locality staff only. Continuing education credits are offered.
Click here
to register. Registration closes Jan. 14. If you have already registered, the Community College Workforce Alliance (CCWA) should be reaching out to verify your registration for the event.
Registration for cybersecurity competition now open
Registration for the 2020 Girls Go CyberStart program is now open to girls in grades 9-12.
Students complete immersion training in an online game environment in key areas of cybersecurity. They pass challenging certification exams as they gain the knowledge, tools and techniques needed to launch a career in cybersecurity as they explore relevant and exciting topics such as cryptography and digital forensics. At the end of each course, they will earn certifications that identify their skill sets and cyber workforce-ready students will be introduced to select employers for internships and employment opportunities.
More than 800 young women from 88 Virginia high schools participated in the 2019 Girls Go CyberStart program. Of these, 20 high schools won licenses to the game, making it available to the entire student body. Four Virginia high schools qualified for the national championship competition. A total of $10,600 in cash prizes and scholarships were awarded to Virginia schools and students. Twelve students each received a $500 scholarship.
This program encourages high school girls to explore the exciting career opportunities in the field and join the global cybersecurity community all while learning cybersecurity skills to become the next leaders in the field.
Registration details:
To be eligible to participate, students must:
Identify as female
Be at least 13 years old on Dec. 2, 2019
Be enrolled in grades 9, 10, 11, or 12 at a public or private school (or the homeschool equivalent)

VITA offering training opportunities for AITRs
VITA is offering training classes January - March to help AITRs work effectively and efficiently in Virginia's IT environment. Review the list below to register for the training and support opportunities available.
If you have any questions about a class or registration, please contact the
MSI training team
.