February 2021
Volume 18, Number 2
From the CIO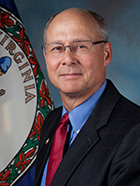 CIO Nelson Moe
Kindness, civility and understanding. The events of the recent past at the national and local levels make embracing these values in our society -- and our workplace -- vital to our collective success.
In a recent meeting with all agency heads, Secretary of Administration Grindly Johnson reminded us that we are "one Virginia" and we all have a shared mission: improve the lives of the people of this Commonwealth. As a retired naval officer, I can personally attest to the fact that a shared mission creates bonds and builds a cohesive team. This bond transcends political and personal differences and keeps everyone focused on the important things: the people we serve.
At VITA, our shared mission is to deliver sustainable and effective results to our customers through innovative, efficient and secure services. I emphasized to VITA staff the importance of keeping kindness, civility and understanding top of mind in this undertaking, and that by doing so, we embrace Secretary Johnson's message of "one Virginia." We are proud to do our part to support agencies in their mission to serve the citizens of the Commonwealth.
Nelson
Black History Month
Black History Month is an annual celebration of achievements by African Americans and a time for recognizing their central role in U.S. history. Since 1976, every U.S. president has officially designated the month of February as Black History Month. The Black History Month 2021 theme, "Black Family: Representation, Identity and Diversity" explores the African diaspora, and the spread of Black families across the United States.
VITA celebrates the achievements, recognizes the history, and acknowledges the disparities still facing the African American community.
The 2021 annual technology plan kicked off this month
The annual technology plan (ATP) is designed to guide the Commonwealth to an innovative, efficient and secure information technology (IT) future. The ATP provides a rolling three-year projection of anticipated changes to the Commonwealth's IT infrastructure and is a comprehensive and powerful tool for looking and planning ahead. The plan aggregates information from the Commonwealth IT strategic plan, the platform IT services strategy, agency inputs, refresh and currency plans, and detailed inputs from platform suppliers. Agency information technology resources (AITRs) will be asked for their input for the 2021 ATP.
Microsoft has rebranded Office 365 (O365) to Microsoft 365 (M365)

Microsoft has rebranded from Office 365 to Microsoft 365. As part of this change, licensing updates were made in late January. There should have been no impact to your Microsoft services. If you run into challenges, please submit a workplace collaboration services (WCS) support ticket via the VITA service catalog.
Deputy COO named
To support mission-critical areas of responsibility, growing successes and anticipating future needs, Jon Ozevek, chief operating officer (COO), has formally delegated some COO responsibilities to Demetrias Rodgers. As part of this designation, and due to close alignment of position needs, Demetrias will take on the role of deputy COO along with his current duties as director of enterprise technology services and solutions.
This change will benefit VITA by providing an expanded step for the service escalation channel, decisioning on certain platform management committee decision briefs, as well as additional strategic coordination and alignment throughout the COO organization. VITA looks forward to building upon and continuing our transformation success.
MyHub available for workplace collaboration services (WCS) customers
MyHub is WCS customers' one-stop-shop for managing their Microsoft 365 workspaces. You are able to manage the life cycle of a workspace that you own from creation to archival. In addition, you are able to view and organize the workspaces you own or of which you are a member. This can be helpful if you ever feel unsure of where to find a specific document.
Please take a moment to visit MyHub to see what it has to offer. A MyHub quick start guide can be found on the right side of the MyHub home page. A link has also been added to the WCS support site's right navigation.
Did you know?
You can request onboarding for an employee or a contractor through a form
Use the onboarding employee/contractor form to request a new Commonwealth of Virginia (COV) account or to onboard a new COV user who requires a COV domain account. A COV domain account is required to log on to the COV domain.
Go to the

VCCC

homepage

, and click on 'Order Something'

In the

VITA service catalog

search box, search for "Onboarding"

Choose the

onboarding employee/contractor

form and click to open

Complete the form for fast and easy response times to your request
Using the forms provided in the service catalog will provide you faster and more direct service to your requests. Average fulfillment time when using this form is three to five business days. This knowledge base article provides additional details KB0018168.
Training opportunities: New learning management system
VITA is now providing a new IT infrastructure services platform (ITISP) learning management system (LMS) designed to make training options related to the platform more accessible and registration even simpler. The LMS will allow you to:
View a personalized training schedule, based on your role (e.g. end user)

Register for classes

Complete computer-based training (CBT) options, based on your role
The LMS is available via a widget on the VITA service portal homepage, providing easy access to training registration and CBT courses. Initially a subset of the most popular classes will be available via CBT with additional classes becoming available throughout the year. FAQs and detailed instructions for accessing and using the LMS are posted in the knowledge base article KB0018324.
Below are training opportunities for February. You can register for any of these classes via the ITISP LMS:
Configuration management database (CMDB) - Feb. 10
Service portal - Feb. 11
HARP for submitters - Feb. 16
DOTS for suppliers - Feb. 18
Change management - Feb. 24
This is an exciting modernization for the training program designed to provide the best training options in a simple and easy tool. It does not replace any existing LMS; it does replace the previous system used to register for service portal and platform training classes. If you have any questions, please contact the VCCC at 866-637-8482.
Verizon Wireless 3G network shutdown
For the past year Verizon Wireless has been phasing out its legacy 3G network and converting the towers to support 4G and 5G access. Affected agencies have been contacted on several occasions to prompt them to replace the older equipment with 4G compatible devices. At last count, the Commonwealth still had about 1,000 of the older devices in service. These devices will cease to work shortly as (but may continue to bill) the last of Verizon's 3G network is eliminated. If you know your agency has affected devices, please contact Verizon Wireless or send an email to SCMInfo@vita.virginia.gov.
Along with the shutdown of Verizon Wireless's 3G network, Verizon is no longer supporting phones which are not capable of advanced calling features and WiFi calling. In general, these devices are ones that are over four years old, including the iPhone 6 and earlier iPhone model. Also affected are Samsung Galaxy 6 or earlier. Even if you have a newer device, you must turn these features on for existing phones and all new devices. Verizon Wireless does not turn these features on by default. To learn how to activate the features, check the following VITA website:
http://www.vita2.virginia.gov/procurement/contracts/docs/abstracts/WiFICallingVerizon.pdf
In addition, any agency with iPhone 7 or earlier devices or Samsung Galaxy S7 or older phones should make plans to replace these devices during 2021. All of those phones are end-of-life and will soon no longer get operating systems and security updates. Some may already have received their last security update.
Coming Soon!
The new Virginia IT Agency website will be launching early 2021. The new website, completed by an in-house team, will feature an enlarged categorized dropdown menu and updated navigation, as well as a new, prominently-displayed search bar, to help customers find the information they need from VITA easier and faster. New accessibility considerations ensure that the website content can be fully available to new and growing Virginia audiences.
Microsoft offering free training for all COV employees
All COV employees have access to free Microsoft-related training as part of the benefits from our Microsoft Unified Support agreement. Most all of the classes are on-demand and allow you to coordinate around your schedules. Included below is information on how to get access to the Microsoft learning services hub.
The instructor-led webcasts are updated monthly and are technical briefings for specific products such as Office 365 and Azure. Users can register for them by following these steps:
Go to learning:

https://serviceshub.microsoft.com/learning/
Scroll down to "Browse learning on Learning Campus" and choose "Discover More" under Webcasts
Choose your language
Choose which webcast you would like to attend
Click "Enroll Me"
VITA finance webinar sessions – FY 2022 rates
To prepare for the upcoming fiscal year, VITA has been holding live webinar sessions to provide a high-level overview of the IT services rate methodology. These sessions are open to all agency employees with fiscal responsibility.
Available webinar dates:
A calendar invitation will follow with meeting details. If there are any questions, please contact your customer account manager (CAM).
CyberStart America: cybersecurity skills workshop to be held Feb. 10
The latest in the CyberStart America workshop series, exclusively for students registered for CyberStart America, is taking place on Feb. 10. The topic is "Getting Started with Web Application Security and Vulnerabilities." This exclusive workshop will be hosted by industry leader and CyberStart creator James Lyne, and will introduce students to the topic of web application security, while explaining and demonstrating how insecure code could lead to a cyber attack.
Any Virginia students registered for CyberStart America by Feb. 8 will be invited to an exclusive skills workshop. If they're new to CyberStart Game, they'll also get a tour of its features and benefits. This free program is now open and ends in March 2021. All Virginia students in grades 9-12 are invited to participate. There are just 45 days left to register until the qualifying date of March 8! Register today!
Overview
VITA and the Department of Education are partnered in the Commonwealth's participation in CyberStart America - an innovative, online cybersecurity talent search and competition sponsored by the National Cyber Scholarship Foundation and SANS Institute. Virginia high school-aged students are encouraged to explore their aptitude for cybersecurity and computer science by participating in the program. Winning students can earn prizes and scholarships, as well as recognition for their schools.
The CyberStart America program is a series of 100% online challenges that allow students to act as cyber protection agents, to solve cybersecurity-related puzzles and explore related topics such as code breaking, programming, networking and digital forensics. The program is open to all, so activities can be part of assigned homework, an extracurricular club or completed on one's own. Experience or knowledge in information technology or cybersecurity is not necessary to participate.
Complete details may be found at www.cyberstartamerica.org.
Upcoming I-9/E-Verify webinar
Mark your calendars! The Department of United States Citizenship and Immigration Services representative, who untangles the federal requirements for completing I-9 forms and using E-Verify, is hosting an upcoming webinar. The session will review the changes/updates to the I-9 form and E-Verify due to COVID as they stand the day of the webinar.
Details:
Thursday, Feb. 18, 10 a.m.

No need to pre-register.

Log in

about 10 minutes prior to the session.
Information Security Tips
In today's world we are more connected than ever — not only to each other, but to our devices. In the same manner in which you protect your physical assets, such as your bike with a padlock, you need to similarly protect your internet-connected devices! Read on to learn how you can securely configure your devices.
Read Information Security Tips