February 2020
Volume 15, Number 14
From the CIO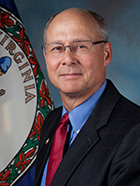 CIO Nelson Moe
This week, the Center for Digital Government will invite the 50 states to begin their responses to the 2020 Digital States Survey.
You may already be familiar with this biennial analysis. The survey's scope includes the use of information technology (IT) across the whole of Virginia government. Its focus is on outcomes of our work, and the metrics which illustrate performance.
Has our work made things better? Does it align with leadership priorities? What improvements have been made to the citizen and business user experience?
The Digital States Survey asks us to address these questions, to answer not with flowery adjectives but with metrics – and we are ready. The transformative work we have undertaken as we've moved to our multisupplier infrastructure model is exactly the work the survey seeks to surface and share.
Virginia has a rich history of high performance on this survey. The commonwealth received an A score in 2016, an A- in 2018, and my goal is to return to an A in 2020. Our customer account managers (CAM) will begin working with their agency contacts over the next several weeks to obtain needed metrics and other information; the process is designed to minimize time needed from agencies. My staff will complete the actual survey, using the information you provide.
As I reflect on the past two years, I am reminded that the scope of all of our work has been huge, and that many other states have been watching Virginia, once again. This survey is an excellent and timely opportunity for us to tell the Virginia story, to tell stories of collaboration and innovation - to tell your stories - on a widely watched national platform.
Your work continues to inspire, and I thank you for it.
Nelson
2020 security conference registration open; call for papers deadline extended
Registration for the 2020 Commonwealth of Virginia (COV) Information Security Conference is now open. The 2020 conference is slated April 16-17 at the Altria Theater in Richmond. We encourage early registration as once conference reaches maximum capacity, registration will close.
The conference committee has extended the submission deadline for the call for papers until Friday, Feb. 21. "2020 vision: A future of innovation" is the theme, and the conference will offer three levels of track seminars:
Welcome to the cyberverse - introduction, high-level

Elevate your cyberverse - specialties driven, mid-level

Enter the cyberverse - technical, deep dive
When submitting your synopsis, we kindly ask that you give a brief overview of how you would tailor your presentation for each of the learning tracks above. Please indicate in the synopsis if you are willing to present on multiple tracks.
Conference and registration information can be found at the links below.
Register for the 2020 conference
Google innovation challenge
Has your agency solved common business problems or experienced any time or money savings as a result of using Google Drive? If so, we want to hear from you!
Agency information technology resources (AITRs) are encouraged to ask their agency staff to share innovative uses of Google Drive for a chance to present at the next AITR meeting. We will be accepting presentations until Feb. 28 - please send your submissions to messaginginfo@vita.virginia.gov. Select participants will be asked to present their innovative solutions at the March 11 AITR meeting (five - 10 minutes).
Audience members will vote on their favorite innovation and the winner will be announced in the following ITISP update newsletter on March 12 (bragging rights!). Please direct any questions about the challenge to messaginginfo@vita.virginia.gov.
Extended support for Microsoft Windows 7 through January 2021
Microsoft Windows 7 officially became end-of-life (EOL) Jan. 14. VITA is aware that many agency devices remain on Windows 7 in our environment. To ensure the commonwealth remains protected and in compliance with all commonwealth security rules, VITA has procured additional support from Microsoft, which will provide extended support for devices with the Windows 7 operating system until January 2021. Agencies are encouraged to complete their migration plans to Windows 10 in early 2020. For questions or concerns, please reach out to your CAM.
Microsoft reseller award
VITA has awarded the Microsoft licensing solution provider to SHI International Inc. The new contract (VA-200114-SHI) was awarded on Jan. 14 and will provide the commonwealth with the ability to acquire Microsoft products and related services. The new contract includes related services such as training, IT asset management and cloud optimization services.
For more details and contact information, please visit VITA's statewide contract page.
Locality mainframe access
Guidance for Virginia localities, non-executive agencies and departments to access the Department of Motor Vehicles (DMV), Virginia Employment Commission (VEC) and Department of Social Services (DSS) on the VITA mainframe have been updated.
The updates can be found on the VITA website, under "Catalog Services - Mainframe Services & Operations."
The following forms are for locality and out-of-scope agencies to manage continuing mainframe access:
Locality and Out -of -Scope Agency Mainframe Access Instructions (pdf)
Network access form: This form is for localities and out-of-scope agencies to request COV network access through the firewall security team to connect to the mainframe.
Mainframe access coordinator (MAC): This form is for localities and out-of-scope agencies to submit new names or update their MAC appointees.
VITA offering training opportunities
VITA is offering training classes in the first quarter of 2020 to help agency IT resources (AITR) and agency finance users work effectively and efficiently in our IT environment. Review the list below to register for the training and support opportunities available.
If you have any questions about a class or registration, please contact the MSI training team.
Modernization continues for agency voice networks
Verizon continues voice and data network modernization projects throughout the commonwealth with plans to update more than 1,451 agency sites. Since the project launched in late April 2019, 1,023 agency sites have been successfully modernized.
Total data-only sites: 641 of 1,065

Total managed take-over only sites: 382 of 386

Total virtual communication express sites: 10 of 13

Total UCCaaS sites: 0 of 328
New and improved endpoint network security tool suite rollout
VITA and its managed security provider are rolling out a number of new and/or improved endpoint and network security tools for agency devices. The endpoint network security tools provide threat intelligence, active response, endpoint security, endpoint compliance testing and application control.
The new security tools will be deployed over several weeks to agency workstations using the System Center Configuration Manager (SCCM). Additional communications with agency onboarding dates will be sent in the coming weeks.
ISP webinar series
The integrated services program (ISP) has scheduled a new webinar.
These educational webinars are intended to help localities face upcoming challenges and opportunities. Please see the schedule for a listing of upcoming webinars.
Learn more about the ISP webinar series
Information Security Tips
Tax season is in full swing, which means criminals will go to great lengths to separate you from your money, your identity or anything of value that is within their reach. They may offer seemingly legitimate "tax services" that are actually designed to steal your identity and your tax refund. Such scams might include fake websites and tax forms that look like they belong to the IRS in order to trick you into providing your personal information. Due to the rise in data breaches, you should always take steps to minimize your risk of identity theft and other online-related crimes; this is especially important this time of the year.
Read January Information Security Tips