December 2020
Volume 17, Number 12
From the CIO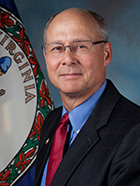 CIO Nelson Moe
Last week we celebrated Thanksgiving and because of the pandemic, many put traditional celebrations on hold and came up with new creative ways to connect. Technology is playing a key role in providing togetherness during this holiday season and it is possible because of the work we do everyday by pushing the limits and asking for it to be transparent, stable and more agile. With the end of 2020 in sight and the holidays upon us, let's step back and reflect on everything we accomplished and how far we've come.
I am proud of the work that we have done to get the Commonwealth to this point by taking advantage of our IT service delivery model. 2020 brought more value-add to agencies and excellence in customer service was prioritized. Early in the year brought improvements, including implementation of new self-service capabilities, improved invoicing and more competitive service offerings. We also saw increased cyber activity, with potential risks to our critical infrastructure, and we responded as we always do -- work every day, around the clock, to ensure the safety and reliability of Commonwealth data, networks and devices. Our enterprise cybersecurity monitoring and patching have measurably provided needed strength and safety.
March brought news of a health crisis that set the wheels in motion to facilitate telework across the Commonwealth. VITA and its suppliers significantly increased the state government's remote work capacity. Virtual private network (VPN) capacity has tripled and continues to increase. Alternatives to VPN access are being implemented. Internet circuit bandwidth has been increased and new laptops were ordered to further enable mobile and remote work. Virginia's investments of expertise, time and money in pursuit of our new information technology (IT) infrastructure are paying dividends as we confront this crisis. The work we did together over the past five-plus years now plays an important role in helping the Commonwealth rise to the challenge presented by the COVID-19 pandemic.
This past summer, VITA took the next step to prepare the Commonwealth for the end of the contract with our current messaging services provider on July 19, 2021. An announcement of our intent to post a request for proposals (RFP) was placed on eVA, the state's procurement system, on June 17. This is a milestone moment for VITA: it is the beginning of the first round of re-competing and procuring contracts for the service towers since instituting the multisourcing model. These procurements are the best way to make sure services stay current and are cost competitive. It is also the first time that VITA has leveraged its new governance model which includes having agencies actively participating in the governance of the platform of IT infrastructure services.
We continued to keep the gas pedal floored as the first agencies began moving to the new data center in September. This accomplishment, preparing 63 agencies to move, is the result of many hours of work by VITA staff and diligent planning and efforts by our suppliers and customers. This collaboration has positioned us to move forward with solid footing to leverage new technologies to address agency needs and create opportunities to improve service performance while maintaining security, service reliability and quality, just to name a few of the essentials.
This year has brought a lot of change and excitement to the IT sphere. And while our traditions have been challenged and will look different, I encourage you to remain grateful and embrace the new traditions created. I wish you and your families a much-deserved happy holiday season.
Nelson
G Suite's new look
Google has rebranded G Suite to Google Workspace. Gmail, Calendar, Hangouts and Meet still work the same but have a new look and feel. Stay tuned for an announcement about what Google Workspace has in store for Hangouts.
CyberStart America: a national cybersecurity skills competition for high school students
VITA and the Department of Education are pleased to announce the Commonwealth's participation in CyberStart America - an innovative, online cybersecurity talent search and competition sponsored by the National Cyber Scholarship Foundation and SANS Institute. Virginia high school-aged students are encouraged to explore their aptitude for cybersecurity and computer science by participating in the program. Winning students can earn prizes and scholarships, as well as recognition for their schools.
The CyberStart America program is a series of 100% online challenges that allow students to act as cyber protection agents, to solve cybersecurity-related puzzles and explore related topics such as code breaking, programming, networking and digital forensics. The program is open to all, so activities can be part of assigned homework, an extracurricular club, or completed on one's own. Experience or knowledge in information technology or cybersecurity is not necessary to participate.
This free program is now open and ends in March 2021. All Virginia students in grades 9-12 are invited to participate.
Complete details may be found at www.cyberstartamerica.org.
Coming soon: Commonwealth technology portfolio (CTP) management tool - Enterprise One
 The current Commonwealth technology portfolio (CTP) management tool is scheduled to be replaced in early 2021. VITA conducted a  request for proposals (RFP) process and selected a cloud-based solution known as Planview Enterprise One. The VITA project team is working on the configuration of Enterprise One, which will enhance the ability to track, record and manage the Commonwealth's portfolio of IT investments and projects.  
The Enterprise One solution will be piloted with three agencies in February 2021, with a rollout to agencies after agency staff have received training. A train-the-trainer model will be used to provide comprehensive training to agency staff starting in March 2021.  Agency change agents have been identified and will be responsible for communicating to their agencies the most current information and readiness status related to this implementation. 
If you have any questions, please contact Patty Samuels (patty.samuels@vita.virginia.gov) of VITA's project management division.
Resolved service request email
Users are now able to confirm whether or not a service request has been fulfilled before it is closed. The requestor will receive an email after all service request tasks are completed to confirm fulfillment of that request. The automatic email includes language informing the user to respond if the request has not been resolved. A response should not be sent if the request was resolved satisfactorily. If a response to the email is not received in two business days, the service request will be closed and considered complete.
Did you know you can....provide input on new form and IT tools?
If you are interested in previewing new forms and IT tools, please consider joining the IT tools feedback group. This group of agency information technology resources (AITRs) meets monthly for one hour to preview tools, discuss agency-specific needs and provide feedback on both future and existing forms. It's a great way for VITA to hear about your evolving needs and for agencies to have a voice in the services we provide. If you're interested in joining, please contact the VITA business readiness team. 
Risk Management Standard (SEC520-02)
The updated Risk Management Standard (SEC520-02) is posted on the VITA website. It defines the minimum acceptable level of information risk management program activities and data objects required for Commonwealth agencies.
An update was performed on this standard to introduce language of the Risk Management Quantitative Risk Analysis methodology and to add new requirements. This update to the standard improves the minimal requirements that agencies shall use to develop their agency risk management programs with a goal of allowing agencies to accomplish their missions in a safe and secure environment.
For questions about these changes, please contact VITA security.
Kids Safe Online Poster Contest
VITA, in support of the Multi-State Information Sharing and Analysis Center (MS-ISAC), is conducting a 2021 national K-12 poster contest. The goal of the contest is to engage young people in creating posters to encourage other young people to use the internet safely and securely. All public, private or home-schooled students in kindergarten through grade 12 are eligible to participate. The top five Virginia winners from each grade group (K-5, 6-8, 9-12) will be entered into the national competition. Entries received may be used in national, regional and state cyber and computer security awareness campaigns.
How to enter: Schools may submit entries to the Commonwealth of Virginia competition by emailing submissions to CommonwealthSecurity@VITA.virginia.gov. A parent may submit their entries for home-schooled students directly to MS-ISAC. The official rules and topic suggestions are included with the entry form. Please include the following entry form completely filled out (all fields are required) when submitting the poster. All entries due by midnight on Jan. 8, 2021.
Learn more about the poster contest
Click here to download the form: Poster Contest Form
Kudos
Thank you, Department of Elections (ELECT), for your work to promote and support accurate, fair, open and secure elections! VITA provided a bridge line for reporting issues beginning at 6 a.m. on Election Day and remaining open until 1 a.m. the next day. ELECT reported no infrastructure issues during active polling hours and the precinct reporting that ran into the evening. VITA has also been providing staff to the emergency support function in the emergency operations center at the Virginia Department of Emergency Management (VDEM) for related election activities. We are proud to support ELECT and VDEM in this very important work!
Resiliency planning and readiness activities completed after the Oct. 13 fiber cut, and in advance of the November general election, were critical to ensuring that failover capabilities were in place for election activities this month. Special thank you to Verizon (voice/data network supplier), Perspecta (mainframe supplier), and Unisys (server/storage/data center supplier) and the multisourcing service integrator's joint operations team and architecture strategy and design team for coordinating with VITA to ensure resiliency options were in place prior to Election Day.
Teleworking tip: Take charge of your battery #WorkFromHome
Our service desk is logging more battery-related tickets recently. We review each ticket individually, and our findings at this time do not point to hardware issues or manufacturer defects. We've learned that battery issues are increasing in the world at large. It appears that customers are now using their batteries more frequently instead of plugging directly into a power supply or docking station (due to the #WFH world we are living in).
As a result, batteries are getting over taxed and/or not being used as the manufacturers intended. Here are a few #WFH tips to keep your battery charged:
This information applies to most modern laptops; if your device is more than five years old, check the manufacturer's instructions.
#WFH
Information Security Tips
In 2019, the Multi-State Information Sharing and Analysis Center (MS-ISAC) observed a 153% increase in the number of reported state, local, tribal and territorial (SLTT) government ransomware attacks from the previous year. Many of these incidents resulted in significant network downtime, delayed services to constituents and costly remediation efforts.
Read Information Security Tips
End of the year training classes available for AITRs
If you have any questions about a class or registration, please contact the MSI Training team.
Please remember: The training schedule is now posted in the knowledge base. Log in to VITA's knowledge base and click on the "Training" icon – here you can view training-related materials. To view the training schedule, click on "show filters" on the left side of the page. Then, check the box for "Training Schedules." This schedule is updated regularly and is the best way to stay up-to-date on training options.