August 2020
Volume 17, Number 8
From the CIO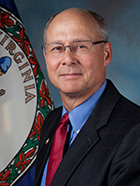 CIO Nelson Moe
VITA has recently taken the next step to prepare the commonwealth for the end of the contract with our current messaging services provider on July 19, 2021. This contract includes enterprise messaging services such as email, calendar, and mobile device management.
An announcement of our intent to post a request for proposals (RFP) was placed on eVA, the state's procurement system, on June 17. You can read the announcement on the
eVA online future procurements site
, keyword search "enterprise messaging services."
This is a milestone moment for VITA: it is the beginning of the first round of re-competing and procuring contracts for the service towers since instituting the multisourcing model. These procurements are the best way to make sure services stay current and are cost competitive. It is also the first time that VITA has leveraged its new governance model which includes having agencies actively participating in the governance of the platform of IT infrastructure services.
Agency participation is key to our new model, and with VITA technical, financial, architectural, security, contracts and integration experts engaged, I am confident we will provide our agency customers the services they need to serve the citizens of the commonwealth.
Nelson
Now available: Virtual/distance learning rate plans for Virginia schools
VITA is offering new virtual/distance learning-specific wireless rate plans to Virginia school systems. The plans provide 4G/LTE high-speed internet access wherever it is available in the commonwealth and are "unlimited." The wireless carriers participating are: AT&T, Sprint/T-Mobile and US Cellular. All of the distance learning rate plans include content filtering that is compliant with the Children's Internet Protection Act (CIPA).
These plans contain more guaranteed high-speed data than normal government plans and were established to provide Virginia schools (primarily K-12) the ability to acquire and distribute wireless devices to students who lack adequate access to the internet and who need to participate in virtual learning activities. Depending on the wireless carrier, school systems will save more than 50% off of the normal government rate plan. VITA provides ordering, billing and contract support.
Procurement delegation change
Effective July 1, VITA raised its standing procurement delegation to $250,000 for IT goods and services. This step simplifies VITA's governance requirements by aligning it with VITA's requirement that all IT investments of $250,000 or more be submitted for CIO approval through the procurement governance review process. Delegated authority for both cloud and infrastructure services remains at $0.
Kudos to the VCCC team!
VITA customer care center (VCCC) staff supports Virginia Department of the Treasury's unclaimed property (UCP) virtual call event
On July 1, Treasury's unclaimed property division collaborated with NBC 12 and CW News to host a UCP virtual call event. Some members of the VCCC team provided additional staff to support callers during the event.
The unclaimed property program returns money, stocks, bonds, dividends, utility deposits, insurance proceeds, tangible property and more to Virginia residents. As a result of the July 1 event, over $174,000 was found for callers!
Annual technology plan
VITA uses the annual technology plan (ATP) to guide the commonwealth to an innovative, efficient and secure IT future. The report will provide an important infrastructure roadmap that agencies can use to inform and adjust three-year horizons. This summer – we will deliver the ATP to agencies and provide opportunities for customized conversations to ensure agencies are well-equipped to use this rich data source.
Did you know?
The VITA service catalog now provides intelligent suggestions based on your current search. When you search for an item, the catalog will show you related catalog items and knowledge base articles. For example, when purchasing a laptop, you will now see related accessories and knowledge base articles.
9-1-1 & Geospatial Services Bureau
Reminder: Effective July 1, VITA's integrated services program (ISP) division moved to the Virginia Department of Emergency Management (VDEM), and is now named the 9-1-1 & Geospatial Services Bureau. This group is the consolidation of VDEM's public safety communications and geographic information system (GIS) services into a single, integrated program. It is organized in three service units, the Virginia Geographic Information Network (VGIN) Division; the Public Safety Communications (PSC) Division; and Regional Outreach Program.
New contact information:
Virginia Department of Emergency Management
9-1-1 & Geospatial Services Bureau
9711 Farrar Court, Suite 200
North Chesterfield, VA 23236
Take good care of them for us!
COVITS 2020 - Virtual conference slated for Sept. 9 - 10
This year's COVITS will be "digital" in every way! The conference is being held in a virtual format, over the course of two partial days. Government Technology's passion is promoting best practices and spurring innovation in the public sector – more important than ever in challenging times like these.
Governor's Technology Awards will also be postponed for 2020, in recognition of the significant work required of agencies during this time. The popular awards program will return in 2021.
Learn more about the conference
here
To email or to not email the VITA service portal?
If you email the service desk, your email sits in a queue, then the team takes the details from your email and enters them into the appropriate catalog form. Then, finally - the real work can begin. However, if you submit a catalog form, your request is received and processed significantly faster! Please share this "pro tip" with your agency staff!
If you have ideas for improving the service portal, complete the
improvement suggestion form
. This form allows you to share details which are then reviewed by the continual service improvement team. We are focused on the end-user experience and welcome your input!
Teleworking tips: Work from home #WFH
TIP: When you receive a new laptop (one that you have never used before) you must be connected to the COV network the FIRST time you log on -- either at your office or at another COV location. This ensures that your credentials are associated with the device. If you don't do this, you won't be able to log on to your computer from home! If you are unable to go to a COV location to log on the first time, please contact your AITR.
See
Teleworking 101
for more tips and information for commonwealth employees working from home.
#WFH
Training classes for AITRs
We are offering additional service portal and catalog classes in July to provide ample opportunity for users to learn more about the catalog enhancements. The class has been updated with lots of great information – even if you've taken it previously, we invite you to come back and learn more! All our training classes are available via Webex (VPN not required).
If you have any questions about a class or registration, please contact the
MSI training team
. We look forward to seeing you, virtually, in an upcoming class!
Information Security Tips
A scam can be initiated via the computer (email, internet, social media), text, postal mail, in person, or a phone call. No matter the origin of the scam, the characteristics are the same:
First, there is something to pique your interest – someone in trouble, big discount offers, lottery win.
Second, the individual contacting you seems trustworthy, super friendly, and seems to care about you.
Third, there's a deadline associated with the offer – act fast, act now.
There will always be scams, particularly those targeted at seniors. This month's newsletter identifies some common scams and some tips to help you take control of the situation and stay safe and stay in control.