April 2020
Volume 17, Number 4
From the CIO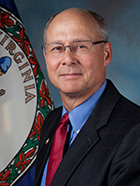 CIO Nelson Moe
Being prepared to support the commonwealth in times of crisis is a key part of VITA's mission. However, the current health crisis has created new and unexpected stress points that have required significant work to maintain that support. I'm glad to have this chance to update you briefly.
First amongst our many priorities in this new environment: manning our cyber defenses. We know "black hats" are attempting to manipulate our people and systems to their advantage, now more than ever. We are engaged, we are vigilant, and we continue to count on your active partnership in this endeavor.
Facilitating telework has quickly become a critical statewide priority. Fortunately, the commonwealth has existing remote work capabilities, governance and processes. And, since the governor's declaration of emergency, VITA and its suppliers have significantly increased state government's remote work capacity.
Virtual private network (VPN) capacity has been tripled already and continues to increase. Alternatives to VPN access are being implemented. Internet circuit bandwidth has been increased. Almost 4,000 new laptops have been ordered, to further enable mobile and remote work.
In this new environment, our most important priority is IT support. Unexpected problems arise almost hourly. I want to know your problems and needs, as does my staff and all of our suppliers. Please - liberally use the VITA Customer Care Center and your agency customer account managers, so that we can track and solution problems.
IT support remains available to any state employee, via phone, email and website. We are providing frequent communication updates through a variety of channels and persons.
Please stay safe and healthy. We are here for you through this crisis.
Nelson
Telework resources page created
VITA created a "Telework Resources" page for staff and employees in the agencies. This hub was created to house technology resources, job aids and important links for remote employees to easily access in one location. We will continue to add more resources to this page. Additionally, through a joint effort with the Department of Human Resource Management, a guide to teleworking is coming soon.
Telework Resources page.
New governance software adds sharing controls for agencies
VITA workplace collaboration services (WCS) added new governance software to the current SharePoint online service effective March 16. The software added additional governance controls for teams which will allow agencies to provision new teams themselves and enable external sharing with users not on the COV domain. The software will enforce controls to reduce the risks associated with external sharing. There is no additional cost for this software and no modification to the current memorandum of understanding is required.
Training videos and slides are available at the SharePoint Online Resource Center.
If you have any questions, please reach out to the WCS team at WCS-SharePoint@vita.virginia.gov
NASCIO award entry period opens
The National Association of State Chief Information Officers (NASCIO) has opened its annual entry period for recognition awards to IT projects from across the nation. Virginia's CIO, Nelson Moe, who again serves as the official entrant for projects from the commonwealth, now is accepting your suggestions for nominations to the program.
Interested in submitting your project? First review the NASCIO program online, where categories, eligibility, requirements and scoring are detailed. Then email vitacomms@vita.virginia.gov with a one-paragraph summary of your project suggestion by April 7.
VPN round-up
Reminders have been sent to all agencies to use VPN only when necessary and disconnect when not in use. A VPN connection is not required to use Gmail, Google Calendar, other Google Apps, Cardinal, SharePoint and other Microsoft Office 365 applications. VPN is only necessary when accessing file shares and other tools that are not accessible via the internet.
The VPN infrastructure can host 15,000 concurrent users and plans are in place to double that soon. Additionally, some employees have been moved to an alternate solution that is helping reduce the load on VPN servers.
A listing of tools and applications that do NOT require VPN is on the VITA website.
New service portal address!
On Monday, March 23, the VITA service portal address launched its new address: https://vccc.vita.virginia.gov.
Please bookmark the site and begin using it. This move provides more stringent compliance requirements, security and data control for VITA and commonwealth agencies. Important to note that no other changes occurred in the environment; accounts and passwords remain the same; users will be redirected to the new URL  until April 20; and tiles ("chicklets") on user Okta homepages will be automatically updated with the new links.
Cloud services status
VITA is committed to rolling out its cloud services (AWS, Microsoft Azure and OCI) as soon as possible. Great progress has been made to reach the first quarter deadline. Due to unforeseen circumstances related to the COVID-19 pandemic, technology implementation in support of COVID-19 response has taken priority. VITA continues to make every effort to move toward the cloud services milestones in parallel to ensuring that agencies are able to continue business operations.  
Look for more information on the delivery of these services soon.

Virginia.gov now sports a clean new look, greater service focus
A team of VITA employees brought a year-long project to life with a relaunch of the state's official website, Virginia.gov. The website now sports a clean, simplified user interface and a new citizen-facing focus on search and agency services. Prior to the relaunch, a content audit refreshed services and information from commonwealth agencies. Visitors are invited to tour the new version of www.virginia.gov, and while there, to register their feedback on the new iteration. VITA is capturing all feedback and will use it for continuous improvement.
COVID-19 and phishing campaigns
VITA and their suppliers continue to observe an increase in malicious activity due to the COVID-19 virus. Phishing campaigns and fake websites seemingly dedicated to COVID-19 response efforts are asking users to provide login credentials or monetary donations. Other phishing campaigns are using malicious attachments to download malware onto COV machines.
As the commonwealth moves forward during this pandemic, please remember:
Be skeptical of emails coming from unknown senders.
Never provide login credentials or financial information in response to an email.
Report all phishing messages (including email headers) to the VITA Customer Care Center (VCCC).
Report any suspicious websites to the VCCC.
Governor Ralph Northam's communication team recently partnered with
Virginia.gov
to reach as many Virginians as possible with the most up to date information on COVID-19.
Since the
Coronavirus Updates
page was launched, there have been 1,663,996 visits to Virginia.gov and 1,365,338 going directly to the updates page. Top pages following the Coronavirus Updates page include, Virginia Department of Health and the Virginia Employment Commission. Top searches include, unemployment, stay at home order and Coronavirus.
VITA encourages employees to navigate directly to official websites for key resources such as:
US Center for Disease Control and Prevention: www.cdc.gov
Virginia Department of Health: http://www.vdh.virginia.gov/
Word Health Organization: www.who.int
Coronavirus Updates page on Virginia.gov: https://www.virginia.gov/coronavirus/

AITR training

VITA will continue to provide virtual training opportunities to help suppliers work effectively and efficiently in our IT environment. Please review the chart below to register for training courses available in April. These classes will continue virtually and are not expected to be impacted by other cancelations at this time.
If you have any questions about a class or registration, please contact the MSI training team (MSI_Training@SAIC.com).
Reporting and dashboards class
Coming soon to the VITA service catalog
The following items will be added to the service catalog in the coming weeks. Look for more information soon.
Cloud services – VITA is preparing to make cloud services available via the service catalog. A cloud service is any service that is made available on demand via the internet from a cloud computing provider. Cloud services are designed to provide scalable access to applications, resources and services. Examples of cloud services include the delivery of computing services including servers, online data storage and backup solutions, networking, software, delivery of analytics, and data processing.
Agency-specific device – This service will allow customers to bring devices to their agency that are not currently being offered in the service catalog. Additionally, this service provides for the assessment and initial image load services for devices not currently included in the service catalog to determine if the device type is a viable candidate to be added to the enterprise. If all test and acceptance criteria are met, the service also includes creation and loading of the initial image.
Keep your hard drive – This service will allow customers to keep their hard drive instead of returning it with the device. Customers will have their hard drive removed prior to the disposal of the end-user device if and when the end user determines that there is a need to keep the hard drive.
Security conference canceled
As COVID-19 continues to impact our communities, the conference committee is committed to doing what's best for the commonwealth. The health and safety of all is our priority. The conference committee is being has made the decision to cancel the 2020 security conference scheduled for April 16-17.
We invite you to attend the COV Information Security Conference when it is rescheduled. Speakers present a range of high-level, introductory topics to deep dives. The conference committee plans this event for months and always put an educational and interesting program together. As things evolve, we will make sure you are informed of new dates and programming.
Information Security Tips
Social media is a great tool in your organization's communications toolbox. Many Americans have accounts on at least one platform and expect to find pages for their favorite brands and communities. If used correctly, it can have many benefits.
Read Information Security Tips