September 2018
Volume 13, Number 9
From the CIO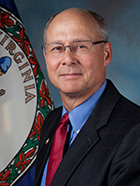 CIO Nelson Moe
All of us working in information technology (IT) for the commonwealth are busy moving toward the multisourcing infrastructure model, examining our future IT needs and keeping the IT wheels rolling operationally that we seldom take time to celebrate our achievements.
There have been significant achievements, even victories, in our journey toward changing the model as part of the IT infrastructure services program (ITISP). These achievements also are essential to several major IT projects that are underway or in the planning process.
The Virginia Information Technologies Agency (VITA) cannot take all the credit for all the IT achievements of the past few years. Input, cooperation and support from the Northam and McAuliffe administrations, the General Assembly and agencies have been essential to the success of our journey.
Last month, I shared information here regarding the new era in IT for state government. It officially began when Virginia-based Science Applications International Corporation (SAIC) took over infrastructure services from Northrop Grumman. This transition is our most significant milestone in the move to the multisourcing model. But, there's been much more, particularly over the last few months:
Moved messaging services to Google's G Suite provided by Tempus Nova; began service enhancement discussions and forums
Conducted a procurement and awarded Atos the managed security services contract
Moved mainframe services used by a dozen or so agencies and additional agencies and localities across the commonwealth with which they interact from the Commonwealth Enterprise Solutions Center (CESC) in Chester to Perspecta's Mid-Atlantic Data Center in Clarksville, with backup in Colorado Springs, CO.
Began implementation of the new commonwealth IT infrastructure management and governance (CIIMG) forums to expand agency participation in infrastructure governance
Relocated the commonwealth's disaster recovery site
Set up a new help desk with backup for overflow service request volume
Conducted a procurement and awarded Unisys the server, storage, data center contract
Began a series of sessions where VITA/SAIC are seeking agency input regarding IT needs and innovations sought in the new environment; implemented rapid feedback teams
Concluded negotiations for a contract amendment for Verizon to provide voice and data network services for state agencies
Began cloud-readiness research to prepare for more use of the cloud in a secure manner and to prepare for the eventual move from CESC
These are a few of examples; there are many more.
While these infrastructure activities are underway, state agencies, VITA and our suppliers have several additional major IT initiatives to address and ongoing activities to support:
Medicaid enterprise system
Medicaid expansion
Election system upgrade
Real ID
Virginia State Police's migration into the enterprise
SQL server 2016 upgrade for one agency
Computer room moves for two agencies
Headquarters move for one agency
Active work requests – Both standard and custom
Providing 24/7 IT services for 55,000+ state employees who are serving nearly 9 million Virginia citizens, plus our businesses and industry, and visitors interested in the commonwealth
I share these successes to point out the importance of IT in state government and how essential it is to continuously incorporate agile, secure IT into the business of state government.
We share in these successes, which goes to show that progress can only be made with support, participation and cooperation across state government and from our supplier community.
Welcome to the new era in state government IT.
Nelson
VITA awards two new IT contracts
VITA has signed two new IT contracts in the move to a multisupplier platform. Unisys was awarded a six-year, $242.4 million contract for server, storage and data center services. Verizon has been awarded a five-and-a-half year, $297.3 million amendment to an existing contract to provide voice and data network services.
Unisys is an American global IT company based in Blue Bell, PA. Its offerings include "security software and services, digital transformation and workplace services, industry applications and services, and innovative software operating environments for high-intensity enterprise computing."
Verizon is a global telecommunications conglomerate headquartered in New York City. It provides a wide array of services including cable television, fixed-line and mobile telephone, broadband services, digital media and communication networks.
Rapid feedback groups established
VITA has established four rapid feedback customer groups to gather agency input on the financial, security, project management and IT tools impacts of the new multisupplier platform coming. The groups are comprised of agency employees who will be directly impacted by the upcoming infrastructure changes and can provide valuable insight during our preparations. The goal of the groups is to give quick-turnaround feedback on the new system processes and workflows, agency training needs and skill gaps, and communications channels for their agency as the new multisourcing ITISP model is implemented. The groups currently are focused on the Dec. 15 launch date of the multisupplier environment, but may continue to meet as necessary into 2019.
Relationship management committee meetings held
VITA has begun conducting meetings of its relationship management committee (RMC), part of the commonwealth IT infrastructure management and governance (CIIMG) model for ITISP.
RMC provides an interactive forum for agencies receiving IT infrastructure services to promote the ongoing effectiveness of the service delivery being provided. RMC includes individuals from the Departments of Treasury, Health, Conservation and Recreation, Health Professions, Environment Quality, and Rail and Public Transportation, who represent all 61 state agencies.
Those participating in the meetings are encouraged to be engaged and involved in representing their agencies and working through operational issues. The focus of the team is to provide advice, counsel and feedback to VITA and infrastructure suppliers regarding plans, initiatives and service experiences. A key goal of RMC is to serve as the focal point for customer engagement in preparation for the new service model.
VITA forms supplier relationship management team
VITA has developed a supplier relationship management (SRM) team designed to foster strong, mutually beneficial relationships between VITA and suppliers. Its purpose is to deliver a systematic approach for developing and managing interactions between VITA and suppliers.
As the SRM program begins to roll out, there have some early successes. The team has overseen a number of additions and modifications to contracts. It has also conducted VITA contract orientation meetings for awards to Perspecta (formerly DXC), SAIC and Atos.
Coming soon are supplier scorecards. The scorecard is a tool for VITA to provide regularly documented feedback on each individual supplier's performance. Suppliers will know what they are doing right or areas in which they could improve. The SRM program also will include supplier risk monitoring and supplier recognition.