October 2018
Volume 13, Number 10
From the CIO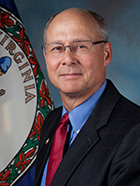 CIO Nelson Moe
We're almost there. We are on track - in just 10 weeks on Dec. 15 - to fully implement the multisourced infrastructure environment. VITA has awarded all contracts and SAIC has taken over current infrastructure services. SAIC has met with other suppliers to discuss integration of services.
I think agencies will be very pleased when staff starts using the new portal and service catalog. VITA staff members had an introduction to the portal and catalog in training over the past two weeks. The commonwealth's 55,000+ employees on the infrastructure will be able to log tickets and, more importantly, track ticket status online. IT staff placing orders or working on projects will be able to track the status online. This transparency will be of significant value to agencies and will free VITA's customer account managers (CAMs) to provide more strategic value to agencies.
We have made significant progress since SAIC assumed infrastructure operations on Aug. 18. Some of those accomplishments include:
Reducing the backlog of tickets related to Gmail
Reducing the average speed to answer calls to the service desk (VITA Customer Care Center or VCCC) from 30+ minutes to less than one minute
Moving and successfully validating the disaster recovery environment, and successfully completing an exercise
Moving the service desk with no degradation of service
Partnering with the Virginia Department of Emergency Management for Hurricane Florence preparations, Department of Elections for election readiness and the Department of Social Services on Medicaid expansion support for critical applications
Reinstituting the work request and eVA processes
Signing the final two contracts and beginning planning toward integration with the multisourcing service integrator (MSI)
These activities are significant and were accomplished as VITA, agencies and our suppliers continue preparations for the move to the fully implemented multisourcing environment and as we weathered an earthquake, hurricane and numerous tornadoes.
We began this journey in 2015 to move from a one-supplier, long-term infrastructure environment to the multisourcing environment. The goal is to have transparency into an agile infrastructure that provides opportunities for new and enhanced services.
I extend sincere appreciation to business and IT leaders at agencies who have been supportive of this effort and the suppliers who have stepped up to offer proposals to move us forward. I would be remiss if I did not also recognize VITA staff. They have been dedicated to this effort since the beginning, and continue to work diligently to move the commonwealth to a modern IT infrastructure.
Nelson
VITA awards final IT infrastructure contracts
VITA has signed the final two contracts in the state's move to a multisupplier information technology infrastructure model.
A five-year, $189.8 million contract was awarded to Iron Bow Technologies for end-user computing services such as personal computers, laptops and tablets. A five-year, $30.2 million contract was also awarded to Xerox for print services.
Iron Bow Technologies is a global IT company based in Herndon, VA. Iron Bow is a leading IT solution provider "dedicated to successfully transforming technology investments into business capabilities for government, commercial and healthcare clients." The company's "depth of technical expertise, global reach and strategic partnerships … uniquely positions Iron Bow to target the right solution to ensure successful business outcomes."
Xerox is a global IT company based in Norwalk, CT. Xerox offers "business services, document management and workflow solutions to help businesses and governments work better." Its offerings include the integration of paper and digital through print technology and intelligent work solutions "to innovate the way the world communicates, connects and works."
These companies join those already awarded contracts, including: Tempus Nova for messaging; Perspecta, mainframe; Atos, security; Science Applications International Corporation (SAIC), MSI; and, Unisys, server, storage and data center services.
VITA Project Management Summit registration closing soon
Registration for the seventh annual VITA Project Management Summit closes Oct. 3. The summit will be held Oct. 11 at The Cultural Arts Center at Glen Allen. This year's theme is "Project Management is a Team Sport." Richmond native and former professional soccer player Rob Ukrop will be the guest speaker.
In many ways, project management processes and concepts are similar to team sports. Project managers work toward a common goal through planning and communication, just as teams set expectations and solidify goals through practices, scrimmages and preseason games.
Project managers in all agencies are highly encouraged to attend; however, seating is limited. Registration, which closes Oct. 3, is $90. The summit is open to state and locality staff only. Continuing education credits are offered.
Register for the Project Management Summit
Localities top winners of Governor's Technology Awards
Secretary of Administration Keyanna Conner and CIO Nelson Moe presented the annual Governor's Technology Awards at last month's Commonwealth of Virginia Innovative Technology Symposium (COVITS) on behalf of Gov. Northam.
For the first time in the history of the awards, more local government entities were honored than commonwealth-level entities. This year's award winners and their projects are:
Cross-boundary collaboration
City of Richmond – Empower
Supreme Court of Virginia – eAccess
IT as efficiency driver – government to citizen
Virginia Department of Transportation – Tort Claims Application
Virginia Department of Health – Emergency Department Care Coordination
IT as efficiency driver – government to business
Fairfax County – Countywide FOIA Office
IT as efficiency driver – government to government
Virginia Division of Legislative Automated Systems – Legislative Document Compare Program
Albemarle County – Digital Personnel Records
Innovative use of technology in local government
Roanoke County – Mobile Incident Command Center
Warren County – GIS Plat Toolbar
City of Manassas – Regional Airport Inspection Application
Innovative use of technology in education
James Madison University – X-Labs Autonomous Vehicles Course
Virginia Commonwealth University – eSignatures
Innovative use of big data and analytics
Roanoke County – Open Data Application
Department of General Services – eVA Quick Quote
Chesterfield County – STRATIS
Best cybersecurity initiative
State Corporation Commission – Gamification of Security Awareness
Fairfax County – Next Generation Cybersecurity
Best citizen portal
Virginia Division of Legislative Automated Systems – Division of Capitol Police Website
Prince William County – GIS Data Portal
State websites ranked #1
Virginia's state websites have been ranked number one overall in the nation by the Information Technology and Innovation Foundation in Washington.
Of the 400 total websites evaluated, the Department of Game and Inland Fisheries' hunting and fishing licenses site was ranked number one. In their respective categories, the Virginia Department of Health's vital records and the Virginia Departments of Taxation's business taxes sites were ranked number one. Virginia.gov was ranked the number three state portal. The Department of Motor Vehicles was sixth in the driver's license category, while the Department of Elections was 12th in its category.
The foundation assessed websites on key factors related to citizen interactions with state services on each website. Service areas evaluated included the primary state government website, and online sources for taxes, vital records, business registration, elections, traffic citations, and driver's and fishing/hunting licenses. Services were then assessed on page-load speed, mobile friendliness, security and accessibility.
VITA Innovation Program to feature Ansible
The VITA Innovation Program (VIP, formerly VITA ICE) will hold an Ansible workshop, presented by RedHat, at the Commonwealth Enterprise Solutions Center (CESC) on Oct. 31. The session will run from 9 a.m. to noon, with a second session from 1 to 4 p.m. if participation warrants. Ansible is a simple IT automation engine designed for multi-tier deployments. The workshop is designed for any individual with exposure to Ansible, whether an active user or not, and is a combination of presentations, demonstration and hands-on experience.
Register for the Ansible workshop
National Cybersecurity Awareness Month begins
October is National Cybersecurity Awareness Month. Each week this month, take a few minutes to review and re-evaluate your current practices, and practice and develop sound cybersecurity habits. Use strong, unique passwords for each website you visit, and utilize two-factor authentication when possible. Do not open emails or attachments from unknown or unfamiliar senders. Only visit reputable websites, especially when shopping online.
For more cybersecurity tips and practices, follow @stopthinkconnect on Twitter and join in on the chat each Thursday by using the hashtag #ChatSTC.
Learn more about National Cybersecurity Awareness Month
Webmasters plan 'reunion'
A meeting of state webmasters Oct. 25 will be a "reunion" of sorts as the meeting takes place after several months of inactivity. The session is 1 to5 p.m. at the Virginia Museum of History and Culture, 428 N. Boulevard, Richmond, 23220. The agenda items include national kudos for Virginia government webmasters, Gov. Northam's executive order 19 on utilization and readiness of the cloud, cybersecurity brief, Social Media Topic Report, new and innovative web ideas and a tour of the museum.
Register online and join the group in person. Due to format and participatory nature of the session, teleconferencing is unsatisfactory and will not be available. Notes and any meeting materials will be sent after the meeting.