November 2018
Volume 13, Number 11
From the CIO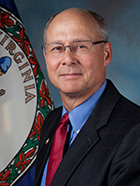 CIO Nelson Moe
From the CIO
The Virginia Information Technologies Agency (VITA), agencies and suppliers have spent the last three years moving to a multisupplier information technology (IT) infrastructure environment. As I've said before, this new environment is the next generation of IT for executive branch agencies.
We have encountered numerous challenges along the way. I have shared many of those with you. I also want to share our successes as measured by the November 2015 consultant's report. That report, which the commonwealth accepted as a guide to change, recommended VITA take four specific steps. I am pleased to report we have nearly completed all four recommended steps:
VITA should start now to disentangle services from the Comprehensive Infrastructure Agreement (CIA) -- VITA immediately began to develop a new path and ended services provided by Northrop Grumman under the CIA on Aug. 18 this year.
The commonwealth should adopt a multisupplier model with a service integrator through a competitive bid -- VITA conducted a competitive procurement and engaged a firm to assume the multisourcing service integrator (MSI) role.
VITA should create a platform relationship office (PRO) to manage the new services delivery model -- The PRO was developed and launched, and it will fully support the model on Dec 15.
VITA should lead the implementation of a new governance model that increases agency involvement -- VITA established the commonwealth IT infrastructure management and governance (CIIMG) structure and forums that include agencies now in various stages of development.
While these recommendations are concise, the work required to accomplish each is detailed, complex and time-consuming. Still, by Dec. 15, we will have accomplished all four of these important tasks.
From now until Dec. 15, we must get ready to launch the new multisourced infrastructure environment. We have achieved positive momentum with the transition assistance program (TAP) and we need to use it as a bridge to the new environment and our new suppliers. TAP began when with a new supplier took over all infrastructure services as an interim step to the new environment. Steve Radabaugh has been leading TAP for VITA and I have asked him, and he has agreed, to an expanded leadership role overseeing the operational transition from TAP to the multisourcing environment. We have found overlap between TAP and the multisourcing environment, so this is a natural fit for Steve. His knowledge and experience will help him to ensure VITA bridges the gap between the two efforts, eliminates duplicate activities and streamlines decision-making. Subject matter experts on the team with Steve are Nichole Bowman, John Craft, Matt Gill, Susan McCleary, Mike Novak, Amy Pierce, Mike Sandridge and Dan Wolf.
A new era of IT infrastructure services offerings by VITA is around the corner, and we will continue to do everything we need to ensure it is successful and meets the business needs of our agencies.
Nelson
VITA launching new service desk software Nov. 9
VITA is launching new software to manage the VITA Customer Care Center (VCCC) on Nov. 9. The software change will have no impact to VCCC services.
Below is some key information to know about the change:
All existing tickets will be migrated into the new software – Keystone Edge. There's no need to re-enter existing tickets.
Notifications received from the VCCC, also called the service or help desk, will have a different look, but will convey the same, necessary information.
The current VSM site will be replaced with a temporary site to last until Dec. 15. Users will be able to look up their tickets and review the status and the notes regarding each ticket.
On Dec. 15, the full VITA service portal will launch, offering additional options to order services, receive information and interact with the VCCC and support teams.
VCCC services will continue to be available via phone and email.
IT information support site is live
Later this year the commonwealth will complete the move from a single supplier for IT infrastructure to an MSI environment that will improve services, increase transparency and provide innovative technologies that better meet agency needs. VITA has developed a website with information related to the new multisourced infrastructure environment. The site will provide information about the service portal, service catalog, other new tools, links to training and more resources as they become available. Commonwealth employees are encouraged to become familiar with the site as it will be updated regularly.
Multisourcing IT information support site
Virginia garners A- ranking in national IT survey
Virginia's strategic and collaborative use of its enterprise information technology (IT) resources has again received top honors from the Digital States Survey. Virginia received an A- ranking.
The survey, conducted in even-numbered years by the Center for Digital Government, evaluates states' use of technology to improve service delivery, increase capacity, streamline operations and reach policy goals. It assigns each state a grade based on quantifiable results. Using these best practice criteria, Virginia was awarded an overall grade of A- in the 2018 study. Among others given the A- ranking are New York, Texas and California. All of Virginia's neighboring states received a B+ ranking.
The Digital States Survey also recognizes states for outstanding use of IT in specific business areas. In 2018, the commonwealth's work in the areas of finance, administration, IT procurement and innovation also were honored.
The Center for Digital Government notes that its survey evaluated states based on actions supporting state priorities, improved operations/services, hard and soft-dollar savings/benefits, progress since the last survey, innovative and citizen-centric services, and effective collaboration. States receiving top grades, such as Virginia, demonstrated results across all criteria. VITA staff responded to the survey by collecting information about agency IT projects and services since the last survey and reporting them for 2018.
Agencies' cloud assessments due Dec. 1
Agencies are being asked to complete a two-step assessment of devices and applications in the Archer system to enable VITA to identify cloud readiness targets for the commonwealth. VITA request agencies to:
Review devices to determine to what extent inventory is cloud-ready. Agencies should enter information into Archer in the "Device Assessment (Cloud)" section under the "Applications" menu.
Assess current applications for cloud-readiness and estimate the cost of migrating applications to the cloud.
Both parts of the assessment are due to VITA by Dec. 1 and are part of efforts required by Executive Order No. 19, which can be found here.
Comments on risk management standard being accepted
The proposed update to the Risk Management Standard SEC520-01 has been posted for review on VITA's Online Review and Comment Application (ORCA) at http://apps.vita.virginia.gov/publicORCA/. Comments will be accepted until Nov. 22.
The purpose of SEC520-01 is to establish a risk management framework with the minimum program activities applicable to state agencies. The document defines the lowest acceptable level of information risk management program activities and data objects required for agencies in the scope of this standard.
VITA honors project excellence award winners
VITA has honored four organizations with Project Excellence Awards. Awards were given for proficiency and excellence in carrying out projects and solutions over the last year.
The Virginia Department of General Services (DGS) won first place for COVA (Commonwealth of Virginia) Trax, Virginia's real estate and assets management system. The project exceeded all stated requirements and provided functionality not available previously. COVA Trax can be offered as a centralized resource for all state agencies, and provides the potential to consolidate multiple systems across the commonwealth. Members of the project team included Joe Damico, Holly Law Eve, Barbara Garnett, Sang Han, Sara Snelson, Karen Solarte and Kirk Whiting.
Norfolk State University received the second place award for its network infrastructure refresh project. The refresh provided an upgraded network and improved connectivity services for campus local area network, and enabled an environment to support future hardware and software technologies under budget. Installation of new devices and infrastructure occurred in off hours, resulting in no disruption of services. Norfolk State can now integrate new student information system modules and future technologies. Team members included project manager Anika Moore, Dennis Jones, Monique Pinner, Lana Ludanova, Nate Cooper and Eugene Shcherba.
In a tie for third place were the Department of Medical Assistance Services (DMAS) and the Department of Environmental Quality (DEQ).
DMAS was awarded for its Medicaid expansion system pharmacy benefit management solution, which replaced and transformed the system and services in the Medicaid management information system contract that expired in June. The solution is comprised of components that address the needs of several business areas. It integrates existing software components requiring little to no development, while development and implementation of business requirements consists primarily of configuration and testing of the software components. Working on this were project manager Gregory Lewis and Frank Guinan, director of the enterprise project management office.
DEQ received an award for the clean water financing and assistance (CWFA) processing system.. The CWFA program had many needs, along with other programs within DEQ that administer, manage or utilize grant funds. DEQ addressed those needs to create a common platform for all grant programs to use. By using repeatable patterns, reusable processes and components, and a scalable framework, DEQ was able to provide CWFA with business-specific functionality and lay the foundation for expansion to other programs. Project manager Herb Ward led the team effort, along with Kelly Ward, Pantea Westerman, Ken Savko, Jean Puricelli, Mike Crocker, Vineela Rachagiri, Karen Thomas, Peter Meiller, Annetta Hall, Lisa Dallas, Gilmarie Acevedo and Jordan Thirus Wiley.
The awards were presented at VITA's seventh annual Project Management Summit.