September 2017
Volume 12, Number 9
From the CIO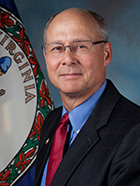 CIO Nelson Moe
The Virginia Information Technologies Agency (VITA) continues to work with state agencies and suppliers to put multiple contracts in place for the next generation of information technology (IT) infrastructure services. We are planning the move to our new messaging supplier, but are delayed because of lack of cooperation from the incumbent. IBM mainframe services have been taken over in place by the new supplier and planning is underway to transition to the supplier's location and back-up data center. We have two projects – managed security and multisourcing services integrator (MSI) – nearing the end of the procurement process. Teams are working to prepare requests for proposals for server/storage, network and end-user services.
The work is complex and time consuming. And, we have a limited amount of time – the current infrastructure contract expires June 30, 2019, and cannot be renewed. I extend my appreciation to agencies, suppliers and VITA staff for their valiant efforts to move the commonwealth through this process.
Of four entries I submitted for the National Association of State Chief Information Officers (NASCIO) Recognition Awards, one has been named a finalist and one was selected as the subject of a NASCIO webinar last month. VITA's "Web Application Vulnerability Scanning Program" has been named a finalist in the cybersecurity category. The Department of Medical Assistance Services' "SMARTDATA PROGRAM" was featured last month in a NASCIO webinar. It is my understanding that the competition was fierce and scores extremely close this year. I am impressed by all the projects represented in our entries, particularly the innovation demonstrated.
Read the NASCIO press release
Nelson
PM Summit registration opens
Registration for the sixth annual IT Project Management Summit is open. The theme for this year's summit, which will be held Oct. 11 at the Cultural Arts Center at Glen Allen, is "Superhero Level Project Management." The summit provides attendees an opportunity to network and to learn and develop new skills from subject matter experts and other project managers. Registration for the summit ends Oct. 6.
Register for the IT Project Management Summit
Agency IT strategic plans due Sept. 25
The chief information officer of the commonwealth has approved an extension for IT strategic plans to grant agencies sufficient time to incorporate requirements generated by budget decision packages and operational risks and issues in their IT strategic plans. Since budget decision packages are due Sept. 18, agency IT strategic plans for the fiscal years 2019 and 2020 (budget biennium 2018-2020) now are due by close of business, Monday, Sept. 25.
Additional information for completing the IT strategic plan
Business intelligence available through statewide contracts
In addition to the Microsoft Power business intelligence offering through VITA's enterprise cloud oversight services (ECOS) mentioned here last month, VITA offers statewide contracts for a variety of companies offering business intelligence. These contracts, like all VITA statewide contracts, permit public bodies to obtain the best value for purchases through bulk buying. The public bodies save the time and effort of developing a request for proposals (RFPs), reviewing RFPs and awarding contracts by offering contracts signed following state procurement regulations. Public bodies simply order from the 300 IT and telecommunication contracts available.
Multi-factor authentication service now available
Multi-factor authentication service (MFA) is a new offering that allows agencies to add an additional layer of authentication for users accessing network applications. MFA prompts applications to require both internal and external users to enter a one-time password that is sent to the user via short message service (SMS) text for entry into the application. This service provides a mechanism for enabling security compliance for web-based applications housing sensitive data.
Agencies can acquire the service through the work request process by submitting a custom work request form. Any initial set-up costs for the service will be determined during the work request process. After implementation, agencies incur an ongoing MFA service cost.
For more information, including how to order and FAQs, visit the VITA IT Service Catalog - Messaging Services. Agency representatives should contact their customer account manager (CAM) for additional details about this service.
Customer support news
New Microsoft tablet model introduced
Microsoft has introduced the new Surface Pro 5 tablet, ending manufacturing on the Surface Pro 4 model. VITA hopes to have the Surface Pro 5 model available by early October. The VITA service catalog is being updated and will reflect this change soon. Below are the options currently available to customers requesting tablets or who have outstanding Surface Pro orders.
Select another tablet option here.
Keep the order open and wait for the Surface Pro 5 to become available
Cancel the current order and resubmit a new one at a later date once the device is available.
Relocation of UCaaS phone sets
The services ordering guide indicates the relocation of unified communications as a service (UCaaS) phone sets requires a telecommunications service request (TSR) if it is within the same office. Please be aware of the safety risk of not submitting a TSR. While the UCaaS phone set may work if relocated without a TSR, it is still registered at the original location (building, floor, cube, etc.). If someone calls 9-1-1 in the event of an emergency, the first responders could potentially be sent to the registered location of the phone, not the actual location. If the phone has been moved to a different floor or different building on a campus, the delay could have serious consequences. To avoid this situation, always submit a TSR when relocating a UCaaS phone set.

Disaster recovery (DR) server decommissioning requests
Agencies should submit a work request to decommission a disaster recovery server.
If the DR server has not met its 36-month term commitment period, a proposal will be prepared that includes applicable early termination fees.
If the DR server has met its 36-month term commitment period, the requirements will be returned and VITA's infrastructure provider will automatically open a ticket to decommission the server without a work request. This reduces the time needed to decommission the server and provides for cost savings sooner.