October 2017
Volume 12, Number 10
From the CIO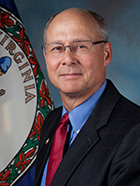 CIO Nelson Moe
The end of the current information technology (IT) infrastructure contract on June 30, 2019, is fast approaching and VITA is working diligently with agencies and suppliers to move to the new multisourcing environment. The past month has been quite busy, but also quite productive. We have taken significant steps forward in VITA's strategy to modernize the state's technology infrastructure. What is the status of the IT infrastructure services program (ITISP) projects and what are some of the benefits of new contracts we have signed?
Messaging - We are revising our schedule for messaging as a result of a court order requiring our incumbent to cooperate in transition to the new supplier. The court's decision affirms VITA's rights to set the technology strategy for the commonwealth and our incumbent's role as a supplier of services with obligations to affect a seamless transition to new suppliers. We will re-engage our efforts to transition and end messaging services with our incumbent by the end of April 2018. Tempus Nova will provide email, enterprise collaboration and mobile device management services. Some of the benefits include options for a 30 gigabyte or unlimited mailbox size, archiving, calendaring and 99.9 percent uptime. Tempus Nova is a small, women- and minority-owned (SWaM) certified business, specializing in Google solutions. The company has relevant experience as a leader in other states, proven ability to execute to plan, flexibility to address needs and support above and beyond standard Google services.
Mainframe - DXC now is providing mainframe services after a "take over in place" this past June. Planning is underway for testing and subsequent relocation of the IBM mainframe to DXC facilities in Clarksville, VA, with backup in Colorado on a schedule being determined. Benefits include cost reductions, refreshed/updated technology including hardware and software, refreshed and aligned agency connectivity through the elimination of old routing methods and non-supported equipment, and a more flexible disaster recovery solution.
Multisourcing service integrator (MSI) - VITA signed a contract last month with Science Applications International Corporation (SAIC) of Northern Virginia to serve as the MSI in the new infrastructure environment. The MSI is the cornerstone of a strategy that will diversify the state's portfolio of suppliers, improve service delivery quality, ensure cost competitiveness, and provide transparency and accountability into the service delivery platform. The overarching responsibilities of the MSI in the new environment include managing integrated end-to-end infrastructure services overseeing multiple providers, projects and program management, technology planning, services measures, disaster recovery preparedness, and infrastructure security and risk management. VITA will fulfill the oversight and governance roles.
Managed security - Managed security proposals are being evaluated with an anticipated award projected this fall. The supplier will be responsible for providing infrastructure security incident and event management services as a solution that provides real-time analysis of security alerts generated by systems and applications.
Server/storage, network and end-user services - The request for proposals (RFP) for server, storage and data center services was released Sept. 18. The scope of this RFP includes assuming all services for server-based compute, storage and facilities currently provided by the incumbent, including operations and maintenance of the Commonwealth Enterprise Solutions Center (CESC) data center facility; ensuring integrity of disaster recovery services; mitigating risk and documenting the services environment; evolving the current environment to improve performance and efficiencies; providing services that are flexible, rapidly provisioned, cost effective and transparent; providing detailed plans for any migrations, transformations, new or enhanced technology adoption; and providing new data center services to meet the future needs of VITA and VITA customers.
We also are working diligently on organizational change management. VITA must adapt to the new service environment. Our attention has focused on setting up the new platform relationship office (PRO), which will oversee the infrastructure project; capturing current and future processes, roles and responsibilities; and preparing staff for the new environment.
VITA's goal is to deliver uninterrupted, secure, agile, high-quality services at cost-competitive rates with transparency for customers and suppliers. We also want the ability to take advantage of new technologies in the rapidly changing world of IT. We are entering the next-generation of IT services for state agencies. Our work today will have positive impacts for years to come on state government and its services to the commonwealth's citizens, businesses and visitors.
Nelson
State IT strategic plan posted
The 2017 - 2022 Commonwealth Strategic Plan for Information Technology (IT) has been approved and is available on the VITA website. The plan provides an IT vision to meet both technology and economic challenges and opportunities of the commonwealth. It serves as a reference for agencies as they prepare their IT strategic plans for the upcoming biennium. The plan highlights trends such as digital government/internet of things, shared data and analytics, adopting a multisource IT infrastructure, enterprise information architecture and data governance, cloud computing, increasing data sharing and analytics, and delivering data security and protection. The strategic plan for IT additionally highlights the importance of delivering value through technology management and increased productivity.
Read the ITSP - 2017 update.
Cybersecurity Awareness Month kicks off
October is National Cybersecurity Awareness Month. Take some time each week this month to practice and develop good cybersecurity habits. Use strong, unique passwords for each website you visit, and use two-factor authentication when available. Don't open emails from unknown senders. Only visit well-known, reputable websites, especially when shopping online. These are just a few simple steps everyone can use to stay safe online. For more cybersecurity tips and ideas, follow @stopthinkconnect on Twitter and join in on the Twitter chat each Thursday by using the hashtag #ChatSTC.
Learn more about Cybersecurity Awareness Month
PM Summit registration closing Friday
Registration for the sixth annual IT Project Management Summit closes Oct. 6. The theme for this year's summit, which will be held Oct. 11 at the Cultural Arts Center at Glen Allen, is "Superhero Level Project Management." This year's keynote will be presented by staff members from SAIC who will provide an overview of its project management process. Two breakout sessions will provide attendees the opportunity to learn from their peers in a more interactive environment, and network with subject matter experts and other project managers.
Register for the IT Project Management Summit
Customer support news
VITA became aware in late 2016 of lengthy implementation timeframes for wireless standard work request forms. VITA's infrastructure provider was asked to address this issue, which VITA continued to monitor. Noticeable improvement was seen in March this year. By August, the backlog had been eliminated. If you experience any issues with the implementation of a wireless work request, please notify your customer account manager (CAM) or send an email to the VITA OneStop mailbox.
Work request performance year-to-date usage and performance statistics through August:
Approximately 460 custom work requests and change orders were submitted for solution development.
Approximately 350 proposals were delivered to the customer for review (the balance of the work requests were cancelled or returned to customer initiation for various reasons).
Approximately 675 custom work requests, change orders and standard forms were approved for implementation.
There were 4,200 transactions (represented by phase changes).
An average of 60 work requests was in solution development each month.
An average of 250 work requests was in implementation each month. Of those, an average of 60 work requests per month is VITA-only requests.
The average time to prepare a solution is approximately 35 calendar days from receipt of final requirements to delivery to the customer.
The most heavily used standard form is 7-003 for CESC storage. Form 8-90 for wireless service is a distant second.
Project management guideline now posted on website
The updated Commonwealth Project Management Guideline (CPM 110-04) is posted on the VITA website. The CPM 110-04 document has been completely rewritten. The existing content areas have been redrafted, new content areas have been created, new templates have been added, and the orders of sections have been revised. The primary objective of the CPM 110-04 is to provide guidance on the application of the COV Project Management Standard and the use of common industry best practices in the management of IT projects within Virginia executive branch agencies. The guideline is consistent with best practices established by the Project Management Institute (PMI) and documented in the Project Management Body of Knowledge Fifth Edition (PMBOK) and other project management bodies of knowledge. The update to the COV Project Management Guideline received 49 comments via the online review and comment application (ORCA). Each comment has been reviewed, and where appropriate changes were made. If you have questions, please contact Thomas Kramer.
View the guideline at ITRM Policies & Standards.
New tool on VITA's supply chain management website
A new toolis available on VITA's website titled VITA Procurement Approval Requirements and Processes Guide for Virginia Procurement Officers and Buyers. The guide summarizes VITA's procurement approval requirements and processes for IT solicitations and contracts. VITA strongly recommends that commonwealth buyers, procurement leads and officers who procure IT for their agency become familiar with the guide requirements and processes. Such knowledge will enhance IT procurement understanding and improve procurement support to their stakeholders, including business owners, project managers, information security officers and agency IT resources. It is suggested that agency information technology resources share this information with agency procurement officers and buyers. For questions, please contact VITA supply chain management staff at SCM.
View the tool at SCM Policies & Forms.
PSAP, emergency services standard now online
The new Public Safety Answering Points (PSAP) and Emergency Service Boundary Geospatial Data Standard (OTH 705-00) implements data file naming conventions, coordinate systems, geometry, attributes, dataset type and specifications for the dataset depicting PSAP and other emergency service boundaries in Virginia. This layer depicts the polygons and related attribute information that defines the geographic areas.
The document can be found under the Geographic Information Systems (GIS) section of ITRM Policies & Standards.
Address Points Geospatial Data Standard posted
The new Address Points Geospatial Data Standard (OTH 704-00) implements the data file naming conventions, coordinate systems, geometry, attributes, dataset type and specifications for the Virginia address points dataset. The Virginia Geographic Information Network (VGIN) is coordinating the development and maintenance of the statewide address point data layer in conjunction with local governments to create a seamless geo-referenced database feature class containing address numbers and road names. The data will complement the Virginia Base Mapping Program (VBMP) digital ortho-photography road centerline product by providing even more accurate geocoding results.
The document can be found under the Geographic Information Systems (GIS) section of ITRM Policies & Standards.