November 2017
Volume 12, Number 11
From the CIO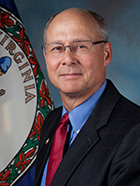 CIO Nelson Moe
The Virginia Information Technologies Agency (VITA) and state agencies continue to move forward with our strategy of developing a multisourced infrastructure environment. We have evaluated how to proceed with transitioning to this next generation of information technology (IT) for the commonwealth because of delays and the importance of such change for commonwealth and the citizens we serve.
In addition to delays, the end of the current infrastructure services contract is looming and the universal feedback from stakeholders has been to move to the new service providers as soon as possible. We must make adjustments. While we continue to work toward the multisupplier environment we selected two years ago, the adjustment to our plan is how we are moving to that environment and how soon we can complete that change. We now are targeting an infrastructure services "takeover in place" based on a compacted timeline. We are planning to move quickly to new suppliers and end services provided by our current infrastructure provider in December 2018.
We have signed contracts with new suppliers for messaging, mainframe services and a multisourcing service integrator (MSI). We are continuing procurements for managed security services, server/storage, and end-user services. VITA is changing internally to accommodate the new infrastructure environment. Agencies will be part of governance.
This is an exciting time for IT in the commonwealth. I extend my appreciation to agencies, suppliers and VITA staff for their commitment to the success of this project.
Nelson
Project management winners announced
VITA held its sixth annual educational and leadership event for commonwealth project managers (PMs) last month. Awards for Project Management Excellence, as judged by the Central Virginia Chapter of Project Management Institute (CVC-PMI), were presented. Three state agencies received the honors:
First place: Department of Medical Assistance Services - Smart Data
A new central data repository was established that enables transparent, structured and automated data sharing across the organization and enforces a structured approach for data management. The system also increases accessibility by interfacing with document sharing systems, provides access to multiple disparate data sources simultaneously to generate reports; and, interacts in real time with web portals, mobile devices and document management systems.
Second place: Virginia Department of Transportation (VDOT) - Smart Scale
An existing web-based tool was enhanced to allow applications to be submitted for multiple grant programs, supporting three VDOT divisions and three agencies under the Secretary of Transportation. The new process also allows resubmission of applications not funded in prior cycles. Localities/districts/jurisdictions now submit projects simply and easily. The state now more easily validates, screens and scores applications.
Third place: Department of Game and Inland Fisheries - Go Out Doors
The agency undertook a complete replacement of its eGov services for licensing, boat registrations, mass communication and web. The agency conducted internal analysis and market research. A customizable hosted marketplace partnership was chosen as the best solution to the business problem. A self-funded model incents the supplier to be successful.
The summit was sold out more than a week before the event. CIO of the Commonwealth Nelson Moe welcomed 210 attendees and introduced representatives from Science Applications International Corporation (SAIC), the commonwealth's newly contracted MSI. Their presentation focused on how agency project managers will interact with the new MSI, including views of dashboards and systems planned to provide transparency and tracking tools to agency users. Several break-out sessions were held, with facilitators from the Army, Department of Behavioral Health and Developmental Services, State Corporation Commission and VITA.
End-user and print services and hardware RFP released
VITA has released the requests for proposals (RFP) for end-user and print services and hardware, reaching another significant milestone in establishing the new multisourcing infrastructure environment. For more information on this transition, visit VITA's website > IT Infrastructure Services.
The scope of the RFP include end-user services and hardware, including assuming existing service mitigating customer impact of change, providing a comprehensive program that includes devices, support software imaging, distribution, and offers a variety of devices (desktops, laptops, tablets); end-user printing and hardware, including assuming existing services mitigating customer impact of change, providing a comprehensive environment with all repair and consumables offering a variety of devices and capabilities (workgroup, multifunction, scanning, mobile print).
To ensure agency needs are met, 16 staff members representing five agencies participated in the development of the RFP. The quality of the sourcing process has a direct relationship to the quality of future IT infrastructure services. It is critical to have VITA and agencies fully engaged to ensure business needs are met.
Customer support services
Standard form 8-007 for enterprise remote connectivity service (ERCS) has been updated to clarify the broadband provider upload and download speed question. VITA's ERCS service currently is limited to 15 megabits per second (Mbps) upload and download speeds.
Requirements document RD7-001 for servers has been updated to add appendix A. Customer agencies are asked to complete the appendix if the server request involves an agency-specific application. Please list the name of the application as it appears in the commonwealth enterprise technology repository (CETR).
New rates established for wireless services
VITA has entered into new agreements with Verizon, US Cellular and T-Mobile for wireless services. Current users of these three carriers will be migrated to the new contracts automatically. Equipment will remain the same. No lapses in service are expected as a result of this transition. VITA is contacting users of AT&T and Sprint services to provide information on how to proceed.
Most users will see new rate plans and pricing. VITA has worked with carriers to emphasize users should move to new, replacement plans maintaining all existing features with no increase in costs. In fact, in many cases, wireless users and customer agencies will see a reduction in monthly wireless bills. Wireless services pricing is being updated on the VITA website.
The new contracts have been put in place because VITA's previous wireless contracts ended Oct. 31. Those contracts were signed in 2009 and renewals have expired. VITA issued an RFP and negotiated with select companies that replied to replace the expiring contracts.
Statewide GIS training event to be held
VITA integrated services program staff, in collaboration with Esri, will host statewide geographic information systems (GIS) training next month. Esri will provide the training in four locations across the commonwealth. There is no charge for locality personnel to attend.
GIS, a location intelligence platform, is underutilized. It can be more widely used by localities. Increased use can enhance career advancement of GIS professionals. This training is designed to provide strategies on how to spread the understanding and full value of GIS across organizations.
Registration begins Nov. 1 and ends Dec. 1. Tickets are required and can be found here.