May 2017
Volume 12, Number 5
From the CIO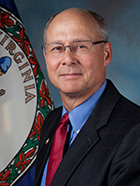 CIO Nelson Moe
As you may know, VITA has undertaken a program to modernize the way we deliver information technology (IT) infrastructure services to our agency customers. This program encompasses everything from the procurement of new services to the implementation of a new governance model for that service delivery to improvements in how we manage our suppliers. As in any journey, we have encountered some challenges. I would like to discuss with you today where we started, where we are and where we are going.
I am going to begin will a little bit of recent history. Integris Applied was engaged in 2015 to help us determine what our next-generation infrastructure services could be; and then again in 2016 through today to help us with that transition. Here are two important findings from its report from November 2015:
VITA's current delivery platform, and business and financial structures, cannot support the agency and enterprise needs
Inherent throughout the assessment was a desire among agencies and enterprise leadership to make changes to the delivery model now rather than waiting until contract expiration."
So, what are we doing? We are:
Building a new infrastructure services delivery platform
Building out a platform relationship office (PRO) to manage an improved, agency-centric governance model designed to lead and evolve a modern, multi-supplier environment
Managing a VITA-wide change program
While we have encountered challenges, please remember that we are moving forward and had several significant successes. We have:
Decided to implement a delivery model that meets the needs of agencies and the enterprise
Engaged the market to validate our approach and the solutions the market will use to support our mission
Engaged agencies in the procurement process and to provide feedback for a new agency-centric governance model
Developed and issued requests for proposals (RFPs), evaluated and selected suppliers, signed contracts and are planning transitions for messaging and mainframe
Developed and issued RFPs for a multisourcing service integrator (MSI), currently evaluating suppliers and expect to sign a contract in summer
Market responses have confirmed the multi-supplier strategy. The market is interested.
Attempts to engage our incumbent supplier have taken longer than planned. We are focusing on enforcing the Comprehensive Infrastructure Agreement (CIA) to move forward with transition of services to new suppliers.
So now what? Over the next six months we will focus on implementing mainframe and messaging; reviewing proposals and awarding a contract for an MSI; continuing agency engagement; changing VITA to support our future state; and, creating a new integrated services delivery platform.
I have shared some of this information before but think it's important we realize we have made progress and we know where we're going. Getting there is challenging. My goal is to continue to support efforts of staff from agencies and VITA who are working diligently to provide the next-generation infrastructure services to support state government's service to the citizens of the commonwealth.
Nelson
VITA ICE event scheduled
VITA's Innovation Center of Excellence (VITA ICE) has scheduled a discussion of Modern Business Intelligence and Data by Microsoft on May 16. An invitation will be extended and details provided as soon as they are finalized.
CISO Watson discusses security in Stateline
Chief Information Security Officer of the Commonwealth Mike Watson is quoted inStateline, an e-newsletter of The Pew Charitable Trust, about cybersecurity. He discusses the proposed State Cyber Resiliency Act, which would create a federal grant program to distribute money to states so they could set up and implement a plan for how to protect against cybersecurity threats and better identify, detect, respond to and recover from attacks.
Full webinar slate in May
An introduction to ArcGIS Enterprise 10.5 webinar is scheduled for Friday, May 12, at 10 a.m.
Two more VITA webinars, scheduled for the last two weeks of May, are designed for public safety/first responders. An overview and update on the Commonwealth Link to Interoperable Communications (COMLINC) is slated at 2 p.m., on Wednesday, May 24. The second webinar will focus on FirstNet – a public safety broadband network – at 2 p.m. on Wednesday, May 31.
Increased focus on work request requirements
A growing quantity of custom work requests are being withdrawn, superseded (changes to requirements), or cancelled while in solution development, which delays the delivery of all work requests. While it is understood that events occur and circumstances can change, customers are asked to do their best to provide complete and accurate requirements. This includes completing all fields on the requirements document. Customers that have suggestions regarding how the requirements document can be improved should send them to the VITA OneStop mailbox.
Standard work request updates and information:
When submitting standard forms, please request storage in quantities of gigabytes (GBs). Increments of GBs (ex: 201.85) should not be used.
Form 1-051 for workplace collaboration service (WCS) and Form 1-052 for WCS modification have been updated to better depict the associated costs and include that disaster recovery services must be included as part of the request.
Form 7-026 for virtual servers at CESC and Form 7-028 for virtual servers outside of CESC have been modified to better clarify that the storage type for the operating system and other purposes must match.
The end of an era: Unisys mainframe is retired
(Editor's Note: This article is a shortened version of one that appeared in the VITA employee e-newsletter. We share it here because we thought it may be of interest to others working in IT.)
It's April 1975. Gerald R. Ford is president. The Vietnam War is about to end. Computer hobbyists Stephen Wozniak and Steven Jobs this year begin working on computer designs. "Saturday Night Live" premieres with George Carlin as host. We're listening to Captain and Tennille's "Love Will Keep Us Together" on eight-track tapes. The Commonwealth of Virginia installs a Unisys mainframe to handle computing needs.
It's April 2017. The events above are history. And, now, so is the commonwealth's Unisys mainframe.
Unisys mainframes were the standard in reliability, availability and security at one time. With advances in technology, that's no longer the case. Most have outdated code languages developed and maintained by developers who are near or have retired.
How did the commonwealth's use of the Unisys mainframe come about? It was introduced as a result of a bid for database support. Univac won the bid with its data management system (DMS) system. The Univac Sperry 1106 (Unisys) was installed in March of 1975 by the Virginia Department of Computer Services (DCS) in the Eighth Street office building and shared the basement with the National Guard. The building is no longer in existence.
COBOL-based batch systems supported Human Resources, State Corporation Commission, the Department of Social Services (DSS), Voter Registration and Virginia State Police. All functions were performed via punch cards. Only two terminals interacted with the system. The printer attached to the system was an AT&T teletype machine. There were various IBM systems in state government all running different operating systems and not compatible.
Over the years, the system was upgraded and then moved to the Richmond Plaza Building in 1976 when the Unisys mainframe and IBM systems were co-located. In the late 1980s, MAPPER came into existence with DSS as the largest user. The 1190 machine was installed in the 1990s leading to the Dorado system, which just now has been retired. Throughout the years, many agencies used or needed access to the Unisys mainframe to perform much needed work.
And now, it's RIP for the 1975 Unisys mainframe.
Moving off the Unisys mainframe helps VITA progress to the next-generation infrastructure environment now being developed and is a significant accomplishment. Most new applications are developed and designed for a multi-tiered server environment; industry mainframe training and resource development is waning; and, few schools offer computer science courses around mainframe technology. However, one of the main reasons to migrate off the mainframe was the cost. The mainframe was based on multiple users running multiple applications.
As customers migrated off Unisys, fewer users shared the cost so the cost increased for those remaining on the platform. Moving hundreds of applications and thousands of users throughout the commonwealth off of the 42-year-old Unisys mainframe is quite an achievement and a long time coming!
The agencies are to be commended for their efforts to move off the Unisys mainframe. Much of the work was on their end. But, it's done. Now all that's left is decommissioning a 1975 mainframe that has served the commonwealth well but has seen better – and its last – days. RIP Unisys 1975 – 2017.