March 2017
Volume 12, Number 3
From the CIO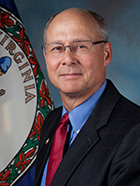 CIO Nelson Moe
I am pleased with the success of the Virginia Information Technologies Agency's Innovation Center of Excellence (VITA ICE). Launched at the Commonwealth of Virginia Innovative Technology Symposium (COVITS) last September, VITA ICE sponsors monthly demonstrations or presentations. It enables the exploration, evaluation and implementation of new technologies as the commonwealth moves to the next generation of information technology (IT). The program leverages relationships with suppliers who have existing contracts with VITA and reaches out to suppliers in specific areas of the open market.*
In October, VITA ICE featured cybersecurity for smart cities and cybersecurity protection on autonomous ground vehicles. November's topic was agile project management. Two of our most popular topics, in December and January, respectively, were whether agency applications are ready for the cloud and the discussion by U.S. Department of Agriculture representatives about how that federal agency moved to the cloud. Just last week, the VITA ICE program featured an Amazon Web Services representative who discussed DevOps. We're planning additional monthly events on topics such as hyper-converged systems, internet of things (IoT) and smart city technologies. Watch for invitations and announcements and join us for upcoming VITA ICE demonstrations and presentations.
Nelson
Tempus Nova, Google and VITA host info session for localities, schools
Tempus Nova Day, slated April 28, will provide information on a new state contract for use by local governments, school districts, public bodies and non-executive branch agencies. The contract provides for the purchase of Google cloud products and services, including messaging, collaboration and mobility. The contract provides favorable customer pricing resulting from bulk purchasing. It also provides for streamlined engagement and execution. Tempus Nova, Google and VITA will host the event from 9:30 a.m. to 12:30 p.m. at the Commonwealth Enterprise Solutions Center (CESC), room 1223, on Friday, April 28.
Representatives of localities, school districts and public bodies who want to learn more about the contract are invited to attend. Valuable information about the contract will be provided, including:
Contract pricing: How localities, school districts and public bodies can save money on messaging, collaboration and mobility IT costs
Google Apps (now G Suite): A brief overview of the Google solution
Working with VITA and Tempus Nova: How to obtain more information about the contract, products and services being offered and how to engage Tempus Nova to assist with validating the Google solution to identify immediate cost savings.
Deployment overview: A brief overview of a typical project, timeline, migration, training, change management, costs, best practices and what localities, school districts and public bodies need to know before deploying Google.
VITA's contract with Tempus Nova was procured according to the Virginia Public Procurement Act and VITA's procurement guidelines, saving localities, school districts and public bodies the staff time and expense of soliciting and evaluating requests for proposals. Tempus Nova will provide 55,000 employees in the executive branch with Google messaging and related services as the commonwealth moves these services from the current provider.
Representatives of localities and school districts interested in attending should register as soon as practicable as seating is limited.
Register for Tempus Nova Day
VITA/Tempus Nova contract
2017 NASCIO IT Recognition Awards program opens
Has your state agency completed an outstanding IT project during the past year? Would you like to honor your outstanding team with national recognition? The nominating window has opened for the National Association of State Chief Information Officers (NASCIO) 2017 State IT Recognition Awards, and VITA again will prepare a slate of Virginia agency entries.
What do you need to do to win one of these prestigious awards? First, gather project records and designate an agency contact to work with VITA. Second, begin honing your story. How does your project align with your agency mission? What makes your project innovative? How have agencies, citizens, businesses or other government entities benefitted? Contact VITA (vitacomms@vita.virginia.gov) with a one-paragraph overview and suggestion by March 15. The CIO of each state submits entries on behalf of his/her state.
A final nod to Virginia's 2016 NASCIO honorees
Congratulations one more time to the three Virginia finalists in the 2016 NASCIO IT Recognition Awards program. They include: "Growing an Industry" by the Virginia Unmanned Systems Commission in the innovative and emerging technology category; "Reducing Risk through Enterprise Data Identification" by VITA commonwealth security and risk management division in the cybersecurity category; and "BeneVets Automated Claim Application" by the Department of Veteran's Services in the improving state operations category.
ITIM Standard updated, posted online
The updated Information Technology Investment Management (ITIM) Standard (CPM 516-02) is posted on the VITA website. The purpose of the standard is to establish a methodology for the identification, selection, management and evaluation of IT investments to maximize business value of those investments to the commonwealth. It defines the ITIM methodology, describes the phases of the ITIM lifecycle, establishes the basis for measuring the value of an IT investment, identifies the required actions associated with each phase, positions those actions within a portfolio management process, and assigns roles and responsibilities for those actions. Since the commonwealth and agency IT strategic planning process embodies the ITIM methodology, the standard also defines and describes related portions of that process.
The revision was required by changes in the Code of Virginia, updates to the Commonwealth Technology Business Plan and the Commonwealth Strategic Plan for IT, and revisions to agency IT strategic planning requirements and processes. Additional changes included reorganization to improve flow and comprehension, revised figures, updated web links, refined definitions of investment risk and portfolio management, and an appendix summarizing agency responsibilities.
Read the updated ITRM Policies, Standards & Guidelines
Customer service and support: work requests
Standard work request updates
Enterprise cloud oversight services (ECOS) (forms 1-003 and 1-004)
VITA had only one form for ECOS that included both assessment and implementation. Based on user experience, VITA discovered the need to separate these two discrete activities and their associated costs into two forms. The revised standard form 1-003 focuses only on the ECOS assessment. The new standard form 1-004 focuses on the implementation of ECOS if the assessment is approved and the customer wishes to proceed.
SharePoint training (form 1-054)
There is no travel cost for training in the Richmond area. However, travel costs do apply if the training is conducted outside of the Richmond metropolitan area. This form was modified to include a line item for travel costs. Instructions regarding how to determine the travel cost can be found on the form.
Requirements documents improvements
The date field has been removed on the requirements documents. The date field (with the exception of the move-related document) has been replaced with a free text field that allows customers to provide a description of scheduling constraints including a specific date if needed. This provides flexibility in describing customer needs without forcing a specific date if none exists.
Requests for multiple servers
Customers can ask for more than four servers on the server requirements document (RD7-001). Request more than four servers by, simply cutting and pasting the server information table. Add the information for the additional servers. If you have questions or need assistance, contact the VITA One-Stop mailbox (vitaonestop@vita.virginia.gov) for a quick response.
Network-related work requests
Customers who need additional data ports activated when the quantity is greater than 25, must submit a custom work request that includes requirements details regarding the quantity of data ports needed and their purpose. For example: I need 32 data ports activated for a training room to be used by commonwealth staff on a regular basis. Avoid asking for specific hardware such as a 24 port switch. Doing so may result in higher costs and does not give VITA's infrastructure provider the right information to prepare the best solution.
Move-related work requests
Staff relocations normally require a work request. Requirements for the entire move should be submitted at the same time. Submitting multiple work requests for parts of the move normally results in confusion and lack of proper coordination of activities. It also may result in higher costs. Multiple work requests are acceptable when the move is phased over a period of time.
VITA's OneStop Q&A
Q. What is VITA OneStop?
A. VITA OneStop is a central mailbox and a team of people providing VITA customers one unified location for service-related questions.
Q. What does it do?
A. VITA OneStop handles inquiries such as work request-related documents and questions, status of eVA orders, exception requests, Microsoft Home Use program questions, requests for new or changed VITA services, and general VITA service-related questions.
Q. What's the purpose of the VITA OneStop?
A. The purpose is to improve customer service. With the OneStop, potential roadblocks are eliminated. Tracking of inquiries and requests is easier and more efficient. The number of handoffs for work request documents is reduced. Perhaps most importantly, responses and communications increase in consistency. The process is streamlined and simplified. Customer account managers (CAMs) still work with their agencies, but the OneStop relieves them of some of the day-to-day operational support.
Q. What do customers think about the OneStop?
A. A survey was sent in October 2015 to gauge customers' interest, thoughts and comments about VITA OneStop. At the time of the survey, not everyone knew about VITA OneStop, but the response from those who did was positive. Respondents liked the quick turn-around time after they submitted a question. They also liked the ability to download, complete and get a work request number for submittal in just an afternoon. Nearly 90 percent of those who responded expressed positive feedback about VITA OneStop.
Q. Where can I go to learn more?
A. Additional information is located on the VITA OneStop on the VITA website, or talk to Tammy Edwards or Tom Nikles for more information.
Virginia statewide land cover dataset webinar scheduled
A webinar overview of use cases for the Virginia statewide land cover dataset will be held Wednesday, March 15, at 2 p.m. The webinar will cover the current uses of land cover data, and focus on how localities may be able to utilize this dataset based on existing planning practices in Virginia and elsewhere. This webinar will be presented by Jennifer Ellsworth, GIS technical lead and project manager with Worldview Solutions.
February Information Security tips
Now that W-2s are arriving, it's time to consider how to stay safe from tax scams. Every year, unfortunate taxpayers file their returns and are shocked to find that someone has already filed a fraudulent return in their name. Read the tips below to avoid being a victim of a tax scam.
February Information Security Tips
---
* Supplier participation in the VITA ICE program will not constitute a procurement under the Virginia Public Procurement Act (§2.2-4300 et seq. of the Code of Virginia) nor will any participation result in a contract award for any product or service. Rather, the findings of the program may play a part in the development of VITA's procurement planning.