June 2017
Volume 12, Number 6
From the CIO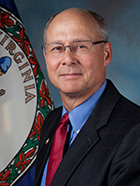 CIO Nelson Moe
I am pleased to announce that, as the state's chief information officer, I have entered five Virginia projects in the National Association of State Chief Information Officers (NASCIO) annual awards program. The agencies, projects and categories entered include:
Department of Behavioral Health and Developmental Services (DBHDS) -- OneMind Behavioral Health Electronic Health Records in the government to citizen category
Department of Education (DOE) -- School Quality Profiles: Bringing Data to Life in the data, information and knowledge management category
Department of Medical Assistance Services (DMAS) -- SMARTDATA PROGRAM (Enterprise SAS Implementation for Advanced Data Analytics) in the improving state operations category
VITA -- Innovation Center of Excellence (VITA ICE) in the CIO special recognition category
VITA -- Web Application Vulnerability Scanning Program in the cybersecurity category
I believe these are strong entries and look forward to the fall NASCIO conference when the winners are announced. When we submit entries and receive finalist or winner designations, it reflects positively on Virginia and confirms we are a leader in information technology (IT) among the states. Congratulations to all who worked on these projects.
Congratulations also to DOE and the Virginia Department of Transportation (VDOT), winners of RichTech's 22nd annual technology awards. The awards honor those helping advance the region's technology. Nearly 800 people attended the gala, during which the awards were presented, at the Greater Richmond Convention Center.
DOE - Development of a web application that replaced PDF reports in the Innovation in Utilization Award category; the award is to a company or organization that exhibits creative uses of technology that enhance processes or services for its own or another's benefit.
VDOT - Using a system that prioritizes projects to fund the right transportation project that generates the greatest benefit in the Innovation in Development the Auzville Jackson Jr. Award; the award recognizes the development of technology applications or systems that create processes, methodologies and/or services for its own or others' benefit.
Nelson
Infrastructure procurement continuing; transition challenging
VITA, state agencies and suppliers continue to move forward on the information technology infrastructure services program (ITISP). While the project overall continues to be ranked red, VITA is pressing to migrate projects under wave one -- messaging and mainframe services. Project status includes:
Wave one transitions:

Messaging - Contract awarded to Tempus Nova using Google; project currently suspended; revised approach and timelines being considered
Mainframe - DXC Technology assumes responsibility for IBM mainframe services June 3 in place at the Commonwealth Enterprise Solutions Center (CESC)

Wave two and three:

Procurement - Wave two

Multisourcing service integrator - On target for June 30 award
Managed security services - Targeting October award
Server and storage services - Delayed

Procurement - Wave three
VITA is examining the ITISP strategy to determine if it must change but continues to prepare in the interim. VITA is seeking customer input, examining the business case, focusing on transitions, improving the program framework, and preparing customers and VITA for change. Plans are being developed to increase communication to you, our customers and other stakeholders.
"Please remember we have made great strides in moving to a multisourcing environment for our infrastructure services. I urge you to continue to be dedicated to this effort, which is the number one priority of VITA and will impact all state agencies and employees, and the customers they serve, for years to come. This work is moving us to the next-generation infrastructure and is work of which we - the commonwealth, agencies, VITA staff and the suppliers we select -- can all be proud," CIO Nelson Moe said recently.
O&M SOWs now available under the ITCL program
As of today, June 1, state agencies and public bodies of the commonwealth will be able to enter into a statement of work (SOW) for operations and maintenance (O&M) support services for an IT system, associated applications, software or programs through the IT contingent labor (ITCL) contract with Computer Aid, Inc. (CAI).
To utilize the O&M SOW, customers will be required to outline the specific operations support services in a statement of requirements (SOR) to reflect the recurring work activities, expected service levels, deliverables and reporting requirements. Subcontractors in the CAI supplier network prequalified to bid on applications development and IT infrastructure labor can compete for O&M SOW contracts.
VITA's contract with Computer Aid has been in place since 2013. It supports state agencies and other public bodies in the commonwealth by providing a simple and consistent process to obtain contract resources for IT staff augmentation and consulting services. The contract, which was developed following state procurement guidelines, can be used by all state agencies and public bodies. Using the contract reduces the amount of staff time and costs required to conduct procurements and takes advantage of market rates.
The SOW user guide and statement of requirements template can be found at the ITCL program home page: IT Contingent Labor.
For additional information on use of the O&M SOW service, email VITA's ITCL program manager at SCMInfo@vita.virginia.gov.
Work request news and updates
A number of changes and updates to work request forms and the work request process have been made. Read below to learn about the new updates to make the work request process more efficient.
New fiscal year rates for work requests: All resource unit rates and the VITA burden rate will be updated effective the first day of the new fiscal year (July 1), which will impact the work request process. Standard forms will be updated with the new rates and will be posted to the service catalog form library in advance of the new fiscal year. Pricing of custom work requests will reflect the new fiscal year rates several weeks before the new fiscal year.
Unified communications as a service (UCaaS) work requests: Customer agencies that want to convert to UCaaS phone service are asked to submit a separate work request for each location.
Local government requests: Local governments can submit work requests directly to VITA. Executive branch agencies should not submit work requests to VITA for local government entities. This is necessary so that VITA understands who should approve and be billed for the service requested.
Custom work requests for wireless service: VITA's infrastructure supplier will conduct a site survey for all custom wireless work requests. The site survey may not be performed until after the proposal is approved by the customer. If the site survey determines the quantity of wireless access points needs to be revised, a change order will be processed and sent to the customer for approval.
Training material: Training material regarding the work request process, work request database and electronic approvals is available for customers. It can be accessed by registered users via the work request database here. On the left side menu, click on WRM User Guide/Dashboard Orientation to go to the training documentation.
Work request database access requests: Please send requests for access to the work request database to the VITA OneStop mailbox. Do not send them to the VITA customer care center (VCCC). User requests should be submitted through the agency information technology resource (AITR) or AITR designee. Response times for granting access normally are within a few hours.
Change order requirements: When submitting requirements for change orders, update the latest version of the requirements document and submit it to the VITA OneStop mailbox. Please do not provide the detail of the change order request in the text of an email. This prevents confusion and misunderstandings that could result in an incorrect proposal. The latest version of the requirements can be found under the work request number in the work request database.
Cancellation of work requests: Work requests may be canceled at any point in the process until the completion notice is issued. To cancel a work request, the AITR or AITR designee should send the request to the VITA OneStop mailbox and copy the agency's customer account manager. To avoid any confusion, the message should clearly state the work request number and the customer's desire to cancel. If the work request is in the implementation phase, the customer is responsible for any costs incurred through the date of cancellation. Note that due to invoice timing, some costs may appear on the customers invoice after the work request is canceled.
Network-related work requests: Customers who need additional data ports activated when the quantity is greater than 25 must submit a custom work request that includes requirements details regarding the quantity of data ports needed and their purpose. For example: I need 32 data ports activated for a training room to be used by commonwealth staff on a regular basis. Avoid asking for specific hardware such as a 24 port switch. Doing so may result in higher costs and does not give VITA's infrastructure provider the right information to prepare the best solution.
Statewide two-way radio contracts awarded
VITA recently entered into 13 new contracts for statewide two-way radios. The radio contracts run through April 18, 2020. Details and information on each contract, including pricing, can be found here. Major brands covered in the contracts include Motorola, Kenwood, Relm, Vertex and EF Johnson.
VITA ICE hosts Microsoft event
Last month, the VITA Innovation Center of Excellence (VITA ICE) held an event with Microsoft titled "Modern Business Intelligence and Data Analysis." Approximately 60 people attended the event to learn about technology trends in business intelligence and data analysis. Microsoft representatives presented on the ways powerful business intelligence can transform data into rich visuals, allowing users to focus on the information that is most important to them and their agency.
May Information Security Tips posted
Are you really being secure online? Browsing the web and interacting with websites in a secure fashion is immensely important in today's connected world. Everyday things like online banking, shopping, and submitting your taxes involve sharing financial and sensitive information online. This makes browsing securely something that everyone should consider more closely. In this month's edition, we will explore some ways to connect to the internet and browse websites securely, as well as how you can double check that you are being secure.