July 2017
Volume 12, Number 7
From the CIO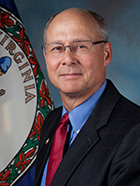 CIO Nelson Moe
COVITS will be here before you know it! The Commonwealth of Virginia Innovative Technology Symposium (COVITS) is Sept. 6-7. We have a new location this year – the Greater Richmond Convention Center in downtown Richmond, which will provide additional space to meet the growing attendance of this exceptional event.
As I am sure you are aware, the Governor's Technology Awards will be presented at COVITS again this year. The deadline for entries is midnight Friday, July 14. Here are the 2017 Governor's Technology Awards categories:
Cross-boundary collaboration on information technology (IT) service delivery initiatives
IT as efficiency driver - government to citizen
IT as efficiency driver - government to business
IT as efficiency driver - government to government
Innovative use of technology in local government
Innovative use of technology in education
Innovative use of big data and analytics
Innovative use of open data
Best citizen portal
Submissions should focus on improvements in the business of government through the strategic use of IT. Entries must be from public bodies about their work; however, private entities may assist with preparation of the entry.
Secretary of Technology Karen Jackson has said of COVITS, "Virginia is 100 percent committed to enriching its citizen services through the innovative use of technology, so we are redoubling our efforts to accelerate the commonwealth to new heights in digital government … COVITS is integral to our planning because it is one of the few times during the year when we will gather in one place to discuss strategies, possibilities, collaborations and lessons learned. The day and a half at COVITS is indeed time well spent …"
The COVITS advisory board, which includes representatives of government and industry, has met to begin planning the program. Watch for additional details here. I look forward to seeing you Sept. 6-7 at COVITS.
On a different note, you may be aware that a complaint was filed by Northrop Grumman recently in Richmond Circuit Court against the commonwealth seeking damages and interest related to its contract for information technology (IT) infrastructure services for the state.
Over the past 18 months, VITA has shared information with Northrop Grumman regarding the commonwealth's plans for the end of the contract. We made the decision to follow our consultant's recommendation to begin disentangling services in waves ahead of the end of the contract to reduce risk and ensure a smooth transition. We are moving from a monolith long-term IT provider to a multisupplier service model with shorter term contracts.
We asked Northrop Grumman to perform specific actions required of the company in our current contract to move to these new providers. We found Northrop Grumman uncooperative in several areas related to the transition to new suppliers and other recent disagreements over services, and gave notices of breach of contract to the company to protect the interests of the commonwealth and its taxpayers. Northrop Grumman then filed the complaint. VITA worked with our legal representatives and responded to the complaint by the deadline last month.
VITA has also filed a counterclaim against Northrop Grumman seeking $300 million in damages for breaches of the Comprehensive Infrastructure Agreement the company entered into with the commonwealth. In addition to the monetary damages, VITA is seeking a court order compelling Northrop Grumman to meet its contractual obligation to cooperate with VITA's planned transition to new service providers.
Northrop Grumman has collected $2.4 billion since the contract began in 2006 and currently receives about $25 million a month in fees from the commonwealth. The contract expires June 30, 2019. The first two contracts awarded offer improved technology at potential cost savings. We are continuing to move forward with transition to these two new suppliers.
Nelson
ECOS continues move forward
VITA's enterprise cloud oversight service (ECOS) is moving forward with substantial success in a short timeframe. ECOS is a valuable service for agencies looking for cloud governance. Its first priority was to address and work the backlog of software as a solution (SaaS) requests to VITA. This work has largely been successful, including a good turnaround with suppliers who are responsive and meet standards.
ECOS provides for assessing cloud service providers, and allows agencies to procure SaaS cloud services from approved suppliers with VITA oversight to ensure compliance with security, procurement and engineering architecture standards. Vendors are approved after agencies submit and pay for an evaluation. Approved vendors have agreed to audit requirements and operational commitments. The service ensures compliance and transparency for cloud solutions, and to commonwealth mandates and guidelines regarding moving to and operating in a cloud environment.
VITA is pleased to offer ECOS as the agency moves to embrace the value of the cloud and provide IT cybersecurity, infrastructure and governance services.
Commonwealth security and cloud solicitation, contract requirements now posted online
A new document regarding commonwealth security and cloud requirements for solicitations and contracts is now live on the VITA website. The document is titled "Commonwealth Security and Cloud Requirements for Solicitations and Contracts ."
Cloud-hosted emergency planning contract awarded
A VITA statewide contract has been awarded to Previstar Inc. for a cloud-hosted emergency planning management solution. The contract offers an enterprise-wide license that covers all Commonwealth of Virginia public bodies as defined by the Code of Virginia.
The SaaS solution can support a variety of disaster response and recovery planning efforts, including emergency operations plans, continuity of operations plans and standard operating procedures. The solution allows for the development, review, approval and storage of plans. This is the first VITA statewide contract award under VITA's ECOS policy and related processes since they were implemented in December 2016. Public bodies should be aware there are special requirements that must be included in statements of work and a work request must be completed and submitted to the VITA OneStop mailbox prior to any ordering commitment issued under the contract.
New VITA rates now in effect
Rates for IT services provided by VITA were approved in the 2017 Appropriation Act and took effect July 1.
Generally, most rates increased for fiscal year (FY) 18. Fees for mainframe, server and storage, end-user, and voice, including legacy voice and data services, increased. FY18 rates for such services were increased to recover revenue shortfalls resulting primarily from stranded expenses due to asymmetrical pricing in the Northrop Grumman contract and one-time expenses associated with transitioning to new service providers.
Last fall, VITA worked closely with the Department of Planning and Budget (DPB) to forecast fiscal year FY18 IT usage and VITA rates. The general fund share of each agency's projected increase or decrease with projected utilization and new rates has been budgeted in the Central Appropriations Act and will be distributed by DPB during budget execution. Agencies can contact their DPB analyst with questions regarding changes to individual agency budgets. Agencies seeking more information on the impact can contact their VITA customer account manager (CAM). Questions about rates can be sent to Cynthia Cordova-Edwards or (804) 416-6023.
New telecommunications billing system set to launch
The new telecommunications expense (management) and billing solution (TEBS) is scheduled to go live the week of July 10. TEBS will replace a legacy billing system and a vendor invoice payment and reconciliation application. The new application will deliver bills electronically, improve customer ordering, ease bill access, increase customer cost allocation and asset management support, and reduce or eliminate paper invoices. Implementation is expected to streamline and improve service to VITA's more than 800 telecommunications service customers, including state agencies, localities and educational institutions.
TEBS homepage
WebEx services will be upgraded July 21
On July 21, WebEx services offered by VITA will be migrating to a new portal with West Unified Communications Services Cisco WebEx. The new version will have a different look and feel and include new features. For more information, state staff may read a recent communication regarding actions that must be taken by agencies on the VITA COV intranet site.
New portal
Recent communication
New security training software available
As of June 11, VITA's Awareity contract, which provides security role base and security awareness training software through SaaS, will expire. VITA is aware of the importance of this contract and the valuable tools that can be acquired from the supplier. Therefore, VITA has introduced Awareity to SHI, which will be able to offer all of Awareity's training options through their desktop productivity contract VA-140401-SHI.
View the contract
Contact SHI for quotes or questions
PSAP review period ending soon
The new Public Safety Answering Point (PSAP) and Emergency Service Boundaries Geospatial Data Standard (OTH 705-00) is posted online for review and comment until July 14.
The document implements, as a Commonwealth Information Technology Resource Management (ITRM) Standard, the data file naming conventions, coordinate systems, geometry, attributes, dataset type and specifications for the dataset depicting PSAP and other emergency service boundaries in Virginia.
The standard will be applicable to local governments and state agencies and serve as the data source of record at the state level for PSAP boundary spatial features. This layer depicts the polygons and related attribute information that defines the geographic areas of PSAP and emergency service boundaries.
Two 9-1-1 webinars scheduled
Two webinars are scheduled for July. The first webinar, scheduled Wednesday, July 12, at 2 p.m., will provide information and critical deadlines related to the fiscal year 2017 true-up process and the fiscal year 2019 grant cycle. The second webinar will be held Wednesday, July 26, at 2 p.m., and will focus on the 9-1-1 Services Board funding committee.
FY18 work request forms updated
Updated standard work request forms reflecting the FY18 rates are available in the service catalog form library. Due to the changes in rates, the prior versions of the form will no longer be accepted.