January 2017
Volume 12, Number 1
From the CIO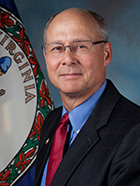 CIO Nelson Moe
I am pleased to announce that the Virginia Information Technologies Agency (VITA) has initiated enterprise cloud oversight services (ECOS). ECOS is offered in response to agency requests and to keep pace with the rapidly changing IT environment for infrastructure. I am confident state agencies will find this service of value from both cost and time to implement perspectives. Additional details regarding ECOS are provided below.
In the early days, we expect demand to stress our ability to provide the service. We plan on expanding with demand and adapting to the changing needs of agencies. We ask for patience as we work through the initial demand.
The commonwealth's new cloud policy and procedures, titled "Third-Party Hosting Policy and Procedures," are published on the VITA website. They enable the adoption of cloud-based services, where appropriate, across the Commonwealth of Virginia agencies, and legislative, judicial and independent agencies of the commonwealth using VITA as an IT service provider.
Please do not hesitate to contact me or my point of contact, Demetrias Rodgers, if you have questions about this service.
Contact Nelson Moe
Contact Demetrias Rodgers
Under "IT Operations Policies and Procedures," view the "Third Party Use Policy"
And, again, thank you for your continuing assistance and support.
Nelson
ECOS services goals, components detailed
ECOSwill provide the oversight functions and management of all non-premise- based services, specifically software-as-a-service (SaaS). ECOS will assure compliance and security by providing transparency among all parties (supplier, agency and VITA) through VITA oversight. The service is intended to:
Ensure adequate security controls are in place for the protection of data
Ensure compliance with regulations and laws
Ensure consistent performance from non-premise-based suppliers through service level and performance monitoring
Ensure appropriate supplier management of services
Provide timely resolution of audit recommendations
ECOS will allow for a smoother transition to leverage non-premise-based services by minimizing the need for CIO exception approvals for cloud-based service consumption.
ECOS is made up of the following three service components:
Assessment review - The assessment is a pre-award questionnaire to be completed by the proposed supplier(s) and reviewed by VITA in order to assess the supplier's ability to meet the commonwealth security and governance requirements for non-premise-based services.
Supply chain management consulting services - These services are intended to provide guidance and oversight to agencies for delegated cloud procurements.
Cloud service oversight - Oversight of supplier services includes monthly performance monitoring, service level agreement management, operational oversight and security conformance of non-premise-based services by requiring supporting data and artifacts from the cloud supplier.
The has been updated to reflect the appropriate cloud terminology.
For more information, including FAQs, visit the VITA IT service catalog: "Cloud and Oversight Services" or email enterprise services at EnterpriseServices@vita.virginia.gov. The FAQs are available under the "Detailed Info" tab near the bottom of the ECOS description page.
What's in a Number?
63 or 89?
For several years, VITA has reported that there are 89 agencies in scope to the IT infrastructure program. That number included executive branch agencies, the governor's office and the secretariats.
To be more accurate, VITA now is using 63 as the official number of agencies served by the infrastructure program. This is the result of the merging or eliminating of agencies by the General Assembly and consolidating the governor's office and secretariats into one entity.
So, what's in a number? Accuracy in reporting. So, 63 it is.
TEBS project progressing
The telecommunications expense (management) and billing solution (TEBS) project is in the implementation phase and expected to go live this quarter. TEBS will streamline processes, reduce paper handling and improve customer service to VITA's 800 telecommunications services customers, which include state agencies, institutions of higher education and localities. TEBS will replace a legacy telecommunications inventory billing system and a paper vendor invoice, payment and reconciliation application while delivering bills electronically. Communication to users will increase as the project nears the go live date.
Customer solutions and support (CSS)
Exception requests
It is important to know and understand the difference between a chief information officer (CIO) and a commonwealth security and risk management (CSRM) exception request. Information regarding the two types of exception requests can be found on the CSS website. Click on "Service Guidance" at the top of the menu on the left side of the page for more information.
Work request database access requests
Requests for access to the work request database should be addressed to the VITAOneStop. Do not send them to the VITA customer care center (VCCC). Requests should be sent by the agency information technology resource (AITR) or AITR designee. Response times for granting access are normally within a few hours.
VITA ICE events continue to attract interest
The VITA Innovation Center of Excellence (VITA ICE) held three successful events last quarter. The most recent event titled "Are Your Agency Applications Ready for the Cloud?" attracted more than 115 attendees from both the public and private sectors and included thoughtful questions and discussion, and interest in moving applications to the cloud. AITRs will be provided additional information on cloud services at the January meeting with the CIO when representatives of the U.S. Department of Agriculture discuss how that federal agency moved applications to the cloud.
VITA ICE provides for the exploration, evaluation and implementation of new technologies as the commonwealth moves to the next generation of IT. The program accomplishes these goals by leveraging relationships with suppliers who have existing contracts with VITA and through targeted outreach to suppliers in specific areas of the open market. Supplier participation in the VITA ICE program does not constitute procurement or result in a contract award. Rather, the findings of the program may play a part in the development of VITA's procurement planning.
Read more about VITA ICE
First quarter project management classes scheduled
VITA has scheduled eight project management classes for the first quarter of 2017. Classes include:
Commonwealth IT Project Manager Overview Training
Commonwealth Tech Portfolio for Project Managers Training
Successful Stakeholder Management
Project Teambuilding
Organizational Change Management
Risk Management
Developing a Project Schedule and Work Breakdown Structure
Cost Benefit Analysis
There is no cost for the training, which is held at the Commonwealth Enterprise Solutions Center (CESC). Seating is limited; registration is required.
Register for a class
Address questions to Patty Samuels
December Information Security Tips posted
By now, you are putting those electronic devices you received as gifts over the holidays to good use. Whether it's a smartphone, laptop, desktop, tablet or another device, check out the tips below to help you protect your new technology and secure your personal data.