February 2017
Volume 12, Number 2
From the CIO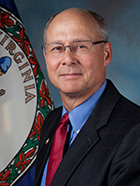 CIO Nelson Moe
January has flown by. As we roll into the second month of the New Year, teams of agency and VITA representatives continue to be hard at work moving the information technology (IT) infrastructure for executive agencies toward a multisource platform. Significant progress has been made. Procurements have been conducted and contracts have been awarded for wave one projects -- messaging and IBM mainframe services. Still, obstacles have delayed messaging and mainframe transitions. Regardless of these hurdles, the tireless commitment of those working on sourcing from agencies and VITA has helped maintain steady progress toward completing the wave two milestones:
Proposals have been received and the multisourcing service integrator (MSI) selection process underway.
The request for proposal (RFP) for managed security services is in process. Supplier proposals are due by Feb. 16.
Also in progress, the server/storage RFP is being finalized.
Disentanglement from our current IT infrastructure provider is underway with mediation taking place to resolve some outstanding issues as we near the end of that long-term contract. We also are extending stakeholder and resource outreach to prepare for execution of new contracts, transition to new services and change management. Agency input continues to be of the utmost importance as we begin work on wave three procurements, and I, again, extend sincere appreciation to agencies that are permitting staff to dedicate time to these projects and to agency and VITA staff for their efforts.
Nelson
Mark your calendars
The fourth annual information security conference is scheduled April 13-14 at the Crowne Plaza Richmond. This year's theme, "Expanding security knowledge," will focus on the shared mission of securing information. The conference will feature keynote addresses by two nationally known speakers: John Martin, president and chief executive officer of SIR, and Arnold Bell, chief information security officer at SLAIT. The cost to attend is $125 and the deadline to register is March 15.
Looking further into the calendar, the Commonwealth of Virginia Innovative Technology Symposium (COVITS) is scheduled Sept. 6-7 at a new location this year -- the Richmond Convention Center. Mark your calendars now for both of these great events.
2017 COV Information Security Conference Information
Governor's Data Analytics Summit is April 11
This year's Governor's Data Analytics Summit will be held April 11 at The Boar's Head Inn in Charlottesville. The summit will provide attendees practical knowledge about identifying and scoping business challenges to solve with data analytics, how to get projects off the ground and where to get resources. Attendees will have the opportunity to learn about workforce implications, data ethics and privacy, open data, the future of data analytics, predictive analytics and much more. Speakers and panelists will be on hand to discuss with business leaders how to unlock the value of data through analytics and to answer questions. Seating is very limited; registration details will be provided as they are finalized. The summit is co-sponsored by the University of Virginia's Data Science Institute. Questions can be addressed to: DataAnalyticsSummit@governor.virginia.gov.
Customer solutions and support
Work request updates
Requested implementation date – When submitting a work request, agencies should provide as much information as possible regarding the requested implementation date. Accuracy in the reported dates is important in evaluating drivers behind each request and determining the priority.
Standard work request form 7-003 for CESC storage – This form was revised in January to exclude the ability to request decreases in storage due to the difficulties in implementing the requests. To avoid delays and problems during implementation, customers are asked to submit a custom work request. To simply delete a file drive, only a VCCC ticket needs to be submitted. No work request is needed, but any contents on the file drive will be deleted with the storage.
Contact: VCCC via email or at (866) 637-8482 by phone
Cost benefit analysis tool available
A new, improved cost benefit analysis (CBA) tool is available. The CBA helps build the business case or justification for selecting one alternative over another when planning IT projects. The spreadsheet replaces the online form in the commonwealth technology portfolio and is useful in analyzing the economic feasibility of alternatives under consideration. A template, overview document and presentation online are designed to help prepare cost/benefit comparisons with recommendations on how to gather information, present costs, determine benefits, identify risks and draw economically sound conclusions.
Cloud service offering of interest to agencies
Since the deployment of the new enterprise cloud oversight service (ECOS) in late December 2016, 11 work requests for both assessments and oversight activities for software as a service (SaaS) providers for agencies have been received. VITA continues to meet with agencies to address agency-specific questions regarding the new process and provide additional information. VITA is continuing to update the FAQs to assist agencies.
ECOS eliminates the need for exceptions for agencies seeking to leverage SaaS. It provides a flexible and custom option that offers automatic compliance updates and ensures regulatory and security compliance.
Online, under "IT Operations Policies and Procedures," view the "Third Party Use Policy"
Contact: Demetrias Rodgers
Training for contractors – what's the best approach?
When determining whether to provide training for contractors working for state agencies, managers must comply with the Procuring and Managing IT Contingent Labor Resources Policy. The policy specifies:
Only agency specific or authorized user-specific training shall be provided to any contingent worker or resource. This requirement includes that no trainings shall be provided or required except for unique agency or authorized user requirements as necessary to perform the specific work requested. Agencies and authorized users shall provide instruction related to agency specific procedures and agency specific policies that are necessary and essential for the engaged resource to perform work. Training for skill and competencies needed for the resource are the responsibility of the contractor and contractor's firm to provide and see that such responsibilities are met."
There are two costs when training contractors; class registration and the hourly rate paid by the state when a contractor is in class. Supervisors are encouraged to use discretion and consider:
Contractors are not employees of the commonwealth
The need for training for the contractor to perform the job for which they were engaged
Hourly cost for the contract resource to attend training
The expected return on investment or value the commonwealth will receive as a result of the contractor receiving the training
If a supervisor determines that the requested training is desired but not required, clarify with the contractor that for approved training, the registration cost and hours in training may not be charged to the commonwealth. IT contractors are hired through VITA's IT contingent labor program.
IT Contingent Labor Resources Policy
Contact: Sonia Hicks
Workplace productivity solutions service to be retired
After evaluating the workplace productivity solutions (WPS) service, VITA has determined it will retire the service June 30, 2018. VITA will support the WPS service under the current monthly billing structure until the scheduled retirement.
Contact: Jim Adams or your customer account manager
WebEx service migrating to new URL
Beginning Feb. 17, all Cisco WebEx accounts for web conferencing and collaboration will be upgraded to a new URL. On Feb. 10, agency users will receive an email from the project manager, James Im (Sung.im@ngc.com), with new WebEX account information and detailed instructions to update their WebEX URL. Although there will be no changes to features or functionality, agency users must take action to update the URL information in the WebEx settings in order to continue using the service. Users must update the URL by March 31. At that time, any conference recordings or future scheduled meetings housed under the former account profile will no longer be available.
VITA ICE hosts USDA
VITA's Innovation Center of Excellence (VITA ICE) welcomed a United States Department of Agriculture (USDA) representative as a guest at the January meeting of agency IT resources. USDA Director of Cloud Strategy and Policy Anthony Cossa discussed how the USDA transitioned agencies and offices to the cloud. VITA ICE also had a Dell representative showcase computing devices, including desktops, laptops and a tablet that were recently added to the VITA product catalog. Upcoming VITA ICE events will be announced shortly.
February ISP webinars slated
VITA integrated services program (ISP) staff will host a Virginia base mapping program webinar on Feb. 8 at 2 p.m. The webinar will provide an overview of the Virginia based mapping program with a focus on the Fugro Access viewer tool. The tool will allow the imagery customers to see when flyovers have taken place, have a preliminary look at raw imagery and, after processing, allow them to participate in the quality control process. The webinar will include a demonstration of how to use the tool.
ISP will host a webinar on the National Emergency Number Association (NENA) Standard for next generation (NG) 9-1-1 geographic information systems data model on Feb. 15 at 2 p.m. The webinar will provide an overview of the draft document, how to provide comments and how the standard aligns with related standards.
January Information Security Tips posted
As we look back on the past year's challenges, we also look ahead to which cybersecurity challenges are expected in 2017. Here are some quick primers on threats to everyday users and how you can work to protect yourself out there in the connected world.

January Information Security Tips