December 2017
Volume 12, Number 12
From the CIO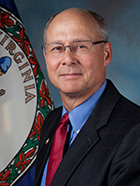 CIO Nelson Moe
This year is quickly coming to an end and we're looking at the work we must accomplish in 2018. Our biggest priority, of course, is moving to a new multisourcing infrastructure model. New providers will be taking over services in place in just over 12 months. We are making significant progress. Last month, we moved 200+ technical staff onto Google messaging for the first phase of testing. Next month, we will move five early adopter agencies to Google messaging. I extend appreciation to those agencies joining VITA as early adopters. They are the Department of Social Services, Department of Taxation, Library of Virginia, and Virginia Department of Emergency Management. We have asked all agencies to provide individual earlier adopters. It will be useful for agencies to have some early adopters who can provide support during the final go-live in March when all remaining 50,000+ users will be moved to Google messaging. The IBM mainframe services have been taken over in place by our new provider. Work now is underway with the 12 agencies that use the mainframe for migration planning and mock testing to complete infrastructure work and agency preparations. The contract for managed security services is being finalized and soon will be ready for signature. The multisourcing service integrator (MSI) is onboard and planning details of oversight of the suppliers. While VITA is ultimately responsible for information technology (IT), governance and security services, the MSI will monitor infrastructure services and the suppliers who provide those services. Additional services are in the procurement process. Compressing our schedule and planning a takeover in place permits us to be in the new environment so we can wrap up details of the current contract before it ends on July 30, 2019. There's much to be done, but it's an exciting time in state government IT as we move toward the next generation of infrastructure services.
Nelson
VITA ICE nets finalist honor in data, IT innovator category
The VITA Innovation Center of Excellence (VITA ICE) was recognized last month as a top 10 finalist in the data and IT innovators category during the Route Fifty Navigator Awards ceremony. VITA ICE was recognized for promoting innovative strategies to increase efficiency and reduce costs in government. The awards honor individuals and teams working in or with state, county and municipal governments. Nominees are recognized for implementing ideas that improve public sector services for the communities they serve. Wise County was honored as the best in the state and local leadership category for its efforts in using innovation to promote economic development growth.
Procurement forms updated
The IT joint and cooperative procurement approval request form and the IT goods and services sole source procurement request form have been modified to highlight requirements for cloud/software as a service-based joint and cooperative procurements and sole source procurements.
View the forms
New agreements reached for wireless plans, rates
VITA has completed new agreements for wireless services with AT&T and Sprint, in addition to recently announced contracts with Verizon, US Cellular and T-Mobile. Current users of these carriers will be migrated to the new contracts automatically. Equipment will remain the same. No lapses in service are expected as a result of this transition. Most users will see new rate plans and pricing. VITA has worked with carriers to emphasize users should move to new, replacement plans maintaining all existing features with no increase in costs. In many cases, wireless users and customer agencies will see a reduction in monthly wireless bills. VITA is updating wireless services pricing on the VITA website to include the new agreements. Once new pricing is posted, services may be ordered based on the new information. Questions or issues should be submitted to SCMInfo@vita.virginia.gov with the word "wireless" in the subject line.
Customer solutions and support updates
Service catalog form library
With the recent change to the IT service catalog, many customers may have challenges quickly finding the form library. In the left side menu, click the plus sign on service catalog and the form library will be the first selection.
Work requests
COLA adjustment: The comprehensive infrastructure agreement provides VITA's supplier an annual cost of living adjustment (COLA) effective Dec. 1. VITA's resource unit rates effective on July 1 already reflect the projected change. However, this adjustment may impact some labor rates on work requests.
Placing a work request on hold: A work request cannot be placed on hold once it enters implementation. If needed, customers can ask that implementation be delayed. The baseline and forecasted completion dates will be adjusted. Some costs still may be incurred during the requested delay. If the customer is uncertain if the work request is needed, they also have the option to cancel the work request and open a new work request at a later date.
Cancellation of work requests: Customers may cancel a work request at any point in the process until implementation is complete and notice of completion is issued.
Work request approvals: Please notify the VITAOneStop mailbox when a signed work request is loaded to the work request database. If the phase is not changed to "3A – Customer Approval Received," VITA will not know customer approval has been given. Electronic approvals of work requests are available.
Custom work request requirements: Avoid referencing another work request as a requirement. It is acceptable to indicate that the current requirements are similar to a prior work request. This information is helpful; however, it should be put in context and requirements should be fully articulated to avoid confusion. Supporting documents should be included when submitting requirements. If a supporting document is embedded in the requirements document, please ensure it can be opened.
Change orders: Use the change order section of the requirements document when submitting a change order. This helps to clearly identify what is being changed. Notify VITA OneStop or your customer account manager (CAM) of any concerns. If you have a change order in development but discover another change is needed, please notify VITA OneStop or your CAM.
Standard form 7-056 for application integration services (AIS): This form was placed in production in October. Similar to standard form 7-055 for logical partitions (LPARS), customers interested in ordering one of these services should contact VITA OneStop.
Work requests for SQL 2016: A date has not yet been established for the availability of structured query language (SQL) 2016. VITA is waiting for McAfee to make this version of SQL Hosted Intrusion Prevention System compliant. Currently, SQL 2014 is the most current version available.
LANDESK, McAfee, vFire upgrades slated
The LANDESK client will be upgraded on all workstations Dec. 4 - 8. The upgrade will automatically install on workstations without any disruption of other services during the upgrade window. This upgrade will change the appearance of the brand from LANDESK to Ivanti and alter the portal manager interface. Users can expect a reboot to their workstations.
Updates to McAfee endpoint protection modules are underway. The pilot begins Dec. 5 with production deployment on Dec. 19. A reboot may be required.
The vFire service manager will be upgraded to version 9.84 on Dec. 9. Users will notice changes to icons and screen panels that reference the product's brand name as vFire Core.
Interview with CIO Moe is online
CIO Nelson Moe was interviewed by Route Fifty at the National Association of State Chief Information Officers (NASCIO) annual conference. His interview, titled "Running an IT Enterprise Like a Baseball Team Owner," has been published and posted online. He discusses VITA ICE and VITA's move to a multisourcing infrastructure environment.
Read the story here
Three webinars scheduled for December
VITA has scheduled three NG9-1-1 webinars for the month of December. The NG9-1-1 Deployment Plan webinar will be held on both Dec. 6 and Dec. 20 at 2 p.m. The NG9-1-1 Originating Service Provider Summit will be held Dec. 13 at 2 p.m.
ISP webinar series