August 2017
Volume 12, Number 8
From the CIO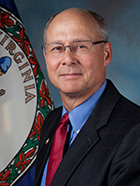 CIO Nelson Moe
As many of you know, the Virginia Information Technologies Agency (VITA) is working with other state executive branch agencies and suppliers to transition from one infrastructure provider to multiple suppliers. The contract with our incumbent provider expires June 30, 2019, and cannot be renewed under state procurement regulations. We began work nearly two years ago with a consultant who recommended our current course.
VITA is working to adjust its approach, while keeping the same vision of a multisourcing environment. The vision includes a multi-step program - platform procurement, transition and operation; agency engagement in procurement and governance; and, VITA serving as an IT leader in the creation of a new enterprise platform. The changes likely will include the schedule, a modified transition approach and the relationship with our incumbent. Pending litigation, filed by both VITA and our incumbent, also will impact the approach.
Changing from one infrastructure provider to a multisourcing environment is complex. It's taking more work, time and resources than we expected. There are many moving parts; time is short. We expect challenges as new providers take over infrastructure services. In the days, weeks and months ahead, I ask for your cooperation and patience as we work to get to the end state - an agile infrastructure in a multisourced environment that will help Virginia state government better serve its citizens, businesses and visitors.
On a different topic, VITA's telecommunications expense (management) and billing system (TEBS) is now live. This new billing system replaces 1970s technology and paper billing with the ability to view bill details and billing online for telecommunications. Congratulations to VITA staff and others who have worked over the past two years to implement this new technology. State agencies will see transparency in billing and a reduction in paper. This is a true success for VITA.
Nelson
COVITS registration open; program available
The Commonwealth of Virginia Innovative Technology Symposium (COVITS) is scheduled Sept. 6-7 at the Greater Richmond Convention Center in downtown Richmond. The larger venue offers space for additional attendees and exhibitors.
Gov. Terry McAuliffe will kick off the event, and both gubernatorial candidates have been invited. The Governor's Technology Awards will be presented.
The first-day keynote is Bronkar Lee, peak performance expert, author, speaker and dynamic performer. Lee has always been fascinated by learning, as both an enthusiastic student and insightful teacher. As a peak performance coach, Lee has helped clients and audiences to achieve personal breakthroughs and accomplish goals for health, success and well-being. His one-man variety show continues to be in great demand - everywhere from corporate conferences for Google and Facebook to Disney cruise ships to half-time shows at Madison Square Garden. As a keynote artist and speaker, he delivers an innovative experience using original art forms, personal connection and applied technology to help others find greatness within them.
Second-day keynote is H. James Dallas, author, speaker, consultant and change agent. Dallas is an accomplished senior executive with extensive experience as an agent of change in large domestic and international corporate settings. James has successfully implemented more than 10 transformational and turnaround initiatives, 30 acquisition integrations, five centers of excellence and three innovation centers. He has more than 30 years of experience in general management and business operations roles, as well as chief information officer positions. The majority of his career has been focused on bridging the gap between strategy and execution, using IT both strategically and entrepreneurially.
Sessions topics include:
Cybersecurity as an Enabler
Practical Cloud
Reinventing the Customer Experience
Driving Data Sharing
Next Generation Analytics
Optimizing the Workforce and Workplace of Tomorrow
Blockchain 101
Smart Cities and the Evolution of Transportation
Commonwealth's IT Sourcing Transition - The Vision and Journey
How to Be Successful During Times of Change
20 Years Forward
Registration is $85 for all government professionals, and each paid registration nets a complimentary pass for a colleague. Register online individually, or download a team spreadsheet to register multiple staff.
Agency IT strategic plans due Sept. 1
Updates to agency information technology strategic plans (ITSP) for the 2018-2020 budget biennium are due to the CIO of the Commonwealth by Sept. 1. In addition to normal planning for IT projects and procurements, agencies should carefully plan for the transition from the incumbent infrastructure provider to a multisourced environment. Agencies must identify personnel and financial assets required and applications to be transitioned. The ITSP guidance document and supplemental materials have been posted to assist in this effort. Two notes:
An update to the applications portfolio, commonwealth enterprise technology repository (CETR), is required as part of the update.
To streamline the process, a new portfolio entry for the 2016-18 biennium has been created in the ITSP portfolio and the three sections have been carried over from the 2016-18 ITSP.
View the agency ITSP guidance document
IT Project Management Summit set Oct. 11
The 2017 IT Project Management Summit is scheduled for Wednesday, Oct. 11, at the Cultural Arts Center at Glen Allen. This year's theme is Superhero Level Project Management. The event promises a day of educational opportunities and superhero entertainment. Registration will open soon, and more details will be provided as they are finalized.
Customer solutions and support
Only agency information technology resources (AITRs) and AITR designees are authorized to approve work requests. For a few standard forms, the agency's information security officer (ISO) also is required to approve the work request. When approval is received, it is moved to phase 3A - customer approval received. The database generates an automatic email that is sent to the AITR. Anyone who receives this email but does not believe they approved the work request should contact the VITA OneStop mailbox immediately to verify appropriate approval has been received. The approved work request can also be found on the work request database.
Training material regarding the process, database and electronic approvals is available for customers. The material can be accessed via the database. On the left side menu, click the WRM User Guide/Dashboard Orientation link to view the training documents.
Microsoft Power BI available to state agencies
Following the VITA Innovation Center of Excellence (VITA ICE)-sponsored presentation by Microsoft on "Modern Business Intelligence (BI) Demonstration," VITA has made Microsoft Power BI available to state agencies. The BI solution is available through VITA's enterprise cloud oversight services (ECOS). This means commonwealth agencies no longer are required to submit the solution for ECOS evaluation and approval to procure Microsoft Power BI to obtain its interactive dashboards and reports. Agencies should contact SHI International Co. directly by email and copy Erik Schroeder for a price quote for Microsoft Power BI based on the number of required subscriptions. Upon receipt of the quote and decision to procure, agencies order the service directly from SHI. VITA is notified by SHI and creates the agency tenant for utilization of the subscriptions. Agencies then submit a work request for ECOS services.
9-1-1, GIS best practices featured on web
VITA now has a webpage dedicated to 9-1-1- and geographic information systems (GIS) best practices. These documents serve as recommended informational resources, however, any use or implementation of the content is optional and voluntary. The best practices webpage includes an explanation of what best practices are, how they are being developed and a topic list as prioritized by the steering committee. The page also includes links to two final, published best practices: 9-1-1 Addressing: Operational and Administrative Best Practice, and Public Safety Call Processing Best Practice
July Information Security Tips
The Federal Trade Commission (FTC) issued an alert this month on scammers posing as FTC officials who contact individuals and claim they have won prizes from a charity contest. While this is a new malicious campaign, scammers use these basic tactics time and time again with slightly different wording to take advantage of unsuspecting individuals. Since this is so commonplace, it is worth exploring how to identify these schemes, and how to go about reporting them in the event that scammers target you.