April 2017
Volume 12, Number 4
From the CIO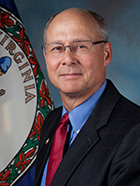 CIO Nelson Moe
You probably know VITA provides information technology (IT) cybersecurity, infrastructure and governance services for state government. But, did you know that VITA has additional responsibilities and services that benefit other public bodies – counties, cities, towns and their entities? One service to localities is statewide contracts. Another of significance is our support of 9-1-1 and geographic information systems (GIS).
VITA issues Virginia Public Procurement Act (VPPA) compliant requests for proposals and award contracts that can be used by all public bodies across the commonwealth. On the VITA website, localities can use the new statewide contract search for a wide array of IT, such as broadband, hardware and software, contractors and consultants, data analytics, cloud services, website design and hosting. These contracts save localities the staff time and expense of procurement and provide bulk purchasing power. In many cases, contracts can be further negotiated for large-volume purchases.
VITA supports 9-1-1, next generation (NG) 9-1-1 and GIS. VITA collects fees and provides funding and technical support to local 9-1-1 programs and is leading the effort to move to NG9-1-1. The increase in mobile devices requires upgrading the systems to NG9-1-1. VITA also provides detailed aerial maps of the commonwealth. Aerial mapping uses include disasters and recovery, environmental studies, coastal monitoring, forest inventories and land-use planning.
VITA provides IT services to state agencies, but our services benefit all public bodies and enhance their ability to serve citizens and businesses in the commonwealth.
Statewide contract search
9-1-1 and GIS
Nelson
ITCL program to rollout O&M SOW
VITA's IT contingent labor contract with Computer Aid Inc. soon will permit the use of operations and maintenance (O&M) contract resources through statements of work (SOW). This will permit those using the contract to engage IT labor by documenting specific O&M work needed to maintain IT systems, programs and applications. Customers must outline detailed support activities in a statement of requirements (SOR) to reflect business needs, expected deliverables, outcomes and reporting. Subcontractors who are prequalified to bid on applications development and IT infrastructure labor can bid on this work.
VITA's contract with Computer Aid has been in place since 2013. It supports state agencies and other public bodies by providing a simple and consistent process to obtain contract resources for IT staff augmentation and consulting services. The contract, which was developed following state procurement regulations, can be used by all state agencies and public bodies. Using the contract reduces the amount of staff time and costs required to conduct procurements and takes advantage of market rates.
O&M Frequently Asked Questions
Tempus Nova to provide info on Google cloud products, services
Tempus Nova Day, slated April 28, will offer information on a new state contract for use by public bodies and non-executive branch agencies. The contract provides for the purchase of Google cloud products and services, including messaging, collaboration and mobility. The contract delivers favorable customer pricing resulting from bulk purchasing. It also allows for streamlined engagement and execution. Tempus Nova, Google and VITA will host the event from 9:30 a.m. - 12:30 p.m. at the Commonwealth Enterprise Solutions Center (CESC) on Friday, April 28.
Representatives of non-executive branch agencies, localities, school districts and public bodies who want to learn more about the contract are invited to attend. Valuable information about the contract will be provided, including:
Contract pricing: How localities, school districts and public bodies can save money on messaging, collaboration and mobility IT costs
Google Apps (now G Suite): A brief overview of the Google solution
Working with VITA and Tempus Nova: How to obtain more information about the contract, products and services being offered and how to engage Tempus Nova to assist with validating the Google solution to identify immediate cost savings
Deployment overview: A brief overview of a typical project, timeline, migration, training, change management, costs, best practices and what localities, school districts and public bodies need to know before deploying Google
VITA's contract with Tempus Nova was procured according to the Virginia Public Procurement Act and VITA's procurement guidelines, saving localities, school districts and public bodies the staff time and expense of soliciting and evaluating requests for proposals. Tempus Nova will serve 55,000 employees in the executive branch with Google messaging and related services as the commonwealth moves these services from the current provider.
Representatives of localities and school districts interested in attending should register as soon as practicable as seating is limited.
Register for Tempus Nova Day
VITA/Tempus Nova contract
Customer solutions and support updates
ECOS work requests
There are two standard forms for enterprise cloud oversight service (ECOS) services, each with its own set of conditions that must be met for the form to be processed. Please address questions to the VITA OneStop mailbox or your customer account manager (CAM).
Conditions to use the ECOS assessment standard form (1-003):
The current version of the form found on the IT service catalog form library must be used.
The customer must identify data classification for data to be hosted off premise.
The customer has identified requested software as a service (SaaS) supplier(s) in accordance with all applicable procurement laws and regulations.

Requests for infrastructure as a service (IaaS) and platform as a service (PaaS) are not eligible for ECOS.

Customer's third-party vendor point of contact has completed all tabs and fields of the security and governance questionnaire (Attachment A) and is available as needed to review results.
Conditions to use the ECOS Implementation Standard Form (1-004):
The customer must identify data classification for data to be hosted off premise.
The customer's third-party vendor point of contact will be available as needed.
The memorandum of understanding (MOU) between the customer and VITA has been approved.

This form cannot be processed until the MOU is approved.
Only one MOU per agency (not per work request) is required.

An ECOS assessment (Form 1-003) for this solution/application has been approved within the past 12 months.
Work requests
Work request form versions: Please go to the IT service catalog form library to get the current version of a standard form or custom work request requirements document. Costs and/or critical information fields have changed from older versions.
Submitting custom work request requirements: Upon the customer's completion and approval of the requirements package, the agency information technology resource (AITR) or AITR designee must submit this document and additional supporting documentation for solution development to commence. Send the document(s) directly to the VITA OneStop mailbox. If you load the documents to the work request database, please send a message to the mailbox so VITA is aware action needs to be taken.
Requests for infrastructure hardware (reprinted from the February 2016 Network News): When submitting a custom work request, please identify the needed service, not the hardware. For example, an agency should request active data ports to support a training room for 20 students instead of requesting a 24-port switch. Asking for the service rather than hardware helps VITA prepare the correct solution and avoid delays in solution development.
Work request database improvements: The field in the work request database that requires the user to enter a requested production date is no longer a required field. The customer may populate this field if they know of a specific date the service is needed (remember to include the date on your requirements document or standard form).
VSM tool
Self-provisioned virtual servers (reprinted from September 2016 Network News): The VMware service manager (VSM) tool provides for ordering a virtual server (Windows operating system at CESC) without the need of a work request. The provisioning process is automated. While some customization of the server is permitted, there are limitations. For example, the server name is automatically assigned. A specific name cannot be specified. For more details, refer to the conditions within the VSM tool when ordering the virtual server or on the virtual server self-provisioning user form. The user form can be found in the IT service catalog form library.
Security conference program available
The program for the 2017 COV Information Security Conference is now available. It contains a speaker list and topics and other details. Individuals who have registered for the conference are encouraged to take a few minutes to read through the program and plan their session attendance according to their personal interest. Gov. Terry McAuliffe will address conference attendees. Keynote speakers include John Martin, president and chief executive officer of SIR, and Arnold Bell, chief information security officer at SLAIT. Also speaking are Secretary of Technology Karen Jackson and CIO of the Commonwealth Nelson Moe.
2017 COV Information Security Conference program
NG9-1-1 webinar will feature recommended changes
The commonwealth is now shifting from next generation (NG) 9-1-1 planning to implementation. Technological advances in mobile phones and voice over internet protocol (VoIP) make it difficult to determine the location of the caller with the current system. NG 9-1-1 is a major upgrade to the emergency response system and impacts all 9-1-1 centers and local GIS offices in Virginia. As a result of the shift, the 9-1-1 Services Board is recommending significant changes that may result in a complete overhaul of the public safety answering point (PSAP) grant program. These recommended changes will be discussed during the PSAP grant committee meeting April 13.
Prior to the meeting, two webinars will be conducted to inform local government stakeholders about the recommended changes and encourage participants to provide feedback. The first will take place Tuesday, April 4, at 10 a.m., and is a webinar version of one of five town hall presentations that took place across the state in late March. The webinar will include discussion of the material that will be presented to the committee. The second webinar will be held Wednesday, April 26, at 2 p.m., and will focus on the committee recommendations to the 9-1-1 Services Board and other information from the April 13 committee meeting.
March Information Security Tips
Day in and day out, employees hear the same things from their IT staff at work about cybersecurity and safety. Though IT staff members may sound like a broken record, they have reasons and rationale behind the practices and advice they offer. Read this month's issue of Information Security Tips to get a better idea of why simple common sense is one of the most effective cybersecurity tools.