September 2016
Volume 11, Number 9
From the CIO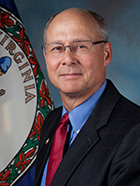 CIO Nelson Moe
This week, information technology (IT) professionals will gather for the Commonwealth of Virginia Innovative Technology Symposium (COVITS). After attending COVITS for the first time last year, I am excited to attend this year's event to be inspired, learn about progress in IT in the state, honor innovation and spend time talking with you. I also look forward to announcing VITA's new ICE program, which we're keeping under wraps until COVITS, serving on a panel discussing cloud services and meeting with suppliers who are exhibiting their services and products. I'll see you there!
On another front, many of you are aware the Virginia Information Technologies Agency (VITA) and state agencies are moving forward with sourcing IT infrastructure services to prepare for the end of the contract with Northrop Grumman. Consolidation of our IT services 10 years ago has placed Virginia at the forefront of state government IT, and we are appreciative of Northrop Grumman's work with us to achieve the accomplishments we have made together. Our work on the next generation of IT infrastructure for the commonwealth continues, with some progress and some challenges. We have awarded a messaging contract to Tempus Nova, which will move approximately 59,000 executive branch employees to Google. A schedule is being developed for the move to Google. We have had to delay issuing a contract for mainframe services while we continue reviewing requests for proposals (RFPs) and negotiating with the suppliers that submitted the proposals. Those were the wave one projects. Now, we are starting on wave two, which includes the multisourcing service integrator, server/storage and security. We plan to issue requests for proposals (RFPs) late this month and make awards in July next year. This is a major effort, but with the continued support of agency IT, business and subject matter experts, suppliers and VITA staff, I am sure the next generation of IT services we are developing will benefit the commonwealth for years to come.
Nelson
IT infrastructure sourcing work progresses, encounters challenges
Work on developing the next-generation infrastructure after the current contract expires continues. Progress is being made, but some challenges are being encountered. Implementation of Google email, calendaring and instant messaging services will be delayed by at least four weeks. The second project in wave one, mainframe, is taking longer than planned in the RFP evaluation and supplier negotiation phase.
RFPs for wave two projects – multisourcing service integrator (MSI), server and storage, and managed security services – have been drafted. Last month, VITA hosted webinars to provide draft RFP requirements with agency IT resources (AITRs) and information security officers, who provided feedback. The feedback was compiled and shared in a second webinar. An informational session for potential suppliers also was conducted with more than 100 attendees from approximately 50 companies in attendance.
Agencies' IT and business leaders continue to work side-by-side with VITA staff to develop and review/award RFPs.
IT Project Management Summit to be held Oct. 12
VITA's fifth annual IT Project Management Summit will be held on Wednesday, Oct. 12, at the Cultural Arts Center at Glen Allen. The summit will provide IT project managers a cost-effective educational and networking opportunity, focused on leadership roles in the project management community. The educational component will include case studies, industry best practice and relevant project management topics. Highlights of the summit include guest speakers, educational sessions and problem-solving exercises.
The theme of this year's summit is "Spotlight on Leadership." The ideal skillset for project managers is a combination of technical, leadership, and strategic and business management expertise. While technical skills always will be a core component of project management, added skills in leadership and business intelligence have become vital to supporting long-term strategic objectives. By focusing on developing these additional skills, project managers can better meet evolving demands and become a more valued strategic partner. The spotlight on leadership will help summit attendees evaluate and develop their leadership skills to become better overall project managers.
The IT Project Management Summit is sponsored by VITA and the Community College Workforce Alliance. The conference runs from 8 a.m. – 4:30 p.m. The cost to attend the summit is $85, which includes all conference materials, breakfast and a boxed lunch.
Registration closed
VITA focuses on customer solutions, support
VITA staff members continue to improve the work request process and provide transparency into the status of projects. Following are some recent revisions:
The VMware service manager (VSM) tool provides for ordering a virtual server (Windows operating system at the Commonwealth Enterprise Solutions Center, CESC) without the need of a work request. The provisioning process is automated. While some customization of the server is permitted, there are limitations. For example, the server name is automatically assigned. A specific name cannot be specified. For more details, refer to the conditions within the VSM tool when ordering the virtual server or on the virtual server self-provisioning user form. The user form can be found in the service catalog form library.
Work request forms
There are some new standard and revised standard forms. New standard forms recently been placed in production are:
3-004 for IT audit services
3-005 for information security officer services
These security forms are not posted online. Agencies interested in these services should contact the VITAonestop@vita.virginia.gov. A representative from VITA security and risk management staff will contact the agency representative and assist with completing the desired form.
The revised forms include:
Form 3-003 for web application vulnerability scan has been modified for single scans.
Form 5-002 for desktop PC encryption has been placed back into production based on demand.
Form 5-003 for the connection of third party printers (<16 users) has been modified to remove the condition that prevented the use of the form if managed print services are involved.
For more information or to use the forms, visit the service catalog form library.
Additional updates
The work request database provides automatic email notification to AITRs when certain phases change. Some agencies have multiple staff performing AITR functions but not all were receiving the automatic email notifications. Multiple AITRs now can receive the notifications.
To avoid potential confusion and delays with the development of solutions when requirements are revised, agencies should update the requirements documents and resubmit them to VITAOneStop@vita.virginia.gov. Highlighting or red-lining the revisions provides for easy identification. VITA will notify the vendor so there is no confusion or delay.
An agency that receives a completion notice and does not believe the work request is complete should include its customer account manager and the VITAOneStop@vita.virginia.gov in its response. This ensures additional awareness so concerns can be resolved. Agencies have 30 calendar days to review the work request and conduct required tests following receipt of the completion notice. After 30 days, the work request is closed. The work request can be kept open beyond the 30 days if the agency contacts VITA prior to the end of the 30 days. Work requests are not closed if there are outstanding issues related to the completion criteria.
Agency IT strategic plan due date extended
The due date for agency IT strategic plans has been extended to Sept. 30 to permit agencies to include potential impacts for the IT infrastructure sourcing effort, security services, VITA's cloud services and expected increases in internet bandwidth. VITA will provide additional information on the sourcing effort in the coming days to assist agencies with planning.
PSAP grant applications due Sept. 30
Applications for the 2018 fiscal year public safety answering point (PSAP) grants are due at 5 p.m. on Sept. 30. The Virginia E-911 Services Board, staffed by VITA, administers the multi-million dollar grant program. It provides financial assistance to PSAPs through the purchase of equipment and services that support the continuity and enhancement of wireless E-911 and in support of geographic information systems offices that support PSAPs and public safety. A surcharge on each cell phone in the state finances the program.
Learn more about the PSAP grant program
New portal provides faster, enhanced searching of statewide IT contracts
VITA has launched a new statewide contract search portal that enables users to perform faster, enhanced searches, including searches by contract categories and small, woman and minority (SWaM) owned suppliers. The new portal integrates with the contract database to allow VITA to manage contracts and ensure data will be more consistent during the life of the contract. In addition, main contract information is displayed on one cleaner page in a more user-friendly format.
Datathon results to be presented at COVITS
Fifteen teams representing Virginia high schools, universities, state agencies and businesses competed in the third annual Workforce Innovation Datathon Challenge Aug. 25-26 at the Library of Virginia. These talented teams took on the task of cultivating a deeper understanding of the current and future job opportunities in the "New Virginia Economy" by converting complicated datasets into actionable information. They showcased those insights in a way that strengthened the connection between employers looking for talent, job seekers and students looking to build a career, and educators and trainers preparing talent for jobs. Gov. Terry McAuliffe and Secretary of Technology Karen Jackson kicked off the event with the message, "How we grow and diversify our economy comes down to how we use our data." Winners of the contest will be announced at COVITS this week.
The five finalists moving on to present at COVITS are: Chesterfield County Data Wizards, George Mason University-Deloitte, Virginia Department of Transportation e-Econ Accelerators, VCU Data Ready, and CapTech Ventures.
Datathon finalists will present their results at COVITS, and the audience will vote on the winners, who will be officially announced during the Governor's Technology Awards ceremony. The winning team will receive a Virginia State Parks prize package, and the runner up will receive a Segway tour of Richmond.
Cyber-Physical Systems Summit announced
Gov. McAuliffe has announced the first-ever Cyber-Physical Systems Summit to be held Sept. 20-22 at the Thomas Jefferson National Accelerator Facility in Newport News. The summit is being conducted in conjunction with the National Governor's Association and is an extension of Gov. McAuliffe's chairman's initiative "Meet the Threat: States Confront the Cyber Challenge." The purpose of the summit is to build awareness of the growing challenges associated with securing autonomous systems, critical infrastructure and the Internet of Things.
Back to school signals increase in malicious cyber activity
It feels like summer just began, but the start of another school year is underway. While students are getting back into the swing of doing homework, researching for projects and focusing on getting good grades, it is also important to be aware of malware, phishing schemes and safe computing practices. Malicious cyber activity affects students in a variety of ways, ranging from malware and scams to cyber bullying. Fortunately there are a few simple steps you can take to keep you, your kids, and your devices protected from the latest threats. The Information Security Tips e-newsletter offers are some cybersecurity tips for staying safe in the new school year.