October 2016
Volume 11, Number 10
From the CIO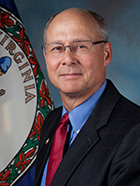 CIO Nelson Moe
I attended the National Association of State Chief Information Officers (NASCIO) annual conference last week. The speakers and topics were interesting, informative and inspirational. But, what stood out to me is the national respect our colleagues in other states have for Virginia. We are ahead of most states in our information technology (IT) efforts in several areas, and facing some of the same challenges in other areas. Most states are attempting to consolidate services; Virginia is a leader in that area. However, one of the challenges faced by all states – including Virginia – is recruiting and training IT staff. As you may have heard Gov. Terry McAuliffe report at the Commonwealth of Virginia Innovative Technology Symposium (COVITS) last month, Virginia currently has 37,000 job openings in IT, with 17,000 of those in cybersecurity. We face this challenge at VITA, and across state government and localities. At NASCIO, StateTechinterviewed some of the attendees, including Virginia Chief Information Security Officer Mike Watson, about recruiting and training IT staff. I am providing a link to the video below. Gov. McAuliffe has taken steps to increase the pool of talented IT staff and I commend him for his efforts. If you have additional ideas, I would be pleased to entertain them. After all, we must maintain IT services that permit state agencies and localities to provide services needed by our citizens, businesses and visitors.
Nelson
October is Cybersecurity Awareness Month
October is National Cybersecurity Awareness Month. VITA encourages everyone to take the time to learn more about cybersecurity and ways to keep yourself, family and friends safe online. Now more than ever, cyberattacks are a real threat and everyone is vulnerable on a daily basis. By using strong, unique passwords with two-step verification and frequently updating operating systems and browsers, cyber attacks can be stopped before they start.
Information Security Awareness Toolkit
Information Security Tips
Gov. McAuliffe video
Register now for fifth annual IT Project Management Summit
Registration is underway for the fifth annual VITA IT Project Management Summit, scheduled Wednesday, Oct. 12. The summit is designed for commonwealth and local government IT project managers, commonwealth employees on a project management career path and contractors assigned to IT projects in the Commonwealth of Virginia. This year's theme, "Spotlight on Leadership," will be an educational, high-energy opportunity for project managers to network and develop skills together. Located at the Cultural Arts Center at Glen Allen, the summit runs from 8 a.m. to 4:30 p.m. The cost to attend is $85, which includes all conference materials, breakfast and a boxed lunch.
Registration Closed.
DatathonVA, Governor's Technology Awards presented at COVITS
DatathonVA and Governor's Technology Awards were presented at the COVITS last month.
Chesterfield County's team captured the "Governor's Cup," the top award, in the datathon, while the Virginia Department of Transportation received the "Crowd Favorite" award. Fifteen teams competed in the third annual DatathonVA. The five finalists presented at COVITS. The teams cultivated a deeper understanding of the current and future job opportunities in the "New Virginia Economy" by converting complicated datasets into actionable information. They showcased those insights in a way that strengthened the connection between employers looking for talent, job seekers and students looking to build a career, and educators and trainers preparing talent for jobs. DatathonVA was open to the public. Entrants were from state and local government, higher education and one private business.
The Governor's Technology Awards showcased innovation in government technology. Seventeen awards, by category, project and winning entity, were:
Cross-boundary collaboration on IT initiatives - Connected fiber platform, City of Roanoke and Roanoke Valley Broadband Authority
IT as efficiency driver - government to citizen - Four awards: Online absentee ballot applications, Virginia Department of Elections; Northern Virginia paving map, Virginia Department of Transportation; OneMind electronic health record system; Virginia Department of Behavioral Health and Developmental Services; and Mountain Valley pipeline viewer, Roanoke County
IT as efficiency driver - government to business - Code development process for Virginia, Virginia Department of Housing and Community Development
IT as efficiency driver - government to government - Three awards: Systematic alien verification for entitlements, Virginia Department of Motor Vehicles; auditor training portal; Virginia Office of the State Inspector General; and DINGO (dog information governance and operations) Virginia Department of Corrections
Innovative use of technology in local government - Two awards: Government NewsCenter, Fairfax County; and park ranger mobile daily activities report, Prince William County
Innovative use of technology in education - Workforce enterprise system, Virginia Community College System
Innovative use of big data and analytics - Two awards: Business intelligence project, Virginia Department of Alcoholic Beverage Control; and comprehensive environmental data system, Virginia Department of Environmental Quality
Innovative use of open data - Geospace open data portal, Chesterfield County
Best citizen portal - Two awards: County website, Goochland County; and Virginia state budget portal, Division of Legislative Automated Systems
Read the governor's press release
Read details of the winning entries
Agency volunteers needed for messaging transition core IT team
Agency participation is critical to the success of the transition to Google Apps, part of the transition as the contract for infrastructure services ends and the commonwealth moves to a multisourcing environment. There are two key opportunities for agencies to participate in the project at this time – core IT team members and project team members. Nominees for project team members have already been accepted, however nominations for core IT team members are being accepted through Oct. 7. Volunteers are needed from executive branch agencies (current customers of VITA's messaging service).

Overview

The core IT team will provide critical feedback on the technical functionality of the Google Apps and will be actively engaged in resolution of identified issues. Between the start of the core IT participation and the full commonwealth transition, some functionality will not be available.

Duration

Approximately 24 weeks

Time commitment

Six to eight hours of training (one time) a week prior to core IT transition
An average of one to two hours per week prior to full commonwealth transition
Additional time as needed to execute agency test plan(s)

Expectations

Participate and provide feedback on training
Provide critical feedback on technical functions of the system
Identify issues prior to next transition phase
Develop and execute agency test plan(s)
Use Google tools as part of day-to-day work
Remain on Google tools through the duration of the project

Number of participants per agency

Minimum one, maximum five

Steps after nomination

Nominees will receive confirmation communication, including a project timeline, by Oct. 14.
Not all nominees may be able to participate because a limited number of participants are needed. Questions or concerns should be sent to the messaging project team at messaginginfo@vita.virginia.gov.
Submit core IT team nominees
Web application vulnerability scan service enhancement available
Beginning this fiscal year, web application vulnerability scanning is available as a result of legislation requiring scanning that provided funding. The funding enables all executive branch agencies and non-exempt institutions of higher education to receive initial and quarterly scanning and reporting at no direct cost.
The service includes scans and reports enabling agencies to identify vulnerabilities and focus remediation efforts, while maintaining compliance with Commonwealth of Virginia information security standards.
Commonwealth security and risk management staff at VITA will be reaching out in the near future to coordinate scan targets for agencies.
Security web application vulnerability scanning
VITA continues improvements to assist agency customers
A new Service Guidance section has been added to the customer solutions and support page on the VITA website. This section is a resource for agency customers to use when seeking additional information regarding services, processes or policies. The information provided will grow and evolve as feedback is provided regarding additional information that is required. Please submit suggestions and feedback to the VITAOneStop mailbox.
Information regarding third-party network capable device exceptions and multi-protocol label switching (MPLS), enterprise remote connection service (ERCS) and secure remote access point (SRAP) currently is provided.
Services ordering guide
A services ordering guide has been developed to assist customers with determining the correct ordering process to use for infrastructure services (work request, eVA, telecommunications service request, VITA Customer Care Center or VCCC). It replaced the "blue card" in 2014. VITA recently updated the services ordering guide to reflect several changes in ordering processes.
Services ordering guide
Individual agency SharePoint environments
An approved exception request is required for the establishment of an individual agency SharePoint environment that does not use the infrastructure enterprise offering. Approval must be received prior to submitting a work request for solution development. Questions or concerns should be sent to the VITAOneStop mailbox or customer account managers (CAMs).
Work request process
The work request database is an excellent tool for agency customers to review the status of all work requests and to make sure they are in the appropriate phase. Agencies are asked to take time to review the status of work requests on a regular basis. If it appears the request is in the wrong phase or there are concerns about the request, agencies should message the VITAOneStop or contact their CAM.
Within 10 days of receipt of customer approval, VITA's current infrastructure provider will assign a project manager (PM) responsible for contacting the customer to schedule a kick-off meeting. PMs normally are assigned to custom work requests. Standard work requests are assigned PMs as needed, although most are simple enough to be quickly implemented without the need of a PM. If a PM is needed and one is not assigned in the appropriate amount of time, agencies should notify the VITAOneStop and their CAM.
The name of phase 1B has been changed from Customer Account Team review to VITA review/supplier assessment, to reflect a redefined purpose. The intent is to provide work request process users with better visibility of the status of work requests.
Phase 1B will continue to be used when requirements are unique and the customer or CAM identifies a need for them to be reviewed internally by VITA stakeholders prior to submitting them to the supplier for solution development.
Use of this phase is being expanded to include the following situations:
When an internal VITA decision is required in advance of the finalized requirements being submitted to the supplier for solution development - including processing of any type of exception request
When the supplier must conduct an assessment of the location in advance of the development of a solution - currently limited to the deployment of unified communications as a service (UCaaS) phone service
"Information Technology Procurement Manual: BUY IT" new format launched
VITA has launched an enhanced format of the supply chain management's "Information Technology Procurement Manual: BUY IT". "ITPM: BUY IT" is now fully searchable online making it interactive and more user-friendly.
The new site permits visitors to easily navigate, search and find key terms throughout the manual. Additional benefits of the new site include:
Enhanced searching: You can perform specific Code of Virginia section lookups, as well as more generalized keyword searches.
Ease of navigation: The innovative layout provides navigation to each chapter's section in an accordion drop-down menu format, allowing you to select specific chapters and sections.
Chapter highlights: Each chapter includes the option to view chapter highlights, purposes, key points, and each section both individually and as one full document.
Compare and view of multiple chapters: The web page allows you to compare and view multiple chapters and sections at the same time.
Mobile device enabled: The manual now can be viewed on mobile devices. The new web page offers the option for you to download a PDF version of full chapters to your mobile device.
ITIM Standard (CPM 516-01) on ORCA
The proposed ITIM Standard (CPM 516-02) is posted on VITA's online review and comment application (ORCA). The review period will expire Tuesday, Oct. 18.
The standard establishes guiding principles for creating optimal business value from IT-enabled business investments at acceptable cost and risk. This update of the standard is an extensive reorganization and rewriting of the ITIM standard and, consequently, changes will not be identified line-by-line. To do so would make the document difficult to read and understand.
These changes are necessitated by changes in the Code of Virginia, updates to the Commonwealth Technology Business Plan, the updated Commonwealth Strategic Plan for IT, and revisions to agency IT strategic planning requirements and processes. Additional changes to the standard include reorganization to improve flow and comprehension, revised figures, updated web links, inclusion of previous appendices in the body of the document, addition of a purpose statement at the beginning of each section, and refined definitions of investment risk and portfolio management.
VITA hosting GIS webinar
VITA's integrated services program staff will host a webinar on common errors seen when correcting the geographic information system (GIS) database, tool functionality and what to do when fixing one error creates another. The webinar will also include discussion about some of the challenges with the statewide data sets.
Southwest Virginia GIS/PSAP Education Day
Mark your calendars now for the GIS/Public Safety Answering Point (PSAP) Education Day. This no-cost event is planned Nov. 16, which coincides with National GIS Day. GIS and 911 are becoming more inter-reliant while providing lifesaving response to emergency incidents in addition to valuable information for localities, regions and the commonwealth. This event is for GIS professionals, PSAP managers, telecommunicators, county and city managers, emergency responders, economic development, planners, etc. The event will be held at the Holiday Inn - Bristol Conference Center. Localities in the region are asked to post the flyer found in the link below in offices and PSAPs so that staff members at each locality are aware of this opportunity. To register, submit attendee's name, agency, email and phone to swvagispsap@gmail.com by Nov. 1. Please include any dietary restrictions.
September Information Security Tips
Phones, computers and appliances all store vital information. Passwords are one of the first steps to protecting that information, but you can make login information more secure by pairing the password with another factor. You may have a smartphone, and you can prove you have the phone by reporting back the PIN code that was sent to it in a text message. You could also include your fingerprint or other biometric data. When two of these factors are combined to secure an account it is called two-factor authentication.