November 2016
Volume 11, Number 11
From the CIO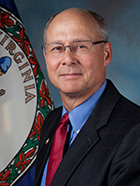 CIO Nelson Moe
Thank you. Thank you to those of you from state agencies who are serving on teams working to develop new contracts to replace the commonwealth's existing information technology (IT) infrastructure contract. And, thank you to agency heads who are permitting them to take time from their regular duties and share their expertise serving on these teams. The new infrastructure we are developing – a multisupplier environment unlike the current one-provider environment – will serve executive branch agencies. The current work to develop new contracts is consuming large amounts of agency representatives' time and VITA staff members' time – and requires their expertise for success. It is essential that agencies have input into the details of the requests for proposals (RFPs) and the selection process. We must make sure agencies are represented so their IT needs, in addition to enterprise IT needs, are met. It is important work that will determine how well our new IT infrastructure will serve us in the years to come. So, once again, thank you.
Nelson
IT infrastructure sourcing work advances
Wave one IT infrastructure procurements have netted contracts with Tempus Nova for Google email and related messaging services and with Hewlett Packard Enterprise Services (HPES) for IBM mainframe services. Because challenges have been encountered with implementation of messaging, the project team has determined the transition will not occur until the end of the 2017 General Assembly session and depends on the resolution of transition support issues. In the interim, implementation teams are being formed and planning continues. HPES will first take over the existing IBM mainframe environment. Over time, HPES will migrate the IBM mainframe service to a shared environment in its managed data centers. VITA will share more implementation details and timelines in the coming weeks.
Wave two procurements are underway. The multisourcing service integrator (MSI) RFP and server, storage, data center and security services request for information (RFI) were released last month on eVA. The MSI will be responsible for managing the commonwealth's IT environment and service tower suppliers, including service levels, and will be responsible for running the service desk. VITA transitioned from an RFP to an RFI for server, storage, data center and security services to learn more about emerging technologies and services, and how to best divide suppliers' responsibilities between contracts. An RFP will be released after review of RFI responses
Wave three, the final wave, will begin in late 2017. It includes desktop, data and voice/network services.
VITA begins innovation demonstrations
The Center for Innovative Technology (CIT), the Virginia Department of Transportation (VDOT) and VITA hosted the first demonstration under the VITA Innovation Center of Excellence (VITA ICE). In observance of Cyber Security Awareness Month, CIT Chief Technology Officer David Ihrie discussed "Continuous Innovation for Cyber Security." A demonstration followed by Mission Secure Inc. (MSi) Vice President of Implementation Services Edward Suhler on "Cyber Security of Physical Systems." A second demonstration is scheduled Nov. 17, with invitations and details to come in the next few days.
VITA ICE will enable the exploration, evaluation and implementation of new technologies as the commonwealth moves to the next generation IT. It will provide:
Research into new and emerging technologies of potential interest to the commonwealth
Collaboration with private-sector partners to identify emerging technologies
An agile process to facilitate the speed of technology change
Identification of opportunities for innovation and partnerships to support trials, demonstrations and proof of concepts
Server backup dashboard available to agencies
VITA has released a new data protection dashboard for agencies to review server backup information. The dashboard is available via the partnership asset reporting system (PARS). From PARS, agencies have the ability to view on-demand information about their server backups. After Nov. 18, agencies will no longer receive daily emails regarding backup status and should instead check their server backup status on PARS. The dashboard includes more detailed information, historical information and near real-time reporting status.
Review of ITIM standard changes extended
The review and comment period has been extended until Nov. 8 for the proposed Information Technology Investment Management (ITIM) Standard posted on VITA's online review and comment application. The standard establishes guiding principles for creating optimal business value from IT-enabled business investments at acceptable cost and risk. This update of the standard is an extensive reorganization and rewriting of the ITIM standard and, consequently, changes will not be identified line-by-line. To do so would make the document difficult to read and understand.
Changes are necessitated by updates to the Code of Virginia, Commonwealth Technology Business Plan and Commonwealth Strategic Plan for IT, and agency IT strategic planning requirements and processes. Additional changes to the standard include reorganization to improve flow and comprehension, revised figures, updated web links, inclusion of previous appendices in the body of the document, addition of a purpose statement at the beginning of each section, and refined definition of investment risk and portfolio management.
CTP will be offline for upgrades Nov. 16
The commonwealth technology portfolio (CTP) will be offline for system upgrades beginning Wednesday, Nov. 16, through no later than Monday, Nov. 28. New features being added include:
Upgrade of Windows 2012 server standard
Upgrade of servers and databases to SQL server 2014 enterprise
Installation of Oracle project portfolio management application v16.1
These improvements will provide for quicker transaction speeds, a new web page user experience similar to Microsoft and Adobe products, and the use of native Internet Explorer 11 (no compatibility mode required) and Google Chrome browsers and platforms.
VITA continues improvements to assist agency customers
The current infrastructure agreement provides VITA's supplier an annual cost of living adjustment (COLA) effective Dec. 1. VITA rates that took effect this past July 1 already include the projected COLA. However, the adjustment may impact some labor rates on future work requests.
Additionally, standard form 7-026 for virtual servers at CESC has been updated to include instructions on how to request user access. The update was a result of a customer suggestion, and is reflected in v6.1.
October Information Security Tips posted
Just like the disguises trick-or-treaters wear, malware can use "costumes" as a disguise and trick you into installing it on your system. These disguises can come in many different forms, but if you know what to look for, you can avoid the tricks.
Learn more in October Information Security Tips