May 2016
Volume 11, Number 5
From the CIO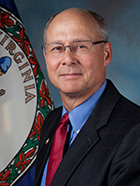 CIO Nelson Moe
I mentioned here last month that we need customer agencies to provide staff for extensive participation over the coming months in our information technology (IT) infrastructure sourcing (re-compete) effort. This work will provide several contracts for IT infrastructure for executive branch agencies and other customers served by Virginia Information Technologies Agency (VITA) when the current contract with Northrop Grumman expires in 2019. I am pleased to report more than 80 customer agency representatives and stakeholders from all secretariats are serving on teams associated with this effort.
VITA and executive branch agencies receiving services under the infrastructure contract must continue to work jointly on this effort. Together, we can plan our future service delivery platform and how we can better govern transition, performance and outcomes.
Many of the 80 representatives from agencies are involved in temporary, but admittedly intense, stints associated with procurements. My request is that agency business and IT leaders also consider mid-to-longer term investments of your time as we ask for assistance. We will need your help with planning, transition and oversight to ensure IT services meet and evolve with the needs of state agencies, our employees and the citizens we all serve.
The consultant's final recommendation for how we proceed with infrastructure sourcing is posted online. I urge agency heads and IT leaders to become familiar with this document. A meeting of agency heads and their IT leaders is being scheduled to provide additional information and permit you to ask questions.
I extend sincere appreciation to those who are serving, and look forwarding to continuing our efforts to provide the commonwealth's next generation IT infrastructure services delivery platform.
Nelson
Infrastructure sourcing work moving forward
VITA expects to award contracts in July for two infrastructure services – messaging and mainframe. The deadline for messaging request for proposals (RFPs) has passed and a team is reviewing the submissions. The scope of this RFP includes email, enterprise collaboration services (SharePoint and other similar tools), directory services and authentication, and mobile device management. Since this part of the sourcing effort is now in the procurement phase, the project is in the "silent" phase of evaluating proposals. To continue agency input, the evaluation work group includes agency representatives. The mainframe RFP supplier proposal submission deadline is May 5. All agency application owners currently using the IBM mainframe were asked for input.
Additional sourcing efforts include:
Beginning to prepare for transition and disentanglement
Starting to build multisource service integrator environment
Contemplating organizational adjustments to support these changes
Working with the Customer Advisory Council to enhance agency involvement in future services delivery platform
During the sourcing effort, VITA will engage stakeholders and listen to feedback, engage with executive and legislative branches, make decisions in measured steps, and prepare and lead all work streams needed to implement recommendations.
Information being gathered for 2016 Digital States Survey
VITA is coordinating the commonwealth's response to the 2016 Digital States Survey and has put out queries to agencies for input in specific areas. A prompt turn-around is necessary to meet the deadline for this massive effort, which seeks information on digital services from across the enterprise of state government.
The survey is issued every two years by the non-profit Center for Digital Government. Each of the 50 states responds to the same questions for the center to collect and widely report "best practices, policies and progress" made by state governments in "use of digital technologies to better serve their citizens and streamline operations." The survey results are reported widely by mainstream media and, trade publications and websites.
VITA will complete large sections of the survey, but other responses depend on input from agencies. Agency information technology resources (AITRs), web teams and other subject matter experts have received information requests and are urged to respond promptly. Questions? Contact VITACOMMS@vita.virginia.gov.
VITA focuses on customer solutions, support
Coming soon – The VMware service manager (VSM) tool provides for ordering select services in a paperless, automated and streamlined manner. The first service that will be made available via this new tool is a virtual server at the Commonwealth Enterprise Solutions Center (CESC). There will be some limitations on the type of servers that can be ordered. Additional information will be provided in the near future.
Efforts continue to make the work request process more user friendly:
Standard forms review: All standard work request forms are reviewed on a recurring basis to update content and make improvements. Agencies and other customers are invited to offer input. Suggestions can be sent to VitaOneStop@vita.virginia.gov.
Form 7-026 for virtual servers at CESC: This form is being modified to reflect the virtual server self-provisioning tool coming soon as mentioned above. There will be a cross-over period during which customers can order virtual servers via this standard form or via the new tool. Virtual servers should not be ordered using both the current and new VSM tool.
Form 5-003 for third-party printer network connection for fewer than 16 users: The first pilot of the form is in progress. Additional pilot opportunities are available. After the pilot, the form will be placed into production. Agencies that want to pilot the form should contact the VitaOneStop@vita.virginia.gov or their customer account manager (CAM).
New fiscal year rates: All resource unit rates and the VITA rate are updated effective July 1, the first day of the new fiscal year. Standard forms will be updated with the new rates and posted to the IT service catalog form library in advance of the new fiscal year. Pricing of custom work requests will begin to reflect the new fiscal year rates several weeks before the new fiscal year.
June 2 is Adobe Day in Richmond
Adobe and MeetingOne are planning the third annual Adobe Day in Richmond on June 2. The topic is "Adobe Connect for eLearning and Virtual Meetings." This free, interactive seminar will discuss how government agencies across the U.S. are leveraging Adobe Connect to communicate instantly across mobile devices and deliver rich and engaging eLearning content to increase productivity. With Adobe Connect, users can easily reuse content, courses and curriculums, then meet, train or deliver a webinar instantly without advance preparation.
The seminar is scheduled from 8 a.m. – noon at the Hilton Richmond Downtown Hotel and will include a complimentary breakfast
At this complimentary, informational seminar, participants will learn how to:
Hold a virtual meeting/classroom in real-time, online via computer, tablet, or smartphone
Train more team members faster with less impact on budgets and travel time
Rapidly create and deliver pre-recorded and self-paced eLearning content
Easily manage curriculums, notify learners, and track student progress and results with learning management systems
Efficiently control and manage audio conference calls using AudioOne, a conferencing service integrated with Adobe Connect or used as a standalone service
StateScoop 50 features CIO Nelson Moe Q&A
StateScoop features a Q&A with CIO Nelson. Moe was nominated for a StateScoop 50 GoldenGov award, which recognizes state IT leaders setting the course for the industry. StateScoop talked with Moe about the IT infrastructure contract expiration and sourcing effort, efforts in cybersecurity and advice for the next generation of state IT leaders.
Phishing emails and you
Everyone has received a phishing email that appeared to be a legitimate email. Phishers take advantage of the fact that it is difficult to know with absolute certainty with whom we are communicating via email. They use this uncertainty to pose as legitimate businesses, organizations or individuals and gain our trust, which they can leverage to convince us to willingly give up information or click on malicious links or attachments. Learn tips to stay aware of phishing scams in the most recent issue of the Information Security Tips e-newsletter.
Read April Information Security Tips
Webinar assist localities
VITA's integrated services program staff is hosting a series of educational webinars intended to help localities face upcoming challenges and opportunities. The webinars are archived for those who missed them. Topics range from Call Processing Best Practice Data to 9-1-1 Land Cover to Road Center Line (RCL) Workshop-Using VDOT Data.