March 2016
Volume 11, Number 3
From the CIO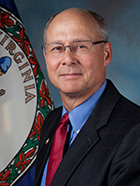 CIO Nelson Moe
The Virginia Information Technologies Agency (VITA) has several significant projects underway impacting agencies and other government entities using our services.
Our largest and most impactful project is the information technology (IT) infrastructure sourcing effort. We must prepare for 2019 when the current infrastructure contract expires.
IT infrastructure sourcing is moving into the planning and execution phases. This past Friday, VITA issued a request for proposals (RFP) for messaging. The scope of this RFP will include email, enterprise collaboration services (SharePoint and other similar tools), directory services and authentication, and mobile device management.
Respondents will be able to propose services for one or multiple components of the RFP. Representatives from six agencies and VITA subject matter experts worked diligently to capture the initial requirements in a draft, sought input from agencies, incorporated input and finalized the RFP.
Since this part of the sourcing effort is now in the procurement phase, we will await responses from suppliers and then go into the "silent" phase of evaluating proposals. To continue agency input, the evaluation work group includes agency representatives.
VITA will be issuing an RFP this month for mainframe services. All agency application owners currently using the IBM mainframe have been asked for input. VITA staff also is working with the Customer Advisory Council to revolutionize the customer agency interface model. Agencies will have a much greater role in overseeing services under the new contracts.
IT Infrastructure Sourcing Strategy Final Report
RFP on eVA
Another project we will begin March 14 and continue through most of April is the second phase of our Internet bandwidth upgrade. In early January, we completed an incremental Internet bandwidth upgrade. The upgrade enhanced our Internet access and added bandwidth in anticipation of the General Assembly session. We expect the demand for Internet bandwidth to continue to increase as business needs evolve and citizens continue to use online services. During the next phase of this project, agencies can expect:
Coordination planning and discussions with the project team as we prepare to restart the upgrade project
Staggered agency transitions to the updated Web content filter required for the upgrade
Considerations and planning of agency rollback during the transition (if necessary)
Also in the works, pending budget approval, is creation of an IT shared security center. This would permit VITA to provide central IT security audit, security officer and vulnerability scanning services available to agencies that opt to participate in the shared security center. Another budget proposal will create a program to evaluate cloud-based technology services.
These are significant projects, each requiring agility, innovation and dedication on behalf of staff at VITA, and state agencies and localities using our services. These projects must progress as we keep operations rolling and address the constant changes that occur in IT.
I appreciate your continued patience and support while we enter this exciting phase of state government technology.
Nelson
Governor to kick off information security conference
Governor Terry McAuliffe will kick off the Commonwealth (COV) Information Security (IS) conference on April 7 with remarks on security in Virginia. With the theme of "Securing the Commonwealth," the third annual IS conference will focus on fulfilling the shared mission of securing information. The conference program will feature keynote addresses by two nationally known speakers - Eric O'Neill, The Georgetown Group, and Teresa H. Carlson, Amazon Web Services. The deadline to register is March 15.
Register today!
VITA awards contracts to replace obsolete COVANET service offerings
The COVANET telecommunications services contract has been replaced and a new suite of services now is available under VITAnet. COVANET services are obsolete and new technology is available under two recently awarded contracts:
Verizon Business - The largest interexchange (IXC) carriers in the country; subsidiary under the same corporate umbrella as Verizon Virginia and Verizon South, the state's second largest local exchange carriers (LEC); Tier 1 Internet service provider with a nationwide and international presence
CenturyLink - The country's third largest IXC; commonwealth's second largest LEC; Tier 1 Internet service provider with a nationwide and international presence
VITA will partner government entities that now utilize obsolete technology under the old COVANET contract with the best replacement services and assist with the transition. The obsolete technology will no longer be available and transition to the new services is required. The impact to each organization will vary, based on the particular services used. VITA and the service providers will coordinate with users to design individual transition plans that can be implemented with the minimum amount of disruption possible. Additional details on new services available, and initiation of transition planning for asynchronous transfer mode (ATM) and frame relay users, will be available by approximately April 1. Questions should be sent to VITAnet@vita.virginia.gov.
Some of the benefits of the new contracts are no term commitments, more network options, diverse and redundant networks, competitive environment for suppliers, new services throughout contract lifecycle, no installation costs for initial transition, expanded voice services, hosted voice over Internet protocol (VoIP) services, hardware-based on-site systems, increased bandwidth and improved performance.
Virginia ranks second in procurement practices
The Commonwealth of Virginia is ranked second in the nation in the Governing Institute's inaugural Procurement Survey of the States. VITA, along with the Department of General Services (DGS), submitted information, and Virginia was compared to other states on the policies, programs and practices in several procurement-related categories.
CIO Nelson Moe stated, "We are most proud of our staff. They work diligently every day to embody our values, serve our customers, respect our suppliers and strive to obtain the best value possible for the commonwealth and its citizens. VITA is honored to have partnered with DGS in this this outstanding recognition for Virginia."
Check out the ranking for technology procurement - Virginia is tops in that rating.
Read the governor's press release
Read the article in Governing: Purchase Power: A Special Report on State Procurement
VITA continues focus on customer solutions and support
Agencies and other VITA customers are urged to use the VITAOneStop mailbox for the processing and follow-up of work requests. Agencies that have not tried the mailbox, should do so: VitaOneStop@vita.virginia.gov
The mailbox can be used for all work request-related activities, eVA order inquiries, exception requests and requests for new and/or changed service offerings. Additional processes will be added to the VITAOneStop mailbox over the coming months.
Over the last month, several standard forms have been updated. Most of the changes are minor.
One significant item is the change made to standard form 7-026 for virtual servers at the Commonwealth Enterprise Solutions Center (CESC). Agencies now can include SQL (standard license) or Oracle via this form when ordering a virtual server.
Please use the version of the form found in the IT service catalog form library. Older versions may be rejected due to out-of-date content and/or costs.
Several standard forms, some of which had not been used in several years, have been retired. An agency may use a custom work request if the form has been retired and the service is needed.
Also, please remember the following resources are available for agencies and other customers:
IT service catalog
Services ordering guide
Work request database (for AITR-authorized users)
Work request process performance
VITA OneStop shared email
Your VITA customer account manager (CAM) or Northrop Grumman agency operations manager (AOM) and other VITA contacts
VITA Supply Chain Management Procurement Policies
VITA Information Technology Resource Management Policies, Standards and Guidelines
Asset reporting system upgrade complete
The partnership asset reporting system (PARS) is an agency-accessible reporting tool for asset information. The PARS upgrade project, which standardized all reports to follow the same convention, removed redundant reporting and reduced the time it takes to run reports, has been completed successfully. Please bookmark and begin using the new link. The redirect and link to the old site has been eliminated.
The user guide can be found on the PARS site under the "Documentation" folder. It contains helpful hints on reports and direction on how to request changes to existing PARS reports. If you do not have access, please submit a request to the VITA Customer Care Center (VCCC) at vccc@vita.virginia.gov or (866) 637-8482.
You can avoid online tax scams
It's tax season, which means it's also time for tax scams. Some tax scams occur when fraudulent tax returns are filed in the victim's name while others occur when the malicious actors call the victim and pretend to be Internal Revenue Service (IRS) agents. Learn what to watch out for and recommendations on what to do if you believe you have fallen victim to identify fraud.