June 2016
Volume 11, Number 6
From the CIO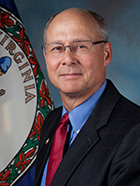 CIO Nelson Moe
I am pleased to announce that I have submitted five outstanding information technology (IT) projects to the National Association of State Chief Information Officers (NASCIO) 2016 annual awards competition. These innovative IT projects help our agencies better serve our citizens. Virginia is recognized nationally as a leader in state IT and previously has been recognized for excellence with NASCIO awards. Congratulations to the Virginia agencies and staff that put together the projects that are nominees for these prestigious national awards. The Virginia projects nominees include:
Center for Innovative Technology (CIT), Virginia Geographic Information Network (VGIN) and Virginia Tech's Center for Geospatial Information Technology (CGIT) -- Virginia's Strategic Broadband Roadmap
Category: Information Communication Technology Innovation
Virginia Department of Transportation -- Customer Service System
Category: Enterprise IT Management Initiatives
Virginia Information Technologies Agency -- Reducing Risk through Enterprise Data Identification
Category: Cybersecurity
Virginia Department of Veterans Services -- BeneVets Automated Claim Application
Category: Improving State Operations
Virginia Unmanned Systems Commission working with Virginia Departments of Aviation, Emergency Management (VDEM), Motor Vehicles (DMV), Transportation (VDOT), Virginia State Police (VSP), Virginia Economic Development Partnership (VEDP) and the Virginia Information Technologies Agency (VITA) -- Virginia Unmanned Systems Commission
Category: Emerging and Innovating Technologies
We have some strong entries, but are limited to two awards per year. Winners will be announced at the annual NASCIO conference at the end of September.
On a separate topic, work continues to replace the current IT infrastructure contract with multiple contracts when it expires in 2019. Some of the current wave one projects are in the request for proposals (RFP) evaluation stage, where we must maintain confidentiality. Those include RFPs for messaging and mainframe services. Wave two project planning is underway. I will share more information with you as we move forward.
Nelson
IT infrastructure sourcing efforts moving forward
VITA and state agencies are continuing to work on sourcing the IT infrastructure after the current contract expires in 2019. Wave one activities, messaging and IBM mainframe services competitive procurements, are underway. Those awards will be made soon and transitions are slated for fiscal year 2017. Preparations for wave two have begun with competitive procurements for the following:
Multisourcing supplier integration (MSI): Information Technology Infrastructure Library (ITIL)-based, cross-functional integration services including service desk in support of the multi-supplier model
Server and storage: Server and storage services
Managed security: Security services
In anticipation of releasing these requests for proposals (RFPs) in August, VITA is planning two information sessions for service providers who may consider submitting proposals. The first will provide an overview of the commonwealth's intent for the MSI and server and storage services. The session will provide an overview of the services that will be requested and describe the capabilities expected. This session will be held 1 -3 p.m. on June 21 at the Commonwealth Enterprise Solutions Center, 11751 Meadowville Lane, Chester, VA 23836. A call-in number will be provided to confirmed participants. Please contact David Blaha at david.blaha@vita.virginia.gov to participate either by phone or in person.
A second, separate session will address managed security services. Details of all RFPs when released are posted on eVA at www.eva.virginia.gov.
VITA focuses on customer solutions, support
There are three items of news regarding work requests:
VITA will begin including the fiscal year 2017 rates in custom work request proposals in early June to provide accurate costs. Standard forms will be updated and posted to the IT service catalog form library on or about June 10. Those requesting VITA services should use the current version of the standard form.
The VMware service manager (VSM) tool provides for ordering select services in a paperless, automated and streamlined manner. The first service to be made available via this new tool is a virtual server at CESC. There will be some limitations on the types of servers that can be ordered. This feature will be deployed in early June. Look for a separate announcement coming soon.
The work request database is an excellent tool for customers to use to review status and to make sure work requests are in the appropriate phase. Agency representatives are urged to review the status of their work requests regularly. Questions can be directed to customer account managers (CAMs) or to VITAOneStop@vita.virginia.gov.
Surface Pros available to agencies on the IT infrastructure
The Microsoft Surface Pro tablet now is available to agencies on the IT infrastructure provided by Northrop Grumman with oversight by VITA. Unlike other personal computing devices, agencies will order the device from VITA using eVA and will own the device.
The Microsoft Surface Pro device bundle will include the device, pen, Microsoft USB Ethernet adapter, three-year Microsoft warranty and approved Windows 10 image (the current infrastructure standard is Windows 7).
The bundle will cost approximately $1,500 to purchase. The exact price can be found in eVA and may vary based on changing market prices. The offering does not include accessories, such as a Bluetooth mouse, docking station or keyboard type cover but these items can be ordered separately. There is a monthly fee of $65.39 that includes standard support services, local area network port charge, help desk services and hard drive encryption.
VITA strongly recommends interested agencies order a limited number for testing before purchasing a large quantity because of the cost involved and because the tablets run on an operating system (Windows 10) different than the current enterprise standard. Agencies will be responsible for ensuring any agency-specific applications are compatible and work on the new Windows 10 operating system.
More information on the Surface Pro
Mark your calendars
COVITS 2016 – Sept. 7-8, Hilton Richmond, Short Pump

Fifth Annual Project Management Summit – Oct. 12, Cultural Arts Center in Glen Allen
VITA rates change July 1
VITA rates will change July 1. As in past years, there is a mixture of rate increases and decreases within the portfolio of services. New rates reflect funding levels approved by the General Assembly.
Last fall, VITA worked closely with the Department of Planning and Budget (DPB) to forecast FY17 IT usage and VITA rates. The general fund share of each agency's increase or decrease in funding, as a result of the new rates and/or change in usage, has been budgeted in Central Appropriations and will be allocated to agencies by DPB during budget execution. The increase is 6.7 percent, with some rates increasing and other rates decreasing. The VITA surcharge increases from 7.91 percent to 9.34 percent, and the pass-thru procurement surcharge decreases from 3.89 percent to 3.49 percent. The increase in VITA's surcharge is driven by additional appropriation for IT sourcing, statewide IT security services, and statewide adjustments to employee salaries and fringe benefit rates.
As required by federal cost allocation guidelines, rates have been adjusted to eliminate over- and under-recoveries. Generally, costs for server, storage and voice services will increase; costs for mainframe and end user services will decrease. The most notable increase is in storage and voice service rates, which experienced increasing costs per unit because quantities for specific services have fallen below the contractual baselines.
On July 1, agencies should use standard work request forms updated to reflect the new rates.
IT service catalog form library
FY17 service and labor rates
VITA signs cabling contracts for use by government entities
VITA has established a new statewide structured cabling product and services contract for cabling products and installation services (both inside and outside). These 13 contracts can be used by any government entity in the commonwealth, and include labor, structured cabling products, and all incidental materials for installing standards-based structured cabling systems in the Bristol, Culpeper, Fredericksburg, Hampton Roads, Lynchburg, Richmond, Salem and Staunton areas. VITA provides a map of districts and list of cabling providers in those areas. These contracts are beneficial because localities do not have to expend time and resources to manage the competitive bidding process, and aggregating demand for IT services increases the leveraging position for negotiating services, terms and rates supporting cost management and cost reduction initiatives.
Introduction to LiDAR webinar set June 15
VITA's integrated services program staff is hosting a webinar session on Light Detection and Ranging (LiDAR), which is an optical remote sensing technology used to collect a wide range of topographic data. This session will be held at 2 p.m. on Wednesday, June 15. The webinar will cover a brief introduction to LiDAR technology, the standard geographic information systems (GIS) products produced with LiDAR data, their characteristics and how to use them in GIS. This webinar will also provide a status update on Virginia LiDAR acquisition projects.
Learn more about the webinar series
E-newsletter features Cybersecurity Information Sharing Act
The May Information Security Tips e-newsletter features the Cybersecurity Information Sharing Act of 2015 (CISA) signed into law by President Barack Obama. Included are highlights of the act and resources for additional information.