July 2016
Volume 11, Number 7
From the CIO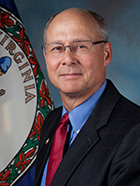 CIO Nelson Moe
Two items of note on the information technology (IT) awards front...
First, the Commonwealth of Virginia Innovative Technology Symposium (COVITS) will be here soon. State agencies, institutions of higher education, counties, cities, towns and other public bodies can submit entries for Virginia's prestigious Governor's Technology Awards to be presented at COVITS. Nine award categories will recognize public sector information technology (IT) projects that improve government service delivery and efficiency. Submissions should focus on improvements in the business of government through the strategic use of IT. All entries must be submitted by a Virginia public body by July 22; categories and a link to more information are provided below.
Secondly, VITA has called for information in recent weeks from state agencies to complete the Digital States Survey. The survey is conducted biennially in even years by the Center for Digital Government. It is a comprehensive study examining "best practices, policies and progress made by state governments in their use of digital technologies to better serve their citizens and streamline operations." After staff drafted the responses, I read the entire entry. I was impressed by the accomplishments we have made in IT across state government over the past two years. I believe the projects implemented in Virginia to enhance online services to our citizens are among the best in the country and look forward to a top rating when the awards are presented during the National Association of State CIOs (NASCIO) annual conference in September. I extend sincere appreciation to those who contributed to this entry.
Nelson
IT infrastructure sourcing efforts moving forward
VITA and state agencies are continuing to work on sourcing the IT infrastructure after the current contract expires in 2019. Competitive procurements for wave one activities (messaging and IBM mainframe services) are nearly complete and contracts are expected to be awarded this month, with transitions slated for fiscal year 2017.
Preparations for wave two have begun and will include competitive procurements for the following:
Multisourcing supplier integration (MSI): Information Technology Infrastructure Library (ITIL)-based, cross-functional integration services including service desk in support of the multi-supplier model
Server and storage: Server and storage services
Managed security: Security services
In anticipation of releasing these requests for proposals (RFPs) in August, VITA has planned two information sessions for service providers who may consider submitting proposals. The first was held June 21 and attracted 70 suppliers in person and 50 on the phone. The session reviewed the nature of the procurement, provided an overview of the services that will be requested, and described the capabilities that will be needed by suppliers. Attendance is not required to submit a response to the RFPs.
A second, separate session will address managed security services. Details of all RFPs when released are posted on eVA at www.eva.virginia.gov.
Read about IT infrastructure sourcing
Virginia.gov redesign launched
The first phase of a redesign of the state website, Virginia.gov, launched July 1. The site has a completely new design and content. It now is responsive to any device, allowing it to display properly from mobile, tablet or laptop. Two focus groups, one of citizens and one of state webmasters, provided input and desired content during planning for the redesign. Analytics guided insight into user needs. Staff at state agencies provided new and updated content of interest to citizens. An updated Commonwealth Calendar provides agencies the ability to share information about state meetings with citizens in an easy-to-use format. State agencies are invited to review content and provide updates as needed to Loren Williams at loren.williams@vita.virginia.gov. Upcoming design phases will add meta tags, an employee dashboard and "New to Virginia" content.
Visit the redesigned Virginia.gov
CIO presents to JLARC, agency heads
CIO Nelson Moe presented information on the IT infrastructure sourcing effort to the Joint Legislative Audit and Review Commission (JLARC) and agency heads in June. Both presentations are posted online.
View presentations
Project Management Standard updated
The updated Project Management Standard (CPM 112-03.3) has been approved by the CIO and posted on online. This standard establishes direction and technical requirements that govern the acquisition, use and management of IT resources by executive branch agencies. The update aligns the standard with recent amendments to the Code of Virginia and with organizational changes in VITA. The amendments provide the CIO of the commonwealth with the authority to approve and make decisions related to IT projects, procurements and standards without requiring the routine approval of the secretary of technology. This update also revises the definition for major IT projects, and introduces new processes and process flow diagrams.
Governor's Technology Awards entries now being accepted
Governor Terry McAuliffe, Secretary of Technology Karen Jackson and CIO Moe now officially invite entries to the 2016 Governor's Technology Awards. Nominations will be evaluated by IT leaders from state agencies, localities, the legislature, courts and education. Awards will be presented to honorees Sept. 7 at COVITS. Categories include:
Cross-boundary collaboration on IT service delivery initiatives
IT as efficiency driver - government to citizen
IT as efficiency driver - government to business
IT as efficiency driver - government to government
Innovative use of technology in local government
Innovative use of technology in education
Innovative use of big data and analytics
Innovative use of open data
Best citizen portal
Award details and how to enter
VITA to roll out new contract portal
Next month, VITA will be rolling out a new portal that will make it easier for users to navigate statewide contracts. Users will have faster access to contracts and improved search capabilities. Contracts are used by state agencies and government entities across the commonwealth. The contracts are offered after a competitive bidding process. These contracts save entities staff time and the cost involved in that process and offer rates made more favorable by bulk purchasing. Additional details will be provided before the portal rollout.
VITA focuses on customer solutions, support
The work request process continues to be refined and forms made more user friendly.
A new standard work request form will be available soon (Form 5-003) that allows customers to order the connection to the network of a third-party printer/multi-function device/copier for fewer than 16 users. If a device has 16+ users, the custom work request still will be required. As a reminder, forms are available in the IT service catalog form library.
All standard work request forms now are updated with the VITA FY 2017 rates and posted to the IT service catalog form library. Each is marked as V6.0 and should be used now.
The work request database is a great tool for checking the status of work request. It can be accessed anytime and includes the following information:
Phase assignment
Date of phase entry and exit
Project manager name (if in implementation)
Baseline and forecasted completion dates (if in implementation)
Documents such as statement of work, customer quote and standard form
PSAP grant applications now being accepted
The FY 2018 public safety answering point (PSAP) grant application cycle is underway. Deadline is 5 p.m. on Sept. 30. The Virginia E-911 Services Board, staffed by VITA, administers the multi-million dollar grant program. It provides financial assistance to PSAPs through the purchase of equipment and services that support the continuity and enhancement of wireless E-911 and in support of geographic information systems offices that support PSAPs and public safety. The Wireless E-9-1-1, a surcharge on each cell phone in the state, finances the program.
Learn more about the PSAP Grant Program
Public bodies must exclude liability language revisions in IT RFPs
As a result of legislation that took effect July 1, required by §2.2-4302.2, all requests for proposals (RFPs) for IT goods and services issued by commonwealth public bodies now must include the new language (in italics below). This is based on the following related bill language:
"In the case of a proposal for information technology, as defined in § 2.2-2006, a public body shall not require an offeror to state in a proposal any exception to any liability provisions contained in the request for proposal. Negotiations shall then be conducted with each of the offerors selected. The offeror shall state any exception to any liability provisions contained in the request for proposal in writing at the beginning of negotiations, and such exceptions shall be considered during negotiation."
"Provide your comments regarding any exceptions in the form of margin notes or redline the document with your suggested language where required, excluding exceptions or recommended language revisions to any liability provisions. If Supplier is selected to go forward into negotiations and takes exception to any liability language, Supplier shall state any exceptions to any liability provisions contained in the Request for Proposal and the contractual terms in writing at the beginning of such negotiations, submitted via email to the designated (name or acronym of public body) SPOC. Such Supplier provided exceptions or recommended language revisions shall be considered during negotiations."
Traveling securely
Summer is finally here and for many that means time to get away! It's not surprising that many cyber criminals target travelers. With a little care, it's possible to protect yourself and avoid potential problems. Learn how to travel securely in this month's edition of Information Security Tips!
Read Information Security Tips
A few reminders
VITA rates changed July 1. The general fund share of each agency's increase or decrease in funding has been budgeted in central appropriations. FY 2017 service and labor rates
The Microsoft Surface Pro tablet now is available to agencies on the IT infrastructure. More information on the Surface Pro
VITA has established a number of new contracts for broadband, cabling and networking equipment. Browse VITA contracts
COVITS 2016 is slated Sept. 7-8 at the Hilton Richmond Short Pump. Learn more about COVITS
The Fifth Annual Project Management Summit is scheduled Oct. 12, Cultural Arts Center in Glen Allen. Details to come.