January 2016
Volume 11, Number 1
From the CIO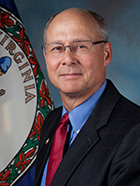 CIO Nelson Moe
It's difficult to believe, but 2016 is here. The New Year will be full and provide VITA and all information technology (IT) leaders in the commonwealth with a wide variety of challenges, but also abundant opportunities.
One of the major efforts in the coming year, as I am sure many of you know, is to take the next steps in IT infrastructure sourcing for executive branch agencies. If you are part of the commonwealth IT infrastructure service and have not done so, I suggest you read the Integris Applied sourcing strategy final report posted online. The recommendations summary includes four major actions:
The commonwealth should start now to disentangle services from the Comprehensive Infrastructure Agreement with Northrop Grumman.
The commonwealth should adopt a multi-supplier model with a services integrator through a competitive bid.
VITA should create a platform relationship office to manage the new services delivery model.
VITA should lead the implementation of a new governance model that increases agency involvement.
We want input from our stakeholders, particularly agency information technology resources (AITRs), and have provided a site online for them to offer input. If you are an AITR, simply go the Connections Web page and scroll down to " Infrastructure Sourcing Recommendation Report Input and Feedback." Connections is a collaboration tool for AITRs and chief information officers (CIO), who also are urged to share success stories and best practices, and receive updates on various initiatives.
Also on the agenda in 2016 for the commonwealth and VITA is the Digital States Survey entry. This is a substantial effort and involves numerous agencies across state government. We will report on our digital government initiatives, and will be ranked, along with other states, by letter grade on our efforts. We know Virginia is a leader in IT, but scoring well on the survey is important to the state's reputation as a leader in IT. Results are reported in trade publications and mainstream media.
Continuing to focus on security and risk management is essential, and cloud services will require our attention.
We have a VITA work plan chock-full of projects, including the telecommunications expense (management) and billing solution (TEBS), meeting Executive Order 20 regarding small, women and minority-business spending, implementation of new broadband contracts for use by all government entities in Virginia, broadband contracts ZIP code search, IT upgrades, mainframe service modifications, and more. Soon, the General Assembly begins. We will see legislation cleaning up the Code language regarding VITA.
This is just a sampling of some of our major projects. As you can see, 2016 will be a challenging – but rewarding – time for VITA and all who have careers in government IT. I look forward to continue working together in our efforts toward powering the commonwealth's digital government and making a difference for its citizens.
Nelson
Revisions enhance PM training requirements
New Project Manager (PM) Selection and Training Standard revisions improve the selection and training process. Some of the key differences are:
Unique commonwealth project manager (CPM) qualification
A three-year CPM qualification period
Procedures to restore CPM qualification if it lapses
Simplified and streamlined CPM qualification testing procedures
Simplified and clarified path to CPM qualification
Project Manager Selection and Training Standard
Electronic media data removal standard strengthened
The update to the Removal of Data from Electronic Media Standard addresses new technologies, accountability in the disposal process and specific challenges inherit in some devices when it comes to disposal. Because electronic media continues to evolve, the standard includes a process for technologies not listed. Additionally, the standard addresses the need for accountability by requiring the agency head to appoint an individual to be responsible for the electronic data removal process. It adds more depth to the procedures for disposing of devices such as Androids, iPhones, multi-function devices and solid-state media devices. The additional guidance should better enable agencies to make decisions that will help protect commonwealth data.
Removal of Data from Electronic Media Standard (scroll down the page to the Information Security Standards section)
IT infrastructure
VCCC Web page replaces eSupport
eSupport users now are being re-directed to the VITA Customer Care Center (VCCC) website (www.vita.virginia.gov/vccc). All items that previously were on the eSupport page have been moved to the VCCC homepage. For example, users can register and perform password resets, check the status of tickets and search hundreds of knowledge-based articles. The eSupport site will not be accessible after Jan. 16.
Asset reporting system upgrade complete
The partnership asset reporting system (PARS) upgrade is complete. The agency-accessible reporting tool upgrade improved reports and processing time, including:
Standardization of reports and reporting fields, including the elimination of any overlapping and duplicate reports
Consistent formatting throughout the system to help address usability concerns
Upgrade of back-end database to reduce report run times
Pilot agencies were Disability Services, Game and Inland Fisheries, General Services, Historic Resources, Juvenile Justice, Medical Assistance Services, Motor Vehicles, Social Services and Transportation.
After pilot agency suggestions were incorporated, agency representatives agreed the new system provided:
Easier export of files
Easily understood formats
A helpful user guide
Easier accessibility of information needed
Users who access the site with the old link will be redirected until Feb. 29 when the old site will be decommissioned.
VITAOneStop enhancing work request responses
The new VITAOneStop mailbox for processing and following up on work requests has permitted VITA to be more timely with its responses to agencies using the mailbox. Agencies are urged to use the mailbox at VitaOneStop@vita.virginia.gov.
Work request process upgrades continue
Several additional upgrades to the work request process have been completed.
A Work Request Customer Training Manual replaces training materials. The manual provides a comprehensive overview of the process with information and illustrations to help customers understand and navigate the process. This manual compliments the Work Request Management System User Guide, which details how to use the work request database. WR Process Customer Training Manual
Additional standard forms were completed. Using current forms saves time in processing and implementing work requests. Form Library
Jeff Ryan appointed to ITAC
Virginia Employment Commission Chief Administrative Officer Jeffrey Ryan has been appointed to the Information Technology Advisory Council (ITAC) by Gov. Terry McAuliffe. The council provides advice to the CIO of the commonwealth and VITA.
Read press release
Two newly formed councils meet
The Customer Advisory Council (CAC) held its inaugural meeting Dec. 9. The meeting included introductions, discussion of the role and mission of the council, introduction to VITA, Commonwealth IT Strategic Plan and Commonwealth Business Technology Plan, and IT infrastructure sourcing strategy. Members requested information at the next meeting on organizational changes and contact points at VITA, security impacts on agencies from the chief information security officer and an Information Technology Advisory Council (ITAC) Business Plan update. Agencies volunteered staff to serve on a subcommittee to revise the ITAC Business Plan. The CAC was formed by the CIO and meetings are not public.
The Identity Management Standards Advisory Council (IMSAC) had its inaugural meeting on Dec. 7. IMSAC will advise the secretaries of technology and transportation on the adoption of technical and data standards regarding the verification and authentication of identity in digital and online transactions. After member introductions, and the administration of the oath of office, the council nominated and elected Lisa Kimball as chair of the council. Ms. Kimball is vice president, identity management solutions at Telos Corporation. There was a presentation followed by discussion of requirements on the Freedom of Information Act (FOIA) in Virginia. Content of the prospective council charter was discussed, followed by future needs in subsequent meetings. The IMSAC was formed by Gov. McAuliffe and meetings are public. Council members and meeting materials.