February 2016
Volume 11, Number 2
From the CIO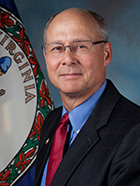 CIO Nelson Moe
VITA's information technology (IT) infrastructure sourcing effort is shifting into high gear in advance of the 2019 contract end. In a nutshell, we are seeking the best and most agile solutions possible to provide infrastructure services for the commonwealth's executive branch agencies. This is an expansive effort requiring time and energy commitments from a wide variety of IT and agency leaders and staff across the executive branch.
First, we must continue our planning efforts. We have the Integris Applied final recommendations and we are moving forward with preparations for the first wave of those suggestions while engaging our stakeholders and awaiting budget approval by the General Assembly.
Late last month, my agency issued an announcement, posted on the eVA online future procurements site indicating VITA's intent to release a request for proposals (RFP) for messaging related services mid- to late-February. The scope of this RFP is expected to include email, enterprise collaboration services (SharePoint and other similar tools), directory services and authentication, and mobile device management. Respondents will be able to propose services for one or multiple components of the RFP.
VITA has eight agency representatives who will serve on the messaging RFP competitive procurement work group. This is based on recommendations from the Customer Advisory Council and AITR volunteers. This team will work on developing the RFP and then will evaluate proposals and recommend suppliers to provide messaging services. We will seek broad customer input from the AITRs in parallel and prior to release of the RFP.
Additionally, VITA posted another announcement on the eVA online future procurements site this past Friday indicating VITA's intent to release a request for proposals (RFP) regarding mainframe services. Those agencies and other customers who use the IBM mainframe will be invited to participate in that competitive procurement.
VITA is committed to ensuring operations are not impacted while this work continues.
My agency will provide updates to you as this effort continues to move through major milestones. Should you have feedback or questions, please contact InfrastructureSourcing@vita.virginia.gov. And, feel free to contact me at any time at cio@vita.virginia.gov.
Nelson
Broadband contracts available to all government entities
VITA has awarded contracts to 18 suppliers for 16 levels of broadband services delivered via multiple technologies. Any public body as defined by the Code of Virginia or any eligible private institution of higher education may use the contracts to obtain Internet services. Localities will find these contracts beneficial for two reasons:
Localities do not have to expend time and resources to manage the competitive bidding process.
Aggregating demand for IT services increases the leveraging position for negotiating services, terms and rates supporting cost management and cost reduction initiatives.
The contracts include options for both month-to-month services that do not require term commitment and three-year service commitments for extra savings. These contracts also offer flexibility in that they provide a variety of technologies and services, and bandwidth options ranging from 768 kilobytes to 10,000 megabytes download data rates.
Users of these contracts are protected by the contract terms and conditions, including defined service level agreements and cancellation clauses. Early termination fees are excluded.
VITA has a ZIP Code search tool to allow users to easily find available technologies and bandwidths in their service areas and quickly compare prices across suppliers. VITA customers are urged to use the tool as many will find new technologies and lower pricing available in their service areas.
Questions about the contracts should be sent to scminfo@vita.virginia.gov.
Link to browse VITA contracts
2015 RTIP Report posted online
The 2015 Recommended Technology Investment Projects (RTIP) Report for the 2016-2018 budget biennium has been posted to the VITA website. The RTIP Report is an annual report from the CIO of the commonwealth to the governor and General Assembly. This report is a snapshot in time of a portfolio of IT projects that are proposed and in progress.
Work request efforts continue; use of VITA One-Stop urged
VITA continues to improve the work request process. If you have questions regarding a custom work request, please contact the VITAOneStop@vita.virginia.gov. You can contact your customer account manager (CAM), but copying the VITA One-Stop email account helps ensure the issue is tracked through resolution.
Some of the standard work request forms are changing:
Form 5-005 for work station white listing service has been updated. The changes primarily are focused on improving the wording of the form.
Form 6-002 for requesting hosted mail archiving (HMA) has been updated. If your agency already has HMA service, adding a user is done by contacting the VITA Customer Care Center (VCCC).
Some standard forms have not been used in more than 12 months. VITA is considering retiring these forms. While a standard form may be retired, the service still can be requested via the custom work request process. The form also may be returned to production if there is an increased demand.
When submitting a custom work request, please identify the needed service, not the hardware. For example, an agency should request active data ports to support a training room for 20 students instead of requesting a 24-port switch. Asking for the service rather than hardware helps VITA prepare the correct solution and avoid delays in solution development.
Many of VITA's agency customers engage third-party vendors, such as software providers, consultants and others to assist with projects. As a result, the solution development and implementation of many work requests depends on the availability of the customer's third-party vendor to answer questions and provide its portion of the implementation effort. Delays by these third-party vendors impact the ability to deliver a solution and/or implement it on schedule. While efforts are made to compensate for delays, it may be necessary to extend the solution development or implementation timeframes.
Two national speakers to address IS conference attendees
With the theme of "Securing the Commonwealth," the third annual information security (IS) conference will focus on fulfilling the shared mission of securing information. The conference program will feature keynote addresses by two nationally known speakers – Eric O'Neill, The Georgetown Group, and Teresa H. Carlson, Amazon Web Services. The deadline to register for this exciting conference is March 15.
Register today!
Virginia 2016 cybersecurity poster contest winners announced
Nine winners for Virginia's 2016 Kids Safe Online poster contest are now posted online.
Students in grades kindergarten through 12 were invited to participate in the Commonwealth of Virginia's Kids Safe Online poster contest. Sponsored by VITA's commonwealth security and risk management team, the contest promotes Internet safety among students.
VITA received more than 150 posters from students across the state. The winning posters from Virginia for each grade group (K-5, 6-8 and 9-12) will be submitted to the national Multi-State Information Sharing and Analysis Center (MS-ISAC) Cyber Security Awareness poster contest. If any Virginia posters are selected by MS-ISAC, they will appear in the 2017 National Stay Safe Online calendar and also may be used in campaigns to raise awareness among children about Internet and computer safety.
Three posters submitted by children in Virginia appear on the 2016 calendar. In winners announcements online and on the calendar, the children's last names are omitted to protect their identity.
Take a look at their creative works.
PSG formulation standard posted for comment
The revision of the Policy, Standard and Guideline Formulation Standard (formerly the Policies, Standards and Guidelines: Process for Initiation, Development, Review, Approval and Promulgation Standard is posted online for review and comment by Feb. 28.
The management of IT resources requires the establishment and control of a set of documents that convey purpose, direction and required activities. The documents that accomplish this in the commonwealth are policies, standards and guidelines (PSGs). This standard supports the framework established by the Commonwealth Information Technology Resource Management (ITRM) Policy (GOV102-series) through the establishment of a comprehensive and uniform process for formulation, review, approval, maintenance and retirement of PSGs for use in ITRM by executive branch agencies in the commonwealth.
Review the standard at Online Review and Comment Application (ORCA)
Comments sought on hosted environment IS standard
The proposed Hosted Environment Information Security (IS) Standard (SEC525-01) has been posted online for review and comment by Feb. 21.
The proposed document establishes a standard for environments not owned or leased by the Commonwealth of Virginia. This standard proposes security controls equivalent to or greater than controls found in the Information Security Standard (SEC501). The additional guidance is designed to enable agencies to make decisions that will help protect commonwealth data.
Read proposed standard at Online Review and Comment Application (ORCA)
EMS Data Standard posted
The new Emergency Medical Service (EMS) Data Standard is posted online.
The new standard implements the national EMS data standard set by the National Highway Traffic Safety Administration. Code of Virginia § 32.1-116.1 requires collection of a minimum dataset on each EMS response that occurs within the commonwealth. The standard will be used to collect 1.2 million EMS responses and the patient care delivered on those responses.
Read the new standard at ITRM Policies, Standards and Guidelines.
WPS evaluation underway, new requests on hold
VITA is evaluating its workplace productivity solutions (WPS) service (Microsoft Dynamics customer relationship management or CRM) and business intelligence (LogiXML) environments. VITA will examine new support models and roles for the environment, and service costs for tools, infrastructure, support and development. The results of this initiative are expected to include an increase in costs and an updated memorandum of understanding for each agency using the service. During the evaluation period, requests for new development or enhancements will be placed on hold.