December 2016
Volume 11, Number 12
From the CIO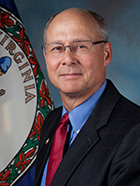 CIO Nelson Moe
The number one priority at the Virginia Information Technologies Agency (VITA) right now is developing the new information technology (IT) infrastructure - a multisupplier environment unlike the current one-provider environment - that will serve executive branch agencies. The current work to develop new contracts is consuming large amounts of agency representatives' and VITA staff members' time and requires their expertise for success. It is essential that agencies have input.
We are working to ensure agencies are represented in developing requirements of the requests for proposals (RFPs) and the selection process so their IT needs, in addition to enterprise IT needs, are met. It is important work that will determine how this next-generation IT infrastructure will serve us in the years to come.
We are undertaking this project in three waves.
Wave one IT infrastructure procurements are complete.
We have awarded contracts to Tempus Nova for Google email and related messaging services and to Hewlett Packard Enterprise Services (HPES) for IBM mainframe services.
Because challenges have been encountered with implementation of messaging, the project team has determined the transition will not begin before April 2017. In the interim, implementation teams are being formed and planning continues.
HPES will first take over the existing IBM mainframe environment. Over time, HPES will migrate the IBM mainframe service to a shared environment in its managed data centers.
VITA will share more implementation details and timelines for both projects as they become available.
Wave two procurements are underway.
Responses to the multisourcing service integrator (MSI) RFP have been received and review is underway. The MSI will be responsible for managing the commonwealth's IT environment and service tower suppliers, including service levels, and will be responsible for running the service desk.
RFPs are scheduled to be released this month for server/storage and security services.
Wave three, the final wave, will begin in late 2017. It includes desktop, data and voice/network services.
While this effort is our number one priority, VITA staff members and I are committed to not losing sight of the day-to-day operations that provide current IT infrastructure services, project governance, IT procurement, geospatial mapping, support of communications for public safety answering points and more.
As the holiday season approaches, I extend appreciation to agencies, localities and suppliers whose partnerships and support of VITA and IT in the commonwealth are invaluable to the success of VITA and to me as CIO. Happy holidays, and best wishes for good health, happiness and prosperity in the New Year.
Nelson
VITA provides ordering and work request guidelines
Server provisioning
VITA provisions servers to provide hosting services based on customer requirements. In some cases new servers must be ordered to meet these requirements. However, if the requirements can be met using a server from the existing inventory but not currently in use, the current infrastructure provider is permitted by contract to use an existing server. New server hardware is not guaranteed for each hosting request. Just like personal computers, VITA has customers who decommission servers that have useful life remaining.
It is important that agencies' hosting needs are fully met. To best achieve this, agencies should always provide detailed requirements regarding hosting needs. This includes the quantity of central processing units (CPUs), cores, random access memory (RAM), storage, desired operating system type and any compatibility needs with other servers. For example, provide direction if all servers for the development, test and production environments need to be the same. This will enable VITA to better facilitate the correct environment to meet hosting needs.
For issues or questions with the environment, please notify VITAOneStop.
Server decommissioning
Customers can request a server decommissioning by using the commonwealth (COV) account request form found at: https://accountrequest.vita.virginia.gov/.
This form can be used only if there is no other activity, such as data migration, involved.
Tips and tricks for successful eVA IT infrastructure orders
When entering eVA requisitions for IT infrastructure goods or services, clarity on the purpose of the order is essential. For example, when ordering a new laptop, the purchaser should indicate if it is a replacement or for a new employee. If it is a replacement, provide the asset tag of the device it is replacing and the name of the individual assigned to the laptop. Will any devices be returned? If the request is for a new employee, please provide the employee's name. This information is needed by VITA's IT infrastructure provider prior to processing requests for accurate pricing and faster processing.
Work request process
Customer input: Based on customer input received, the asset list for the move-related custom work request requirements document has been improved.
Post-holiday surge in work requests: Now is a good time to submit requirements for custom work requests and standard forms that need to be implemented early next year because of the expected post-holiday rush.
Change order requirements: When submitting requirements for change orders, update the latest version of the requirements document and send it to the VITAOneStop mailbox. This prevents confusion and misunderstandings that could result in an incorrect proposal. The latest version of the requirements can be found in the work request database.
Cancellation of work requests: Work requests may be canceled at any point in the process until the completion notice is issued. To cancel a work request, the agency information technology resource (AITR) or AITR designee should send the request to the VITAOneStop mailbox and copy the customer account manager (CAM). To avoid confusion, the message should clearly state the work request number and that the work request is to be canceled. If the work request is in the implementation phase, the customer is responsible for any costs incurred through the date of cancellation. Because of invoice timing, some costs may appear on a customer's invoice after the work request is canceled.
Training material: Training material regarding the work request process, the work request database and electronic approvals is available for customers and can be accessed via the work request database. On the left menu, select "WRM User Guide/Dashboard Orientation" for training.
Standard forms:
Standard form 1-003 for enterprise cloud oversight services (ECOS): This form is in development and should be ready for use in the near future when the service becomes available.
Standard form 7-001 for data storage service (non-Commonwealth Enterprise Solutions Center or CESC) has been updated to reflect the recent change in labor rates. No other standard forms were impacted by this change.
Red Hat Enterprise Linux (RHEL) server resource unit rate: VITA has two classes of resource unit (RU) rates: UNIX and Windows. There is not a class for RHEL. The Windows server RU rate is used for cost purposes when RHEL is needed. This is why quotes for work requests with RHEL servers will reference Windows servers in the cost detail. The statement of work will reference the specific operating system (Windows or RHEL).
Dell computers added to product catalog
Dell computing devices, including desktops, laptops and a tablet, recently were added to the VITA product catalog. Both Dell and HP devices are available to all users as part of the personal computer (PC) refresh program and new personal computing services. Dell models will have specifications comparable to HP models. In addition, both HP and Dell have agreed to improve PC performance by doubling the RAM in all PCs, except for standard desktops and tablets, at no additional cost. State agencies continue to request personal computing services using the current methods. In order to distinguish the brand being requested, a separate eVA order form must be completed for each brand (HP or Dell) and indicate "HP" or "Dell" in the line description field along with the device description. For example, if you are ordering a standard desktop, rather than typing "Standard Desktop," please type "HP Standard Desktop" or "Dell Standard Desktop." During the refresh process, agencies must specify whether device(s) to be HP or Dell.
Project management guideline review expires Dec. 20
The proposed updated Project Management Guideline is posted online. The review and comment period will expire Dec. 20. The guideline has been completely revised. The existing content areas have been rewritten, new content areas have been created, new templates have been added, and the order of sections has also been revised. The guideline recommends direction and technical requirements that govern the acquisition, use and management of IT resources by executive branch agencies.
Review and comment on the guideline
IRS publication to be included in contracts with suppliers
When Federal Tax Information (FTI) is shared or accessed, agencies must include IRS Publication 1075, Exhibit 7 language, in their contracts.
FTI is a term of art and consists of federal tax returns and return information (and information derived from it) that is in the agency's possession or control which is covered by the confidentiality protections of the Internal Revenue Code (IRC) and subject to the IRC 6103(p)(4) safeguarding requirements including IRS oversight. FTI is categorized as sensitive but unclassified information and may contain personally identifiable information (PII).
This requirement impacts agencies and their prime and subcontract suppliers that share or have access to FTI data, at rest or in motion.
To ensure compliance with IRS Publication 1075's mandatory requirements, the following have been updated by VITA:
Min Contractual Req for Major Tech Projects & Delegated Procurement
Mandatory IRS Pub 1075 for FTI data
For more information, please contact scminfo@vita.virginia.gov.
IRS Publication 1075 full text
VITA ICE cloud presentation is Dec. 14
VITA's Innovation Center of Excellence (VITA ICE) will be hosting a cloud readiness day on Wednesday, Dec. 14. The presentation will be held from 10 a.m. to noon in room 1222 at the Commonwealth Enterprise Solutions Center (CESC). Presenters and attendees will examine applications and determine their readiness for the transition to the cloud. For more information on the presentation or VITA ICE, contact Tony Wood.
Review period for Public Health eICR expires Dec. 18
Combined in one document are the proposed Public Health electronic Initial Case Reporting (eICR) Implementation Guide Standard and ICD-10 Vocabulary Standard, which is posted online for review and comment at http://apps.vita.virginia.gov/publicORCA/. The review period will expire Dec. 18.
The standards include one new health implementation guide standard and one updated health vocabulary standard:
New - Health Level 7 (HL7) CDA® R2 Implementation Guide: Public Health Case Report, Release 2 (US Realm) Electronic Initial Case Report (eICR)
Update - International Statistical Classification of Diseases and Related Health Problems, Revision 10 (ICD-10), Health Vocabulary Standard
The standards were identified by the Virginia Department of Health (VDH) as required for public health reporting and classification of diseases and other health conditions in a manner compliant with federal regulations. The standards were reviewed and recommended for adoption by the Health Information Technology Standards Advisory Committee (HITSAC) at its Nov. 10 meeting.
The Health Level 7 (HL7) CDA® R2 Implementation Guide: Public Health Case Report, Release 2 (US Realm) Electronic Initial Case Report (eICR) shall be applicable to all commonwealth agencies, and to entities external to the commonwealth, for the submittal of public health electronic initial case reports to VDH.
The International Statistical Classification of Diseases and Related Health Problems, Revision 10 (ICD-10), Health Vocabulary Standard shall be applicable to all commonwealth agencies, and to entities conducting business with the commonwealth, for the purpose of classifying diseases and related health problems and exchanging this information with commonwealth agencies.
LiDAR webinar scheduled Dec. 7
VITA continues to offer educational webinars to help localities face upcoming challenges and opportunities. "Introduction to LiDAR in Virginia" will be the topic of a webinar at 2 p.m. on Wednesday, Dec. 7. LiDAR, or light detection and ranging, uses laser pulses to determine distance to an object or surface. It is the standard geographic information product. The webinar will provide a brief introduction to LiDAR technology, the standard GIS products produced with LiDAR data and how to use them in GIS. The webinar also will include a status update on Virginia LiDAR acquisition projects. LiDAR can be used for urban and regional planning, natural resource conservation, coastal zone management and much more.
Call in information: (866) 842-5779 pin (824) 808-7601
Join WebEx Meeting
November Information Security Tips posted
The holiday season is upon us, and with it comes food, family and, of course, shopping. Online shopping can be a great way to avoid lines, save time and find the perfect gift, but it also can bring identity theft, malware and other cyber attacks. Rather than letting cyber attacks ruin your holiday season, you can take a few simple security precautions to help reduce the chances of becoming a cyber victim.