August 2016
Volume 11, Number 8
From the CIO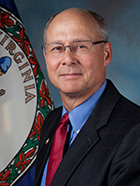 CIO Nelson Moe
A significant procurement step has been taken toward providing information technology (IT) infrastructure services for executive branch agencies after the current contract expires. VITA has awarded a contract for email and related messaging services for approximately 59,000 state employees to Tempus Nova, which specializes in Google solutions. Tempus Nova offers leadership in providing these services in other states, a proven ability to execute to plan, flexibility to address needs, and support above and beyond standard Google services. This contract is open for all public bodies to use.
Tempus Nova will provide email, enterprise collaboration and mobile device management services. Nine different suppliers submitted proposals for one or more components in the request for proposals (RFP). No proposals were received from suppliers for directory and authentication services. Those services now will be addressed separately. The contract award was the result of a competitive procurement. Additional details will be provided as soon as practicable.
An evaluation team is continuing to review proposals received for mainframe services. Additional time is needed and it is expected that a contract will be awarded in September.
In addition, VITA has posted planned future procurements on eVA indicating our intent to issue RFPs this fall for three additional services: servers and storage, infrastructure security and multisourcing service integrator. Details of all RFPs when released are posted on eVA at www.eva.virginia.gov.
The RFPs are being developed and evaluated by collaborative, multi-agency work groups. Award of contracts comes only after an in-depth, multi-agency evaluation of responses and negotiations with suppliers. Supplier responses are scored according to standard, pre-established criteria.
Infrastructure services currently are provided under a contract with Northrop Grumman. The contract will expire in June 2019 and is not eligible for renewal. Integris Applied was engaged to help develop a strategy regarding how infrastructure services will be provided after the contract expires. Following extensive stakeholder involvement and research, the recommendation was to start now to disentangle services from the current contract and adopt a multi-supplier model with a services integrator.
I extend sincere appreciation to staff from state agencies and VITA who are involved in the IT infrastructure strategy sourcing effort, and to suppliers who are submitting proposals. This work is the next step in providing IT services to executive branch agencies that permit them to serve more efficiently and effectively citizens of the commonwealth.
Nelson
Session on security services RFP slated for suppliers
VITA will conduct an information session for suppliers interested in submitting proposals for managed security services. The session will offer an overview of the service and detail VITA's expectations for a prospective supplier. The session will be held from 1 – 3 p.m., Aug. 30, at the Commonwealth Enterprise Solutions Center (CESC), 11751 Meadowville Lane, Chester, VA 23836. A call-in number will be provided to all registered participants. To RSVP, please contact InfrastructureSourcing@vita.virginia.gov.
VITA to roll out new statewide contract search portal Aug. 17
VITA will launch a new statewide contract search portal powered by Cobblestone Systems Aug.17. This new portal will enable users to perform faster searches and provides enhanced searching tools for contracts while giving users the benefit of searching for contract categories, including by small, woman and minority (SWaM) designation.
Cobblestone replaces VITA's current home-grown database that required a VITA supply chain management (SCM) staffer to enter each contract and make any changes (dates, scope statements, contacts, etc.). Cobblestone's contract portal system integrates with the contract database to allow VITA to manage contracts and ensure data will be more consistent during the life of the contract. Search capabilities will be enhanced and main contract information will be displayed on one cleaner page in a more user-friendly format. Several Virginia universities are already using the system, and reference checks were positive. Cobblestone has provided support throughout the set-up the process.
While every effort is being made to update and redirect website links to the new contract search portal URL, VITA asks users to be patient if some are missed prior to the launch. Users who find an old link after the new site has launched are asked to email webmaster@vita.virginia.gov. Please share this update with staff who utilize the statewide contract search portal. If you have questions please email scminfo@vita.virginia.gov.
Registration now open for COVITS 2016
The Commonwealth of Virginia Innovative Technology Symposium (COVITS) 2016 is fast approaching. COVITS provides a big picture look at IT in the commonwealth. It will be held Sept. 7-8 at the Hilton Short Pump in Richmond.
Gov. Terry McAuliffe will provide opening remarks. Governor's Technology Awards and datathon winners also will be announced. This year's topics include: "Cloud Options Today," "Internet of Things and Its Impact on Government," "Next Generation Workforce – How to Recruit, Retain and Survive," "The Secret to Engagement," "Dealing with the Data Deluge," "Security and the Cloud – What to Watch Out For," "Social Media – A Love/Hate Relationship?" "Drones and Government," "Hot Trends and Cool Technologies" and "Why Johnny Can't Data."
Check out the speakers and register to reserve your spot.
Learn more about COVITS 2016
Project management summit is Oct. 12
Mark your calendars for the fifth annual VITA IT Project Management Summit, to be held Wednesday, Oct. 12, at the Cultural Arts Center at Glen Allen. The summit — designed for commonwealth and local government IT project managers, commonwealth employees on a project management career path and contractors assigned to IT projects in the Commonwealth of Virginia - will serve as a cost-effective educational and networking opportunity, with a focus on leadership roles in the project management community. The educational component will include case studies, industry best practice and relevant project management topics. The summit runs from 8 a.m. to 4:30 p.m. Details on registration will be available soon.
VITA focuses on customer solutions, support
VITA staff members continue to improve the work request process and provide transparency into the status of projects. A new customer solutions and support web page now is live. It provides a central point-of-contact where agency customers can have questions answered and obtain support for work requests, eVA orders, exception requests, requests for new services and other VITA services. The site provides a link to the VITA OneStop mailbox (VITAOneStop@vita.virginia.gov). VITA staff members monitoring the mailbox coordinate with VITA customer account managers and service leads to provide prompt responses.
A revised external hosting request form has been uploaded to the VITA website. Changes were made based on user feedback. This new form includes more specific questions, definitions of software as a service (SaaS), platform as a service (PaaS) and infrastructure as a service (IaaS) and the removal of some repetitive questions. Please access the link below to obtain the most recent form when a hosting exception is needed.
Hosting Services
Additional actions taken recently to support customer agencies include:
A new standard form (5-003) soon will be available that permits ordering connection to a third-party printer/multifunction device/copier for 15 or fewer users. If there will be 16+ users, the custom work request process must be used.
All standard forms are updated with the FY 2017 rates and are posted to the service catalog form library. Each is marked as v6.0. Agency customers are asked to use the current version of the form. However, if a prior version of a form is used, VITA staff will work with the agency to update the form.
The work request database provides status access online. It includes phase assignment, date of phase entry and exit, project manager when named, baseline and forecasted completion dates if determined, and documents such as statements of work, quotes and standard forms.
Visit the customer solutions and support web page
Visit the form library
State's technology business plan published
The 2016 Technology Business Plan for the Commonwealth of Virginia has been published. It provides an enterprise-wide business guide as the foundation of successful IT strategic planning. VITA and the Customer Advisory Council jointly developed the plan in consultation with the Council on Virginia's Future.
Commonwealth of Virginia Technology Business Plan
Workforce innovation datathon launched
Gov. McAuliffe has launched the 2016 Workforce Innovation Datathon Challenge, a competition inviting citizens, students and government teams from across the commonwealth to come together to create innovative workforce solutions. This year's two-day challenge is scheduled Aug. 25-26 at the Library of Virginia. Top teams will be invited to participate in final judging at the COVITS on Sept. 7.
Read the governor's press release
Initiative underway to determine need for broadband
A new initiative, RUOnlineVA, gives Virginians an opportunity to log their need for internet service. The goal of the initiative is to help Gov. McAuliffe and other policy makers understand where broadband connectivity is needed most. RUOnlineVA is led by the Center for Innovative Technology (CIT) in partnership with Virginia Tech's Center for Geospatial Information Technology (CGIT).
Read the news release
Learn more about RUOnlineVA
Going for gold in cybersecurity
The world's attention will turn to Rio de Janeiro this summer as Brazil will be the first South American venue to host the Olympic Games. The international interest in the Olympic Games creates a window of opportunity for cyber criminals. Fraudsters have the luxury of time and a variety of interest areas to choose from in trying out their schemes to see what works. How can you avoid being a victim of these schemes? The simplest way is to be cautious and to understand the fraud schemes that you can encounter.