April 2016
Volume 11, Number 4
From the CIO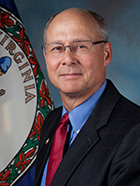 CIO Nelson Moe
It became apparent during Integris Applied's research regarding information technology (IT) infrastructure sourcing that enterprise and agency priorities are not the same. The final Integris Applied report (page 10) lists priorities that we will address as shown by the chart below.
| Agencies | Enterprise |
| --- | --- |
| Service delivery quality | Maintain cost competitiveness |
| Ease of doing business | Management control |
| Service flexibility | Flexibility to evolve |
| Evolution and innovation | Supports oversight functions |
| Agency choice | Standardization |
| Spend transparency | Procurement and transition |
As a result, the Virginia Information Technologies Agency (VITA) must have input from state agency business and IT leaders over the coming months. We need your help to make sure there is agency representatives on all our councils and work groups. This representation will ensure the needs of agencies and the enterprise are met before IT sourcing contracts are signed.
We have and are planning to have agency business and IT representation on the IT Sourcing Steering Committee, Customer Advisory Council, cloud vision and cloud strategy workgroups, and messaging and mainframe service requests for proposals (RFPs) workgroups. We also will communicate with and receive input from agency information technology resources (AITR) at our regularly scheduled group meeting and in more informal discussions. But, the need for additional representation by agencies will only continue to increase.
We are moving at a rapid, but measured, pace. We have released two RFPs – one for messaging and one for mainframe services. These are two planning activities pending final approval of the state budget.
Please consider volunteering when we put out a call for agency representation. The staff investment will be time-consuming, but worth the effort up front to resolve concerns before contracts are signed. We need active, engaged participants who will help ensure productive sessions resulting in agile technology services which support business needs and better serve the people of the commonwealth.
Nelson
Governor to address information security conference
Gov. Terry McAuliffe will kick off the sold-out Commonwealth Information Security Conference on April 7. With the theme of "Securing the Commonwealth,"the third annual conference will focus on fulfilling the shared mission of securing information.
The conference program will feature keynote addresses by Eric O'Neill, The Georgetown Group; Teresa H. Carlson, Amazon Web Services; and Barry Condrey, CIO of Chesterfield County, VA. The two-day conference will include expert presentations for those with responsibilities for managing, auditing or assessing information security in their organizations. The conference provides opportunities to meet and share ideas with security-minded colleagues and to learn about security products and services.
The conference is hosted by the Commonwealth Information Security Council. The purpose of the council is to provide educational opportunities to increase the understanding of key business processes of state agencies; obtain consensus and support for enterprise-wide security initiatives; identify key areas for process improvement; and coordinate agency business processes with VITA processes.
Learn more about the Commonwealth Information Security Conference
Learn more about the Commonwealth Information Security Council
Today is the deadline to suggest NASCIO entries
It's time to nominate Virginia information technology (IT) projects for the National Association of State Chief Information Officers (NASCIO) 2016 State IT Recognition Awards. Please suggest to VITA possible IT projects from your state agency that merit national attention for innovation, efficiency, best practices and return on investment. All entries must be submitted the state CIO and only one entry per category per state is permitted. VITA staff coordinates entry submission in partnership with agencies. Please take a few minutes to review program categories and criteria online and suggest potential nominations close of business on Monday, April 4. Email a one paragraph project summary to vitacomms@vita.virginia.gov if you have a suggested nomination. This will allow time for us to consider which projects are most likely to garner an award and to work with your agency on the entry.
Vote the Virginia ticket
Government media news outlet StateScoop ( www.statescoop.com) has released its nominees for 2016 StateScoop 50 Awards, and the prestigious list of information technology champions from among the 50 states this year includes five from Virginia state government. The #VoteVirginiaStateScoop ticket includes the following individuals from state government:
Governor McAuliffe
Secretary of Technology Karen Jackson
Chief Information Officer Nelson Moe
Deputy Chief Information Officer and Chief Information Security Officer Michael Watson
Deputy Chief Information Officer Eric Link
Voting is now open; show your support and #VoteVirginiaStateScoop, today and every day until April 15.
The StateScoop 50 Awards annually "honor the best and the brightest who make state and local government more efficient and effective. These awards allow us to celebrate the outstanding achievements of our peers and acknowledge their tireless efforts to make a positive impact in the government IT community and in public service."
VITA focuses on customer solutions and support
Those who receive VITA services can use the VITAOneStop email box to obtain assistance and the work request database to check the status of projects. These two efforts provide enhanced solutions and support for customers who use VITA services. AITRs and others who are seeking aid or have questions can use the mailbox.
The work request database provides online status insight.
Feedback regarding the work request process is being used to enhance standard forms:
Standard form number 5-003 for third-party printer/multi-function devices/copier network connection (fewer than16 users) ready for pilot; VITA seeking pilot participants; request information or a copy of the form via the VITA One Stop email
Form 8-009 for third-party postage machine connection successfully piloted; in production for all customers
Form 3-001 reflects improvements for enhanced server operating system security (ESOSS) and includes Linux (32 and 64 bit) and Solaris
Form 7-003 for Commonwealth Enterprise Solutions Center storage shows tier one storage for physical servers no longer has to be ordered in specific increments
Form 7-055 for AIX logical partition service updated to reflect advance coordination with VITA's Medicaid information technology architecture (MITA) staff required when ordering this service; contact information for the MITA office provided on the form
AITRs continue to have insight into the status of a complete list of their work requests via an online database. AITRs who do not have access should email the VITAOneStop.
Two additional tips to help customers:
Requests for enterprise remote connectivity service (ERCS) must be approved by VITA in advance of submitting the order. This step is needed to verify the location can receive the service.
Most work requests have a project manager assigned by the supplier within one-two weeks of agency approval of the work request. The project manager will reach out to the agency. VITA is provided the name of the project manager, which then is entered into the work request database as the last field in the stakeholder section. If the field is blank, email VITA OneStop.
VITA staff members working on these projects extend appreciation to those using these services and invite additional input from AITRs and others.
Contact VITA OneStop
Work Request Database
Strong, unique passwords recommended
Cybersecurity experts continually identify the use of strong, unique passwords as one of their top recommendations. However, this is also one of the least commonly followed recommendations because it's difficult to remember strong, unique passwords for every login and website. Learn why strong, unique passwords matter and recommendations for building passwords to remember in this month's Information Security Tips.
Read March Information Security Tips
9-1-1 smartphone application webinar
VITA's integrated services program staff is hosting a webinar session on 9-1-1 smartphone applications. This session will be held at 2 p.m. on April 20. The Regional Advisory Council (RAC) members agreed it is important to share information on a new application where the subscriber installs the application to contact 9-1-1 during an emergency. The application uses sensors on the phone to determine a precise location.
Learn more about the webinar series
New policies, standards and guideline posted
The new Hosted Environment Information Security Standard (SEC525-01); new Road Centerline Standard (OTH 703-00) and updated Policy, Standard and Guideline Formulation Standard (GOV101-02) have been approved by the CIO and posted online.

The Hosted Environment Information Security Standard defines the minimum acceptable level of information security and risk management activities for commonwealth agencies. The intent of the new standard is to establish a baseline for information security and risk management activities associated with commonwealth data stored in a data center not owned or leased by the commonwealth.
The new Road Centerline Standard implements the data file naming conventions, and coordinate systems, geometry, attributes, dataset type and specifications for the Virginia road centerline dataset. The standard will be applicable to local governments and state agencies, and serve as the data source of record at the state level for road centerline spatial features within the commonwealth.
The updated Policy, Standard and Guideline (PSG) Formulation Standard establishes a comprehensive and uniform process for developing, adopting, maintaining and retiring, commonwealth IT policies, standards and guidelines. This update improves the development process by establishing efficient procedures to address emergency situations through an emergency comment period and to implement administrative updates, as needed, and without an online review.
View the policies, guidelines and standard
Land cover datasets being developed
The Virginia Department of Environmental Quality (DEQ), VITA and WorldView GIS Solutions are developing a statewide land cover geographic information system (GIS) dataset. Mandated by the General Assembly, the dataset is intended primarily to support state and local government storm water runoff planning efforts and to augment existing base mapping data available from the Virginia Geographic Information Network (VGIN).
A draft deliverable of Chesapeake Bay area two (one of six subsets statewide) has been made available for download. The draft data will be replaced in June by a final deliverable that will cover the entire Chesapeake Bay watershed (~ 60% of the state). All of the statewide data development is scheduled to be completed and delivered by the end of 2016.
View the Chesapeake Bay area two draft
Additional information about the project
Broadband contracts available to government entities
(Note: There sometimes is confusion regarding the availability of services offered on statewide technology contracts for state agencies covered by the IT infrastructure agreement with Northrop Grumman. Agencies in-scope to the infrastructure agreement will continue to use Northrop Grumman services at this time. State agencies that have questions should contact their customer account manager (CAM).)
VITA has awarded contracts to 18 suppliers for 16 levels of broadband services delivered via multiple technologies. Any public body as defined by the Code of Virginia or any eligible private institution of higher education may use the contracts to obtain Internet services. These contracts are beneficial for two reasons:
Localities do not have to expend time and resources to manage the competitive bidding process.
Aggregating demand for IT services increases the leveraging position for negotiating services, terms and rates supporting cost management and cost reduction initiatives.
The contracts include options for both month-to-month services that do not require term commitment and three-year service commitments for extra savings. These contracts also offer flexibility in that they provide a variety of technologies and services, and bandwidth options ranging from 768 kilobytes to 10,000 megabytes download data rates.
Users of these contracts are protected by the contract terms and conditions, including defined service level agreements and cancellation clauses. Early termination fees are excluded.
VITA has a ZIP Code search tool to allow users to easily find available technologies and bandwidths in their service areas and quickly compare prices across suppliers. VITA customers are urged to use the tool as many will find new technologies and lower pricing available in their service areas.
Questions about the contracts should be sent to scminfo@vita.virginia.gov.
Link to browse VITA contracts
VITA contracts replace obsolete COVANET service offerings
The COVANET telecommunications services contract has been replaced and a new suite of services now is available under VITAnet. COVANET services are obsolete and new technology is available under two recently awarded contracts:
Verizon Business - The largest interexchange (IXC) carriers in the country; subsidiary under the same corporate umbrella as Verizon Virginia and Verizon South the state's second largest local exchange carriers (LEC); Tier 1 Internet service provider with a nationwide and international presence
CenturyLink – The country's third largest IXC; commonwealth's second largest LEC; Tier 1 Internet service provider with a nationwide and international presence
VITA will partner government entities that now utilize obsolete technology under the old COVANET contract with the best replacement services and assist with the transition. Questions should be sent to VITAnet@vita.virginia.gov.
Some of the benefits of the new contracts are no term commitments, more network options, diverse and redundant networks, competitive environment for suppliers, new services throughout contract lifecycle, no installation costs for initial transition, expanded voice services, hosted voice over Internet protocol (VoIP) services, hardware-based on-site systems, and increased bandwidth and improved performance.