September 2015
Volume 10, Number 9
From the CIO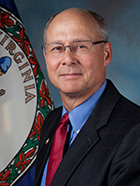 CIO Nelson Moe
As you may know, Integris Applied has been working with the Virginia Information Technologies Agency (VITA) and our stakeholders to determine our infrastructure sourcing strategy when the current contract with Northrop Grumman expires. While our current infrastructure contract has resulted in great strides in information technology (IT) for the commonwealth, it is time to explore new approaches to the challenges we face.
We are looking at the best way to provide IT infrastructure services and must focus on finding a service delivery platform optimized to meet agencies' service needs. We are identifying the options and opportunities that will allow us to adapt more rapidly to technological changes and improve the commonwealth's services to citizens. This is what I like to call the "build to adapt" strategy.
The sourcing strategy initiative is completing the "assessment phase." The work to date has involved numerous interviews with IT and business leaders at agencies that use the infrastructure, analyses of massive amounts of data and conversations with the marketplace about new service delivery solutions. We have engaged agency IT and business leaders and kept commonwealth leadership informed of findings and observations.
Four work streams are continuing to provide valuable information for forming recommendations. Those are the marketplace option evaluation, sourcing options, sourcing governance and organization, and customer impact analysis.
When recommendations are complete, VITA and the commonwealth will be ready to decide on what changes need to be made to our service delivery platform.
This initiative will play an important role in VITA's future, and it is key to the commonwealth's digital government for the next decade. I am keeping an open mind – as I hope you do – as to what changes might be proposed. We and the commonwealth's leaders will only accept a path forward that is in the best interest of the commonwealth and its citizens.
On a different note, I am looking forward to the Commonwealth of Virginia Innovative Technology Symposium (COVITS) next week. Hope to see you there. Please stop by the VITA booth to learn more about our Web application vulnerability scanning service available to all government entities in Virginia.
IT infrastructure sourcing strategy documents and presentations
Nelson
Five Virginia projects are NASCIO award finalists
A record number of Virginia IT projects are finalists in the National Association of Chief Information Officers (NASCIO) 2015 Awards Recognition Program. Five are finalists. Winners will be announced at the NASCIO annual conference in October.
The award categories and Virginia finalists include:
Digital Government: Government to Business (G to B)
Enhancing Customer Service through the Mobile Collectors Application, Department of Taxation
Digital Government: Government to Citizen (G to C)
Electronic Death Registration and Birth Certificates on Demand, Department of Health and Department of Motor Vehicles
Disaster Recovery/Security and Business Continuity Readiness
Disaster Recovery/Continuity in the Commonwealth of Virginia, VITA
Enterprise IT Management Initiatives
Strategic Planning with Security as a Priority, VITA
Open Government Initiatives
VA Roads - Virginia's Portal for Map-Based Transportation Information, Department of Transportation
This prestigious national program recognizes state efforts to provide agile and secure technology supporting services provided to the citizens of the commonwealth.
COVITS slated next week
COVITS 2015 will provide a big picture look at IT in the commonwealth. It will be held next week, Sept. 9-10, at the Hilton Short Pump in Richmond. More than 320 attendees are expected.
Secretary of Technology Karen Jackson opens this year's event and welcomes Gov. Terry McAuliffe, who will make remarks. CIO Nelson Moe will welcome attendees on the second day.
Three exciting keynote sessions are set to deliver compelling presentations. First, master impressionist and communication coach Jim Meskimen brings creativity and humor to help "Find Your Voice." After lunch, the general session "Breach! When Bad Things Happen to Good People (And Their Organizations)" will help in preparation for potential cybersecurity incidents. Anthony Huey, president of Reputation Management Associated, will lead the final keynote "Communicating in a Crisis – 30 Years of Work Destroyed in 30 Seconds."
This year's breakout sessions again will challenge attendees to choose from outstanding offerings, including: "Cyber Virginia," "Mobile Apps the Smart Way," "Enterprise Analytics," "Next Generation Contracts and Partnerships," "Internet of Things," "Next Generation Workforce," "Information Governance" and "You've Been Breached. Now What?"
Other highlights include a lunchtime session showcasing the work of teams in the Datathon Open Data Challenge, and the annual presentation of the Governor's Technology Awards.
Fast track topics have become hugely popular; this year's 20-minute spotlights include "Game of Drones," "Next Gen 911" and a wrap up focusing on "Innovation and Ideation."
IT infrastructure news
VPN capacity may increase prior to bike race
The capacity of the commonwealth's virtual private network (VPN) provided by VITA may increase prior to the 2015 UCI Road World Championships Sept. 19-27.
Capacity can be increased for concurrent users if proactive monitoring shows the need. The availability of increased capacity will continue after the race.
Users do not need to connect to VPN to access email. They simply log onto their computer, make an Internet access and click on the "Outlook" icon. This provides a secure connection.
If a user has never used VPN or has used VPN infrequently, they should connect before the race to make sure they can sign in. This will prevent thousands of users from calling the help desk to obtain assistance.
Even with increased VPN capacity, if too many remote workers use high-bandwidth Internet, such as video or audio streaming, Internet access could be slowed.
Additional information is available online at VPN FAQ.
VITA completes annual DR exercise
VITA completed its annual full-scale disaster recovery (DR) exercise with several state agencies and Northrop Grumman. The scenario involved simulated destruction of the primary data center. Measures of the test's success will include time to recovery of infrastructure services and applications.
Registration continues for project management summit
Registration is underway for the Fourth Annual VITA IT Project Management Summit slated Oct. 15. The summit is designed for commonwealth and local government IT project managers, commonwealth employees on a project management career path and contractors assigned to IT projects in the Commonwealth of Virginia. The summit provides a cost-effective educational and networking opportunity. The educational component will include case studies, industry best practice and relevant project management topics. Sponsors include the Community College Workforce Alliance (CCWA) and Central Virginia Chapter of the Project Management Institute. The summit runs from 8 a.m. to 4:30 p.m. at The Cultural Arts Center at Glen Allen, 2880 Mountain Road, Glen Allen. Cost is $85.
AITR resource archives online
Did you know you can you find an archive of messages sent to agency information technology resources (AITRs), links to AITR meeting presentations, network capacity reports, service level agreement reports, user guides, FAQs and a calendar of events on the VITA COV intranet? Find all that and more. All COV employees have access to the site at: https://cova.share.virginia.gov/sites/vita/. Don't forget to save it as a favorite in your browser!
Sun, sand and cybersecurity
Every summer, vacationers put their house lights on timers and their mail on hold when they travel away from home. Many cyber criminals specifically target travelers with simple advertisements or sophisticated scams using realistic websites. Luckily, with a little care it's possible to avoid these problems. Follow the simple tips in this month's Information Security Tips to ensure that the only memories from your vacation are good ones.