November 2015
Volume 10, Number 11
From the CIO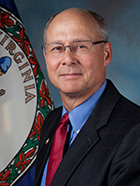 CIO Nelson Moe
Two Virginia projects were honored by the National Association of State Chief Information Officers (NASCIO) 2015 Recognition Awards for outstanding achievement in information technology (IT) in state government. Recipients were announced at the NASCIO annual conference last month. The 2015 awards recipients are:
Digital Government - Government to Business - Commonwealth of Virginia: Enhancing Customer Service through the Mobile Collectors Application, Department of Taxation (TAX)
Digital Government - Government to Citizen - Commonwealth of Virginia: Electronic Death Registration and Birth Certificates on Demand, joint entry by the Department of Health (VDH) and the Department of Motor Vehicles (DMV)
Congratulations to TAX, Health and DMV for their great work and for using digital government to serve the commonwealth's businesses and citizens.
Three Virginia projects were finalists. The categories, project and agency were:
Disaster Recovery/Security and Business Continuity Readiness: Disaster Recovery/Continuity in the Commonwealth of Virginia, Virginia Information Technologies Agency (VITA)
Enterprise IT Management Initiatives: Strategic Planning with Security as a Priority, VITA
Open Government Initiatives: VA Roads - Virginia's Portal for Map-Based Transportation Information, Department of Transportation
The projects are submitted by each state's CIO. Virginia had more awards/finalists than any other state.
In that spirit of using digital government to serve, VITA continues to move toward a customer-focused, service-oriented organization. We have adopted a new vision, mission and tagline to guide us. All of us here at VITA are committed to keeping these foremost in our efforts to enhance delivery of our services to state agencies and localities.
Our Vision: VITA will deliver agile technology services at the speed of business
Our Mission: VITA supports the commonwealth by providing cybersecurity, IT infrastructure services and IT governance
Tagline: VITA – Powering the commonwealth's digital government
Our vision and mission will serve as a beacon as we move toward an IT infrastructure sourcing strategy when the current contract expires in 2019.
Nelson
Mark Your Calendars
IT professionals – Mark your calendars for two big events next year:
Virginia Information Security Conference – April 7-8, 2016
Commonwealth of Virginia Innovative Technology Symposium – Sept. 7-8, 2016
Mainframe billing now online
VITA has implemented a new online mainframe billing system eliminating paper billing. The online invoice shows summarized usage, rates and charges for each mainframe resource consumed during the prior month. The system provides a billing review in a variety of formats, delivery of reports by email, and extensive reporting capabilities to allow end users to select and view data for analysis. Customers now will receive invoices by email and will have the option to log on to a billing portal to view additional details of their bill. Reports can be generated on demand using criteria, such as accounts and date ranges, selected by the user. Bills to state agencies and localities for mainframe services are produced monthly. Early each month, the billing data for the previous month is processed and the bills are generated.
New council adds agency business leaders' input to CIO, VITA
CIO Nelson Moe is forming the Customer Advisory Council (CAC) to advise the CIO on the proper planning, acquisition and use of IT to serve the business needs of state agencies. The goal of the CAC is to expand agency involvement and improve business outcomes from the IT decision-making process. The council will consist of 15 members, drawn from each secretariat, and includes both IT and business leaders. Its purpose is to provide high-level advice to the CIO and VITA. The council is advisory only and has no authority over VITA's staff or decisions. The Information Technology Advisory Council (ITAC), in a recent meeting, agreed with the idea of forming the CAC and voted to support the CIO's plan. Members of the CAC will be announced in the coming weeks. At the direction of the CIO, or upon the recommendation of the CAC, the current CIO Council will be convened as needed to advise the CIO and VITA about specific technologies, trends, priorities or opportunities. The CIO Council will continue to consist of IT leaders from 11 agencies, and its membership may overlap with the CAC.
Site provides virtual collaboration opportunities for AITRs
As a reminder, the "Connections" SharePoint site was created to provide an online collaboration tool for the agency information technology resource (AITR) community. Established as a result of AITR feedback, this site was created for AITRs to collaborate virtually with VITA and with each other. For example, if an agency is preparing to embarking on a new effort, the agency's AITR can reach out virtually to peers at other agencies to solicit lessons learned from similar efforts, brainstorm solutions, etc.
Relationship Management and Governance Executive Director Judy Marchand-Hampton and the customer account managers (CAM) at VITA urge agencies to make more use of "Connections."
Visit, bookmark " Connections"
If you do not have access and think you should, contact CRMProgram@vita.virginia.gov.
Also, you can find an archive of messages sent to AITRs, links to AITR meeting presentations, network capacity reports, service level agreement reports, user guides, FAQs and a calendar of events on the VITA COV intranet. The site is open to all commonwealth employees.
Visit, bookmark VITA COV Intranet Site.
Cybersecurity important all year
Cyber Security Awareness Month just ended, but cybersecurity is important all year. In a public service announcement for the month, Gov. Terry McAuliffe discusses tips to stay cyber safe and the 2016 Kids Safe Online poster contest. The national K-12 poster contest's goal is to engage young people in creating posters to encourage other young people to use the Internet safely and securely. Submissions are due Jan. 8, 2016.
Watch video
Poster contest information
2016 security conference set
The Commonwealth Information Security Council will hold its third annual Commonwealth of Virginia Information Security Conference to assist in fulfilling the shared mission of securing information online. Registration already is open for the conference, which will be held April 7-8, 2016, in downtown Richmond. The conference will include expert presentations on managing, auditing or assessing information security. The 2016 program agenda is under development with a focus on the conference theme of "Securing the Commonwealth."
Learn more about the conference
IT infrastructure
Infrastructure strategy recommendations due this month
Integris Applied will deliver its recommended strategy for sourcing the commonwealth's IT infrastructure to CIO Nelson Moe later this month. The recommendations will be based on Integris' experiences in the public and private sectors and on extensive research. The firm has leveraged VITA's core team and the IT Infrastructure Sourcing Steering Committee members for their input and guidance for completeness of the assessment and feasibility of the potential recommendations. In addition, a wide variety of feedback was obtained in interviews with IT and business leaders from 60 state agencies, the CIO Council, AITRs, nearly 30 suppliers, and other stakeholders. Members of the General Assembly and McAuliffe administration have been apprised of the work as it progressed. Integris has experience working with Georgia and Texas on IT sourcing, but this recommended strategy will be tailored for the commonwealth. After the recommended strategy is received by the CIO, he and VITA will seek wider feedback. The next phase will be planning and execution, subject to approval, budget and administrative and legislative support. The current infrastructure contract with Northrop Grumman expires in 2019. There are no additional extensions and commonwealth policies encourage competitive procurements.
State employees have online access to password reset, tickets, articles and more
State employees have additional options when it comes to obtaining answers to computer-related questions or assistance with computer-related issues. Calling the VITA Customer Care Center (VCCC) is just one path to a solution. There also are do-it-yourself tools to reset a password or submit and track tickets, and a library of articles and instructions. Great strides have been made in integrating automated tool suites for better visibility and transparency, and to streamline communications. The VCCC Web page has been updated and is a useful tool for state employees with computer questions or issues.
VITA implements electronic approvals of work requests
Agencies now have the option of electronically approving work requests in the work request database or continuing to utilize a wet signature on a printed work request form. Electronic approvals are available for custom and standard work requests, and change orders. The ability to electronically approve is only available to the AITR or AITR designee. For answers to questions, AITRs should contact their CAM or the customer solutions and support division ( VITAOneStop@vita.virginia.gov).
Review the user guide in the Work Request Database
Removal of electronic data standard comments due Nov. 20
The proposed update to the Removal of Commonwealth Data from Electronic Media Standard is posted online for review and comment. The proposed update addresses new technologies, accountability in the disposal process, and specific challenges inherit in some devices when it comes to disposal. This update also acknowledges that technologies will continue to evolve. As a result, a process has been put in place for technologies not listed in this standard. To ensure accountability, the proposed update requires the agency head to appoint an individual to be responsible for the electronic data removal process. This version also adds more depth to the procedures involved in disposing of devices such as Androids, iPhones, multi-function devices, and solid state media devices.
Read and comment on the proposed update
Webinar will help localities use VDOT data
VITA will conduct its next installment of Webinar Wednesday's on Nov. 4 at 2 p.m. This webinar session will explore how Virginia Department of Transportation (VDOT) data, which is now included as the part of the quarterly road center line data release, can be leveraged by localities and integrated with other local data.
Learn more about Webinar Wednesday's
Credit card 'chips' becoming the new security norm
The United States is moving toward adopting a "Chip and Signature" or "Chip and PIN" standard. Many countries around the world already use these new technologies because they help to reduce credit card fraud through authentication, verification and authorization. The chip is a small metal square, typically silver or gold, on the payment card that stores encrypted, dynamic data. With the new chips, it will be more much difficult for malicious persons to read the data on the chip and then, because it constantly changes, to counterfeit it. Additional details are provided in the most recent issue of the e-newsletter "Information Security Tips."