June 2015
Volume 10, Number 6
From the CIO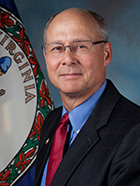 CIO Nelson Moe
Interim CIO, Eric Link
I have two pieces of good news to share with you.
First, as you likely have heard by now, Gov. Terry McAuliffe has appointed Nelson P. Moe as CIO and head of the Virginia Information Technologies Agency (VITA). He will assume these new duties on June 8. Moe served as CIO for the U.S. House of Representatives. In that position he was responsible for the information technology (IT) vision, enterprise strategic planning, budget implementation, cybersecurity operations and risk posture, business continuity management, IT services and project management for the members, leadership, committees and staff of the House of Representatives. Please join me in welcoming him to state government.
Secondly, as interim CIO, I have selected and submitted entries for the National Association of State Chief Information Officers (NASCIO) 2015 annual awards of excellence. The nominees are:
Virginia Department of Health (VDH) and Virginia Department of Motor Vehicles (DMV) -- Electronic Death Registration and Birth Certificates on Demand in the digital government to citizen category
VDH Emergency Medical Services (EMS) Grant Information Funding (E-Gift) -- Improving state operations
Virginia Department of Transportation (VDOT) -- Electronic Bulletin Boards (EBB) -- Information communication technology innovation
Virginia Department of Transportation (VDOT) -- VirginiaRoads.org – Virginia's Portal for Map-Based Transportation Information -- Open government and data, information and knowledge management
Virginia Department of Taxation (TAX) -- Mobile Collectors Application -- Digital government to business
VITA -- Disaster Recovery/Continuity in the Commonwealth of Virginia -- Disaster recovery/security and business continuity readiness
VITA -- Security Incorporated into Strategic Planning -- Enterprise IT management initiatives
Congratulations to the agencies and the staff involved in these innovative projects. And, I extend my sincere appreciation to all who provided assistance and support over the past few weeks during my stint as interim CIO. I am resuming my duties as executive director of legal and legislative services and will continue to work with you to provide IT services so that government can better serve the citizens of the commonwealth.
Read the Governor's Press Release
Nelson
IT infrastructure sourcing RFI issued
The IT infrastructure services sourcing strategy team has posted a market research request for information (RFI). The intent is to assess how the market is delivering services now and expected to deliver services after 2019. No bids are being solicited or entertained. VITA and Integris Applied continue to work on developing a strategy for how to provide infrastructure services when the commonwealth's current contract expires in 2019. Interviews with agency business and IT leaders and an online survey of agencies have been completed and results are being evaluated. Customer agencies and other subject matter experts and stakeholders continue to be included in the process.
COVITS program being finalized; event is Sept. 9-10
Government technology decision makers are invited to attend the Commonwealth of Virginia Innovative Technology Symposium (COVITS) Sept. 9-10 at the Hilton Richmond at Short Pump. Now in its 18th year, COVITS provides a practical glimpse into the future of government IT solutions. The event features inspiring speakers, relevant breakout sessions and a marketplace of innovative tools. Keynote speakers are being finalized and a second datathon is being planned. Categories are being finalized for the Governor's Technology Awards, which are open to state agencies, localities and educators. The deadline for entries is expected to be in late July. More details will be announced and posted online as they are finalized.
COVITS website
COVITS overview
Two enhancements made to work request process
As requested by agency information technology resources (AITRs), VITA continues to review its work request process and is launching two improvements. New requirements documents now are available that feature questions more specific to each topic, enabling better development of solutions. They include documents for moves, server/storage, network, phones via united communications as a service (UCaaS) and general. The format is changing from Excel to Word, making them easier to utilize. The documents are in the same location as current requirements documents – the IT service catalog forms library. A frequently-asked-questions (FAQ) document is available on the service catalog forms library. Please note that there will be a grace period for customers who have already begun a requirements document using the previous format.
AITR and/or the documented AITR designee will have the option of electronically approving work requests this month. Electronic approvals will be available for custom and standard work requests, and change orders. Training documentation will be available prior to the deployment. Additional information will be provided as electronic approval is rolled out.
IT service catalog forms library FAQ
Submit suggestions for new requirements forms
State agencies, localities to benefit from electronic billing
Telesoft, the telecomm management solutions and services company, has been selected and is working with VITA to implement TelMaster, a telecommunications expense management and customer billing solution (TEBS). Implementation is expected in 2016. TEBS will streamline processes, reduce paper handling and improve customer service to VITA's 800 telecommunications services customers, which include state agencies, institutions of higher education and participating localities. TEBS will replace a legacy telecommunications inventory billing system and a vendor invoice, payment and reconciliation application while delivering bills electronically.
Surveys to establish a baseline for customer satisfaction and to seek input and feedback are being reviewed. Work is underway to ensure the new TelMaster application meets VITA's requirements and to document any gaps. Customer stakeholders have been asked to participate in this testing.
Information on Telesoft
More about TEBS
IT infrastructure news
Internet Explorer 11 rollout underway
VITA and Northrop Grumman have begun the rollout of Internet Explorer (IE) 11 to executive branch agencies. Microsoft will end support for all other versions of IE by Jan. 1, 2016. Agencies are being contacted by their Northrop Grumman agency operations manager (AOM) to ensure a smooth transition. VITA will determine appropriate additional measures for any computers that do not upgrade to IE 11 prior to Microsoft end-of-support in order to provide protection on an unpatched application. This may result in additional costs. Together, IE 11 and Windows 7 let users experience immersive and desktop browsers, enabling the creation and use of next-generation Web apps and media.
Key deadlines approach for end-of-life support for Windows 2003
VITA and Northrop Grumman continue to move forward on the Windows 2003 upgrade project. Agencies should review all related work request proposals and submit approvals to VITA as soon as possible for work to begin. Key remaining deadlines include:
June 5 - Servers that are projected to not be decommissioned or remediated by end-of-life must have exceptions filed with VITA commonwealth security and risk management and have the standard form for enhanced server operating system security (ESOSS) work requests signed and submitted to VITA.
June 15 – Decommission requests should be submitted via the VITA Customer Care Center (VCCC) prior to this date to provide time for the decommission process to complete prior to end-of-life.
July 14 – All servers must be decommissioned, upgraded or have ESOSS installed and an exception on file.
Questions should be addressed to AOMs or Justin Bromilow at mailTo: justin.bromilow@ngc.com, project manager.
PSAP grant program, ESINet topics of regional meetings
VITA has scheduled regional meetings to review the changes to the Public Safety Access Point (PSAP) Grant Program for fiscal year 2017 and to discuss the Emergency Services IP Network (ESINet) requirements for next generation (NG) 9-1-1. An additional focus on how geospatial data must be used in NG9-1-1 to route 9-1-1 calls will be discussed. Because of the importance of both of these topics, all locality PSAP managers and geographic information system managers are encouraged to attend.
Schedule and meeting locations
Security in the mobile era featured in e-newsletter
By 2017, the number of smartphone users in the U.S. is expected to surpass 200 million, nearly 65 percent of the population. Negotiating security in the face of an ever-growing implementation of mobile devices presents serious challenges for organizations. Users need to understand the risks and the steps they can take to minimize them, particularly as cybercriminals often use employees as the entry point into an organization's network. In this month's edition of Information Security Tips, users will learn key actions they can take to help minimize the likelihood of a successful cyberattack.
Read May Information Security Tips
Project management group will meet June 11
The Government Practice Group of the Project Management Institute (PMI) Central Virginia Chapter will meet June 11 in training room 133 at the Department of Motor Vehicles, 2300 West Broad Street, Richmond. Registration starts at 5:15 p.m. and requires identification and check-in since the building is a secured facility. The meeting starts at 5:30 p.m. There is no fee to attend. Adam Saunders, an IT project manager with the Federal Reserve, will be the guest speaker. He will discuss servant leadership, a topic he has been focused on as part of his personal and professional development.
The Government Practice Group is a volunteer team that organizes monthly events to promote project management in government. The team includes representatives from several agencies including Elsie Dawson, Education; Sam Henderson, Transportation; Balaji Kantheti; forensic science; Bob Ramos, Conservation and Recreation; and from VITA: Jane Newell, Susan McCleary and Prashant Dixit. Future meetings can be found on the PMI CVC website event calendar.