July 2015
Volume 10, Number 7
From the CIO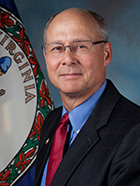 CIO Nelson Moe
My first few weeks as chief information officer (CIO) of the commonwealth and Virginia Information Technologies Agency (VITA) agency head have been hectic, as you can imagine. But, I have been able to identify my initial goals and challenges.
First, I aim to provide the best possible customer service while making Virginia's government information technology (IT) as modern, efficient and cost-effective as possible. Secondly, I want to aggressively implement innovation in our approaches to people, processes and technology. Finally, I look to fulfill the statutory and oversight requirements of the position transparently, effectively and efficiently.
The most significant challenges, as I see them, are similar to those facing most state CIOs: resource constraints, advancing cyber threats, and the ability to implement innovation urgently.
I will look to my peers in other states and the IT industry for best practices, and I bring significant experience from my time as CIO in the U.S. House of Representatives. However, I can be successful only with the support of those of you involved in government IT – business and IT leaders at executive branch agencies, localities that use our services, staff at VITA and our vendor community.
While I have had the opportunity to interact with some of you, I look forward to meeting the numerous individuals who provide IT to state executive branch agencies and services and contracts for other government entities.
Time, tide and technology wait for no one.
Nelson
State, local, educational entities invited to nominate IT project for governor's awards
Nominations now are being accepted for the 2015 Governor's Technology Awards.
This prestigious program recognizes the success of public sector information technology (IT) projects that improve government service delivery and efficiency.
"Virginia is committed to innovation, stewardship of public dollars and giving taxpayers the best possible customer service. As part of building the new Virginia economy, we owe it to our citizens to make sure our government is as modern, efficient and constituent friendly as possible," said Gov. Terry McAuliffe. "Innovative technology projects can help us meet these goals."
Nine award categories highlight areas of innovation for state, local and educational entities. Submissions should focus on improvements in the business of government made possible by strategic use of IT. All nominations must be submitted by a Virginia public body and are due by midnight on Friday, July 24.
Nominations will be evaluated by a panel of judges that includes IT leaders from state agencies, localities, the legislature, the courts and education. Awards will be presented to honorees at a special ceremony during the Commonwealth of Virginia Innovative Technology Symposium (COVITS) on Wednesday, Sept. 9.
The 2014 Governor's Technology Awards categories are:
Cross-boundary collaboration on IT service delivery initiatives
IT as efficiency driver - government to citizen
IT as efficiency driver - government to business
IT as efficiency driver - government to government
Innovative use of technology in local government
Innovative use of technology in education
Innovative use of big data and analytics
Innovative use of open data
Best citizen portal
The judging criteria, eligibility requirements and directions for online submission of nominations are posted online at on the COVITS website at www.covits.virginia.gov. News and updates can be followed @COVITS and #TechinVA on Twitter.
New rates take effect today
New rates for IT services provided by VITA take effect July 1, 2015. The new rates represent an aggregate increase of 2.46 percent overall, with some rates increasing and other rates decreasing. The VITA surcharge and the pass-thru surcharge are decreasing. Standard work request forms have been updated to reflect the new rates and the revised version of each form can be found at the service catalog form library. Generally, most agencies primarily utilizing server, storage and personal computing services will see increases on their bills. Agencies utilizing mostly non-Northrop Grumman voice and data services will see modest decreases on their bills. VITA worked closely with the Department of Planning and Budget to forecast FY16 IT usage and VITA rates. The general fund share of each agency's increase or decrease in funding has been budgeted centrally.
Service Catalog Form Library
FY16 Service and Labor Rates
Project Management Summit slated Oct. 15
VITA's fourth annual IT Project Management Summit will be held on Oct. 15. The day-long event will be held at The Cultural Arts Center at Glen Allen. The summit will provide IT project managers a cost-effective educational and networking opportunity. The educational component will include case studies, industry best practice and relevant project management topics. The theme of this year's summit is "The Art and Science of Project Management." Project managers apply a science using art. Science comes into play when the project manager acquires and embraces all the theory he/she has learned through experience, training and certification using frameworks based on time-tested methods proven to be effective. Art comes into play when the project manager applies the important and relevant "how" that may ultimately result in project success. Sponsors include the Community College Workforce Alliance (CCWA) and Central Virginia Chapter of the Project Management Institute. Registration begins today on the CCWA website. The conference will be held from 8 a.m. – 4:30 p.m. Cost is $85, which includes all conference materials, breakfast and a boxed lunch. Additional details will be provided as they are finalized.
IT Infrastructure Services
Firms submit information on infrastructure services options
VITA and its stakeholders, including representatives of state agencies, continue to work with Integris Applied to develop sourcing strategy options for IT infrastructure services as the current contract with Northrop Grumman expires in 2019. To better understand market options, technology service providers were asked to participate in a request for information (RFI). Twenty-nine companies submitted written responses to the commonwealth's questions. VITA and customer stakeholders reviewed the responses last month and likely will follow up with several for clarifications. A report with recommendations is expected from Integris by the end of the calendar year.
Additional security being rolled out for Windows 2003 servers
VITA and Northrop Grumman will begin installing enhanced server operating system security (ESOSS) on all servers still running the Windows 2003 operating system beginning Aug. 1. Microsoft will end extended support this month and no further security patches will be available. Work to migrate servers from Windows 2003 has been underway for more than a year. For a variety of reasons, some servers remain on Windows 2003. VITA is communicating with impacted agencies on an individual basis. Questions from agencies should be addressed to VITA customer account managers (CAMs).
Four network projects underway
Four projects to improve the infrastructure network are on the roadmap for this calendar year.
CESC/SWESC NEXUS Switch Upgrade at the Commonwealth Enterprise Solutions Center (CESC) and Southwest Enterprise Solutions Center (SWESC) data centers – This effort begins this month and will continue through February 2016. The upgrade will increase density and processing and will have minimal impact on agencies.
Firewall service module (FWSM) replacement – The module segments data. The vendor is phasing out the hardware. Northrop Grumman is evaluating options and migration will be completed agency by agency. Minimal impact to agency network traffic is expected during the work, scheduled to begin in November and continue through July 2016.
Data center load balancers replacement -- The vendor is phasing out hardware, which will require a design change. Replacement is planned at CESC and SWESC. Assistance will be needed from agency development teams and migration will be agency by agency beginning in November and continuing through July 2016.
Virtual private network (VPN) replacement of an adaptive security appliance – This project will increase capacity and performance. The project is planned for November and December.
Asset management system is award finalist
The VITA asset management solution developed by VITA and Northrop Grumman has been selected as a finalist in the 2015 American Business Awards (ABA) in the new software product or service of the year category. This means that independent judges agreed that this nomination is worthy of national recognition, and that the solution will be recognized as gold, silver or bronze Stevie Award winners. Stevie Award placements will be determined in the final judging that begins later this month. Winners will be announced this fall.
CIO Nelson Moe featured in StateScoop
StateScoop, a digital magazine featuring news and events in state and local government technology, featured CIO Nelson Moe recently.
New Virginia CIO to bring new vision, strategy to state
PSAP grant applications now being accepted; deadline is Sept. 30
Applications now are being accepted for 2017 fiscal year public safety access point (PSAP) grants. Applications are due by 5 p.m. on Sept. 30. This multi-million dollar grant program is administered by the Virginia E-911 Services Board. VITA funds the program through a 75-cent fee on all cell phone bills, and provides professional support to the board. The purpose is to financially assist the commonwealth's primary PSAPs with the purchase of equipment and services that support the continuity and enhancement of wireless E-911. All Virginia primary PSAPs that support wireless E-911 are eligible to apply for and receive these funds either as a stand-alone applicant or as part of a regional initiative or consolidation project.
Learn more about the PSAP grant program
Don't take the bait on phishing scams
More than 200 billion emails are sent and received worldwide each day. That represents a lot of opportunity for phishing scams, in which scammers distribute emails that appear to come from legitimate organizations or individuals and try to entice the recipient into clicking on malicious links or attachments. Scammers will use spoofed email addresses, phony websites with legitimate logos, or phone numbers to fake customer service centers operated by the scammers. Last year phishing attacks cost organizations $4.5 billion in losses. Phishing scams are discussed in the most recent InformationSecurity Tips e-newsletter.
Read June Information Security Tips
Virginia students win national security poster contest

The Multi-State Information Sharing and Analysis Center (MS-ISAC) conducts a national K-12 poster contest each year to engage young people in creating posters encouraging people to use the Internet safely and securely. Virginia entries are judged by VITA staff and finalists are nominated for national awards. Three Virginia students won nationally, and their artwork will be featured on the 2016 MS-ISAC cybersecurity calendar.