From the CIO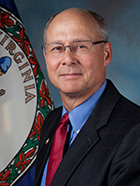 CIO Nelson Moe
We have reached a significant milestone in determining our information technology (IT) infrastructure sourcing strategy after the current contract for services expires in 2019: our consultant has provided recommendations for a path forward.
I have shared this information with agency IT resources (AITRs), VITA staff and some other key stakeholders, but want to provide all of you an update.
As one of its responsibilities, the Virginia Information Technologies Agency (VITA) is charged with providing centralized, IT infrastructure services to executive branch agencies. Services include mainframe, server, storage, disaster recovery, end-user computing, messaging including email, service/help desk, and security. Over the past decade, IT infrastructure services have been contracted to Northrop Grumman with oversight by VITA. The contract with Northrop Grumman expires in 2019. There are no options for renewal. Integris Applied was engaged to help develop a strategy for the commonwealth to determine what actions to take to prepare for the end of the contract and how infrastructure services will be provided after the contract expires.
Following extensive stakeholder involvement and research, Integris has provided its final report with recommendations both improving upon the current state of the infrastructure and positioning VITA to more effectively support the commonwealth's technology needs in the future. They include:
The commonwealth should start now to disentangle some services from the current contract.
The commonwealth should adopt a multi-supplier model with a services integrator through a competitive bid.
VITA should create a platform relationship office to manage the new services delivery model.
VITA should lead the implementation of a new governance model that increases agency involvement.
As CIO, I will review the recommendations, obtain additional input from stakeholders and determine how to proceed. This is a multi-year effort and the ability to move forward with a new infrastructure service delivery model will require support and funding from the executive and legislative branches, support and continued input from business and IT leaders across state agencies, and leadership and human and financial resources from VITA. I look forward to working with many of you on this important project.
On another note, we often report here about state agency IT but it's important to note that IT efforts are essential to localities, including counties, cities and towns, and their services to citizens. Recently, several Virginia cities were recognized for using innovative technologies to increase transparency, engagement and cybersecurity with the 2015 Digital Cities Survey Awards.
Among the four first-place winners from Virginia was: Alexandria -- A top 10 winner since 2005 -- upgraded its network security to protect against cyberattacks and increased broadband speed from one gigabit to 10 gigabits per second. New offerings include Wi-Fi in City Hall for residents and businesses and an automated, cloud-based website failover solution to keep the site up even during network outages and extreme traffic increases during natural disasters.
Other Virginia cities honored include:
250,000 or more population: Tied for fifth -- Virginia Beach
125,000 – 249,999 population: First -- Alexandria; seventh -- Hampton
75,000 – 124,999 population: Second -- Roanoke; tied for sixth -- Lynchburg
Up to 75,000 population: Tied for seventh -- Manassas and Williamsburg
Congratulations to these cities for their award-winning efforts.
Cities across the country also were surveyed about the top 10 technologies and initiatives likely to have an increased focus in the next year. As you can see, their responses are similar to those requiring attention at the state level in the coming year:
Cybersecurity
Open government / transparency / open data
Mobility / mobile applications
Hire and retain competent IT personnel
Portal / e-government
Broadband and connectivity
Disaster recovery / continuity of operations
Cloud computing
Governance and virtualization
Budget and cost control
As we enter the holiday season and prepare for the New Year, I extend my sincere appreciation to all IT leaders and staff who provide services that permit governments to serve our citizens. May the New Year bring you good health, happiness and prosperity.
Nelson
A new Customer Advisory Council (CAC) has been established and will begin meeting this month to advise the CIO and VITA on the proper planning, acquisition and use of IT to serve the business needs of state agencies. The goal of the CAC is to expand agency involvement as well as improve business outcomes from the IT decision-making process. The CAC consists of 15 members, drawn from each secretariat representing agencies of varying sizes, and includes both IT and business leaders. Members appointed to the CAC by the CIO include:
AITRs are reminded there are now two posts and a conversation "thread" available for your comments on "Connections." They include:
AITR input is critical as VITA plans for future eGov contracts and Windows 10. Additional topics will be added by VITA. AITRs are urged to post topics for discussion.
AITRs have cited the need for increased collaboration with VITA. The "Connections" site facilitates collaboration through a virtual forum. AITRs are asked to bookmark the site.
IT infrastructure
VITAOneStop enhances customer support
In an effort to provide infrastructure customers a central location for service-related inquiries, VITA has implemented a new centralized mailbox VITAOneStop@vita.virginia.gov. It currently is being used for:
Work request document processing
Status of IT items in eVA
Exception requests
General VITA service-related questions
Additional processes, including escalations and requests for new VITA services or a change to services, will be added. Please remember to email VITAOneStop@vita.virginia.gov when you upload work requests to the work request management database.
Work requests now can be approved electronically. Here are two helpful hints:
Custom work requests, change orders and standards forms can be approved electronically (with the exception of two standard forms that require signed approval by the information security officer)
To learn more about how to use electronic signatures, review the user guide available in the work request database.
Agency personnel requiring access to the work request database must have their AITR send a request to the VITAOneStop email account at VITAOneStop@vita.virginia.gov.
Labor rate changes impact work requests
As a result of the annual cost of living adjustment in the infrastructure services contract with Northrop Grumman, some of VITA's labor rates will change effective today, Dec. 1. Changes in work requests result:
Standard forms: Seven of the 31 standard forms currently in production or pilot include labor. Six of the seven were impacted by the change in labor rates. The updated forms are posted to the service catalog form library. Please always use the version found at the following link: Form Library.
Custom work requests: All proposals currently in the customer review phase that contain labor are being reviewed by VITA. If the labor rates changed, an updated proposal will be sent to the customer. All new proposals now are subject to the updated labor rates.